Hiya guys! We have the amazing A.E. Via stopping in for a visit today with her fantastic new release Promises Part 4, we have an exclusive excerpt and an awesome giveaway where there's a chance to win signed paperback copies of The Bounty Hunter series, a signed paperback copy of one of A.E.'s standalone titles and also a $10 Amazon GC!, so check out the post and enter that giveaway! ❤ ~Pixie~ p.s. keep an eye out for Lisa's review of Promises Part 4!
Promises Part 4
by
A.E. Via
Men found him attractive, interesting even. He was like a fascinating experiment gone wrong that men liked to investigate. He'd get a date – or two, if he was lucky – but it wasn't long before Brian's darkness showed, and the men were running from him.
Brian King was honorably discharged from the United States Navy five years ago. He'd left with the highest honors a man can receive in his country, but he'd paid the ultimate price to earn them. He was considered one of the best; an Intelligence Officer in a Joint Special Operations Delta team that'd been a twelve-man wrecking crew. They'd thought they were invincible… until they weren't. Brian was the only member that survived the ambush. He survived ten months of pain, of torture, only to emerge on the other side a warrior. A POW survivor. He'd returned home with all his limbs, his right mind, and with his only brother Ford, at his side. But, one thing had been lost, maybe for good… his voice.
Now, being a bounty hunter is Brian's only means to satisfy his need to calculate, track, and capture. His only outlet to the stress caused by his silence. He was good at what he did. But, all work and no play for a forty-four year old man was taking its toll. Brian wasn't a faulty experiment. He missed companionship, he missed communicating. So, when he met Sway Hamilton – in the most unconventional means – he'd been surprised at his special way of understanding Brian's every look… and touch.
Sway grew up in the rough part of ATL, trailing behind his twin brother Stanton and his best friend, Dana. He and his brother had a bond only twins could understand. So when Stanton's life was taken during their sophomore year in college, Sway didn't think he'd ever recover. He finally finished school, got his masters in nursing, worked hard, and focused on taking care of his mother. However, Sway knew there was more to life than heartache, and caring for others. There had to be. But he didn't know what any of those things were until he met a dark hunter that blew his mind… and the intense man had never uttered a single word.
Brian and Sway can feel the powerful connection between them. It was there from the start—but both of them have battled with loss and anguish for so long, neither understand that love can ease all of it. Do they have the courage to battle through it together? Sway has to learn to trust in love, and Brian has to believe that Sway will always understand him even if he never speaks again.
Sway held him tight around his neck, "I don't need you to talk, Brian. I can hear you just fine," Sway whispered softly, kissing his throat.
This novel is a part of a series but can be read as a standalone. No cliffhangers.
Trigger Warning: This story contains acts of bond recovery agent violence. Mention of war zones and descriptions of war prisoners. This story DOES NOT contain overly-described acts of torture.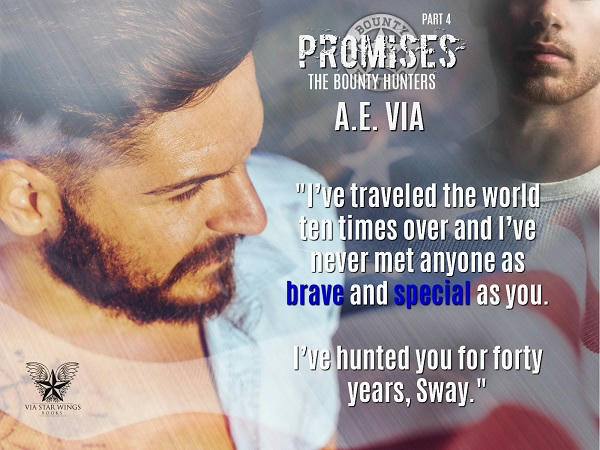 Exclusive Excerpt!
Sway climbed off the bed, moving slowly as if he missed it already and pulled on his jeans, leaving them unfastened. It was so toasty in the bedroom from the fire that he didn't bother putting on his socks and T-shirt. He didn't want to wait another second to see Brian. He wondered what he had planned for him. Sway was all smiles when he came out the bedroom, that warm and fuzzy feeling from being in Brian's bed, still clinging to him like an ever-giving cloak. He glanced across the hall into the great room—he believed that's what Brian had called it—but it was dark, only the faint lights in the wall shelves could be seen. There was a closed door at the end of the hall, so he turned and continued in the other direction. Most of the doors were closed, so he didn't stop until he got to the large opening that led to the kitchen. He'd only taken a couple of steps in when he heard a loud crash and the sound of glass breaking somewhere in the house. Or was it outside?
"Brian!"
Without a second thought, Sway took off in the other direction. Moving blindly through Brian's home.
"Brian, where are you?!" Sway yelled. He knew Brian couldn't answer him but at least he'd know Sway had heard him and he was coming. Dammit, why didn't I get the ten-cent tour before I took a nap?
He ran through what appeared to be a den, and up two steps before making a sharp right. He was getting more afraid by the second. If Brian had been okay he would've came out by now.
"Brian, baby. Where are you?!" Sway busted through the door to a spare bedroom, then a bathroom, then another half bath. He hurried back towards the front, swiveling his head back and forth when he got to a fork. Shit! Did I come from that way? There was an opening blocked off by an Oriental-style room partition but there was no light on in that room either. How many rooms are there? Sway stopped. He was getting frustrated and he felt he was failing Brian for every millisecond that he couldn't find him. His heart was beating so frantically, he inhaled sharply through his nose in an effort not to pass out. He knew something was wrong. Had to be. Sway took a deep breath and tried to focus. He had to calm himself. Brian needed him. He stilled and listened. After a couple of shaky breaths, he finally heard soft music straight ahead.
Moving as if his ass was on fire, Sway nearly shouldered open the door, exploding through it, not caring if he was barging into a dangerous situation or not. He had to find Brian. Sway realized he was in the garage, or a room that had once been a garage. It was a big space full of lumber, slabs of woods, tools, complex machines and anything else that was sold in Home Depot.
"Brian?!" Sway moved through the high-stacked columns of wood until he found Brian curled up—as tight as his big body would allow—with his hands over his ears and sweat on his brow.
Sway dropped to his hands and knees and tried to pull Brian into him, but he was refusing him. Fighting him. He had his hands over his ears, but Sway didn't know what sound could've triggered this reaction. He wasn't sure what to do as Brian rocked and squeezed the sides of his head. His lips moved but Sway couldn't make out what he was mouthing.
"God, baby. What do I do?" Sway felt so fucking helpless. There was no medical treatment he could perform right now. He was pretty sure Brian was experiencing a flashback. He knew what they were, his mom had battled them after the accident. He reached for Brian again, touching his hands but Brian yanked them away as if he'd been hit, his eyes squeezed closed so hard they had to hurt. Did he call his brother? Or, should he call Dana? He didn't know.
"I'm here, Brian." Sway got down even lower, putting his face so close to Brian's he could smell the wine still lingering on his breath. His pulse beat rapidly beneath the strained skin on his neck. Brian's body was strung so tight, Sway wanted to do nothing but touch him and massage it all away. He stared at Brian's mouth, watching the repetitive movement.
"What are you saying, baby?" Sway whispered, his voice breaking at the sight before him.
When he got it he jumped up, almost knocking over a tall ladder that sat underneath a partially completed light fixture. Sway didn't have time to care. He hurried over to the small radio, frantically searching for the off button. All he could see was Brian's dry lips mouthing, 'stop singing', 'stop singing' and knew right then that'd it'd been the music. Sway didn't know what the hell Marvin Gaye had to do with his past, but it was causing Brian pain, so Sway yanked the damn cord out of the wall when he couldn't find the on/off switch. 
He rushed back to Brian's side and curled up on the floor with him. With the music gone Sway continued to murmur gently in his ear. It was a while before he felt Brian's body start to slowly relax. "I've got you, now." Sway said softly, wiping at the sweat on Brian's forehead and down his temples.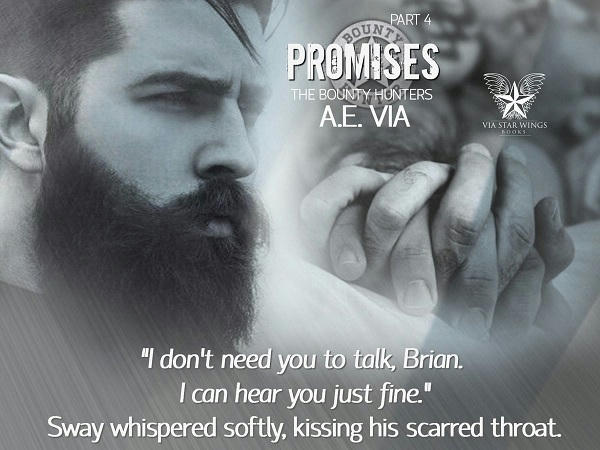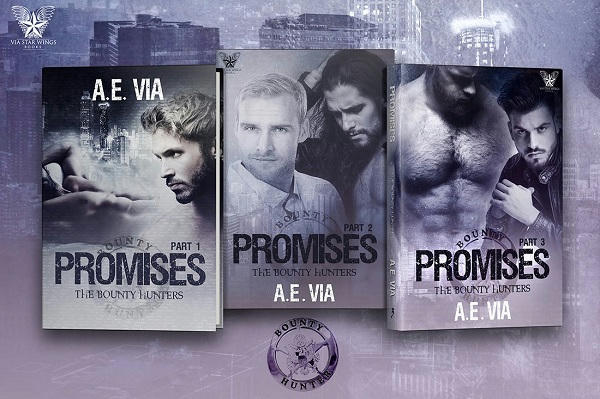 The Bounty Hunters series!
Promises Part 1
Amazon US | Amazon UK | Smashwords | B&N | Kobo
Promises Part 2
Amazon US | Amazon UK | Smashwords | B&N | Kobo
Promises Part 3
Amazon US | Amazon UK | Smashwords | B&N | Kobo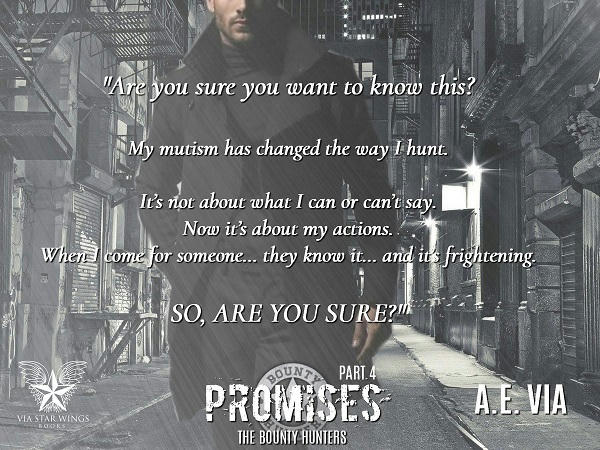 About A.E.!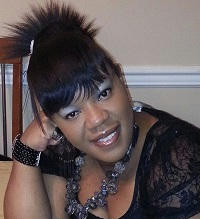 A.E. (Adrienne) Via has been a best-selling author in gay romance for five years now, but she's no stranger to MM. She's been an avid reader of gay lit for over twenty years before she picked up her laptop to place her own kiss on this beautiful genre. She's also the founder and owner of Via Star Wings Books, having published a couple of great new up and coming MM authors.
A.E. has a Bachelor of Arts in Criminal Justice from Virginia Wesleyan College that she used to start her own paralegal firm after she graduated in 2008. She spent five years preparing and filing bankruptcy petitions for struggling blue collar workers who couldn't afford to file with a lawyer. It was a rewarding and satisfying career… but another path called to me. Writing.
A.E.'s writing embodies everything from hopelessly romantic to adventure, to scandalous. Her stories often include intriguing edges and twists that take readers to new, thought-provoking depths.
Now that she's gotten over her 10 books published hump, she's kind of known now for her play rough and love hard, bad boy, alphas. However, I do like to push myself to step out of my comfort zone and explore with different tropes, but I never push myself into a whole other genre. I'm head over heels for gay romance and I have tons of more hot stories to tell.
Be sure to visit Adrienne on her social media pages and subscribe to her newsletter to never miss another release date! https://goo.gl/GbfCyk or Go to A.E. Via's official website http://authoraevia.com  for more detailed information on how to contact her, follow her, or a sneak peek on upcoming work, free reads, VSWB submissions, and where she'll appear next.
Website | Amazon Author Page | Newsletter | Facebook | Twitter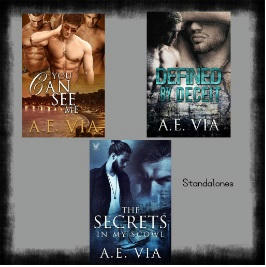 Giveaway!
Win Signed Print Copies of the Promises Series!
Win Signed Print Copies – Standalone Titles!
Win an $10.00 Kindle EGift Card!