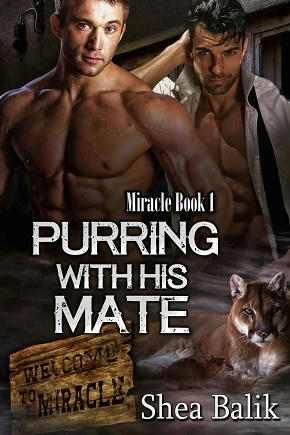 Title: Purring with His Mate
Series:  Miracle #1
Author: Shea Balik
Genre: Paranormal
Length: Novella (156 Pages)
Publisher: Shea Balik (February 20, 3017)
Heat Level: Low
Heart Rating: ♥♥♥♥♥ 5 Hearts
Blurb: In a world where everyone was against them, they needed a Miracle. What no one had expected was to find their salvation in an abandoned town that was ready to collapse. Yet, that is exactly what happened when they moved to the town of Miracle, Oregon.
Edrick Rapp, a mountain lion shifter, wanted to kick himself for not moving he and his friends far from their former pack years earlier. It wasn't until he came upon one of his friends being beaten to death for their sins that he realized his mistake.
Mouse shifter, Nole Hayward, had been punished by his Alpha. Left for dead, he barely managed to crawl away with his life. He ends up hiding out in Miracle, Oregon until a group of mountain lion shifters show up. Before he could get away he ends up with a building collapsing down around him and his mate rescuing him.
Can Edrick and Nole find love or will they let the ghosts of their pasts tear them apart?  
ISBN: B06WLJGZHZ
Product Link: https://www.amazon.com/Purring-His-Mate-Miracle-Book-ebook/dp/B06WLJGZHZ
Reviewer: Lisa
Review:  Each book in the Miracle collection features a different romantic couple. To enjoy the overall story arc and crossover characters, I would recommend reading the series in sequential order.   
Edrick and his friends had left the pride to stay alive.  They should have left many years ago when they realized they were all gay.  But they had just tried to hide it, that is until one of his friends was caught and his father was going to kill him.  Buying a rundown town sounded good, but with the ones who wanted them all dead hunting them, it might not be enough.  Then to top it off he has found his mate.
Nole had left his home because he was gay.  He knew if he didn't that they would kill him.  They were out there hunting him for god sakes.  Then the home he found to hide in was over taken by a bunch of cats, he figured his little mouse ass should get the hell out of there.  However that meant he would not be with his mate.  If you want to know what happens, read the book.
I can honestly tell you that this is going to be one of those types of series that you can't put down and have to read more than once. It is the perfect story for me and gave me all that I needed. I love the way all the feelings they felt was involved in this story. I had a blast reading it and I can't wait to read the next story.