Hi guys! We have Amanda Rhodes popping in today with her new lesbian release Push Me Pull Me, we have a great excerpt and a brilliant $10 NineStar GC giveaway, so check out the post and enter the giveaway! ❤ ~Pixie~
Push Me Pull Me
by
Amanda Rhodes
At twenty-four, Mallory Grant is still struggling with adulthood. She can't seem to make it in to work on time and deals better with her Tumblr friend on the other side of the world than a face-to-face with a real live human. But when her boss threatens to fire her as a rental agent, Mallory has to buckle down with her new client or end up jobless.
Corinne Ibori is moving to the Chicago area and needs a place to call home. Mallory's goal is to find just the right location for Corinne's needs and show her boss she's turned over a new leaf. Corinne is thirty-five, self-confident, beautiful, flirty, has a French accent, and knows what she wants.
Mallory is finding it hard to believe that what Corrine wants might be her.
Excerpt!
Push Me Pull Me, Amanda Rhodes © 2018, All Rights Reserved
Today has to be a new record for me. Forty-five minutes late for work and I'm sitting in the Dunkin' Donuts drive-thru behind a line of cars at least a half mile long. One might think I have no respect for punctuality. And they'd be right. I've been on a losing streak lately with my alarm clock. It tries so hard to wake me up with the beeping and the screeching.
I have to have my coffee before I meet the day head-on, though. Therefore, I wait. Might as well be productive while I sit here. I text Helena, asking her if she's seen my Tumblr post with the new pictures of Charlize Theron. She's cut all of her hair off, and it's sexy as fuck. Maybe she did it for a new movie role, maybe just to torture me. It's hard to say.
Helena replies back, "Duh, Mallory. Of course, I've seen it." She immediately saved it to her hard drive for safekeeping. This is why we are friends. Unfortunately, though, she lives on the other side of the ocean so most of our conversations are in the form of emails and texts.
I don't really do so well with live humans unless I'm getting paid to customer-service them. I'm perfectly content with the friends that live inside my computer as far as my personal life goes. Helena gets me, and I make her laugh. Works out perfectly.
A few more cars move, and I'm almost to the ordering screen. I check the clock. 9:15 a.m. Yikes. This is super late, even for me. Silently, I pray that my boss isn't in this morning—still traveling or has tripped on her kids' Legos and sprained her ankle.
"Mallory, I'm sorry, but I'm not going to make it in today. You'll be able to hold down the fort without me, right?"
"Absolutely, Shelly. You can count on me. I've been here for hours now. Everything is going smoothly."
"Perfect. You're an amazing employee. I'm definitely giving you a raise and maybe even an expense account. Also, I think you should take a month-long vacation when I get back. Honk."
HONK. HONK. HONK.
The person who's waiting behind is obviously super pissed by my delayed response.
"Sorry!" I yell from inside my car where no one can hear me. I wave, hoping they forgive my idiotic daydreaming.
Quickly, I pull through, order my coffee and the bagel I swore to myself I wouldn't get.
When I make it to work, I realize that my daydream was exactly that. There's a sticky note lying on my desk from Shelly.
See me when you get in.
There's no "Thanks!" or her name with a smiley face. She knows that I'll be aware of exactly who wrote the note. And she knows that I'll be aware of exactly what I need to see her about.
The sense of dread I feel at moments like this never motivates me to do the right thing (i.e. show up on time), but only serves to remind me of how much I suck at life. That nasty little voice in my head is chanting "loser alert!" over and over.
Staring at the note, I take a minute to contemplate my next move. I could fake the stomach flu, invoking her pity. Well, at least temporarily. I'll have to face the facts at some point, and that some point might as well be now. Sucking it up, I throw my things on my desk and do the walk of shame to her office.
I could easily walk through this maze of dull gray cubicles with my eyes closed. I've done it so many times. The chatter of twenty different people on the phone, scheduling apartment viewings, fills the air. Ben's giant pair of green foam Hulk hands sit atop his bookshelf. I give them a fist bump. Ben glances up from his phone call, nods, and winks. He's the only tolerable human here.
Almost every desk has one or two framed pictures of loved ones, boyfriends, kids, husbands. A candid of a group of friends at a wedding taunts me as I walk past Tracy's desk. She also has a Post-it note holder in the shape of a red high-heeled shoe. She thinks it's cute, and I think it's hideous.
Each time I have to make the trip from my desk to Shelly's, I'm forced to think about the absence of pictures and mementos on mine. Yeah, I could frame a picture of my brother or of my childhood dog, Scrabble, but I don't actually want anyone here to know that much about me.
Peeking around the corner, I check to see if the boss-lady is on the phone or possibly reaming some other poor soul a new asshole, in which case I can hightail it out of here. No such luck. She peers up from her desk, her face the picture of annoyance. She extends her hand, waving me in.
"Hi, Shelly! You wanted to see me?" I ask cheerily.
"Save it. Sit down. We need to talk." Her tone isn't angry, just fed up. Honestly, this makes me feel even worse. She used to like me. And she's stuck her neck out for me more than once. I've disappointed yet another person in my life. I might need to start a spreadsheet in order to keep track.
Awkwardly, I take a seat across from her, trying to work out if I should cross my legs or leave them uncrossed. Which leg position makes a person seem less like a failure?
"Listen," she says, sighing deeply. "I know this isn't your dream job. Nor would I expect you to treat being a leasing agent as such. But I do expect that you show some respect for me. I don't make office hours for shits and giggles, Mal. You had an appointment this morning with a client. She sat in the lobby waiting for you for almost an hour."
Fuck. Me.
"Exactly."
I didn't realize I'd said that out loud.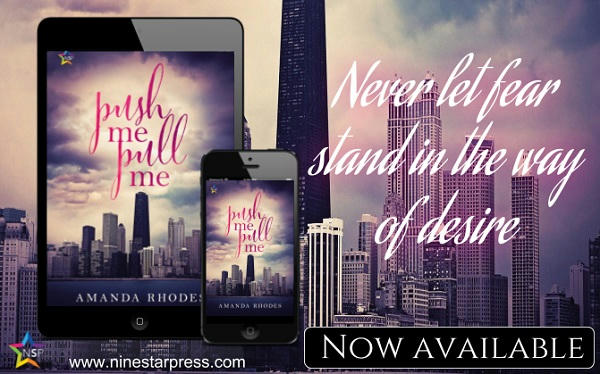 About Amanda!
Amanda Rhodes watches way too much TV and has a ridiculous amount of books on her to-be-read pile, yet she keeps buying them. She's been writing since… well for a long time. Amanda loves the paranormal, sci-fi, and fantasy but could never ever write it herself. She'll leave that up to the weirdos who do it best. Amanda lives in Chicago with her wife, four children, and pitbull who is a lazy bum.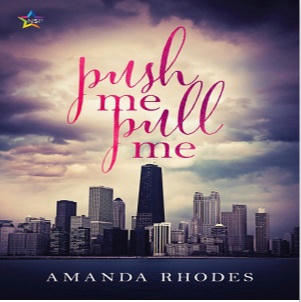 Giveaway!
One lucky winner will receive a $10.00 NineStar Press Gift Code!