Hi guys, we have Eli Easton stopping by today with the tour for her new expanded re-release Puzzle Me This, we have a great excerpt and a fantastic $25 Amazon GC giveaway, so check out the post and enter the giveaway! ❤️ ~Pixie~ p.s. keep an eye out for Prime's review coming soon!
Puzzle Me This
by
Eli Easton
Luke Schumaker designs computer games, working from his home. Every day he walks his dog in the woods nearby, never suspecting that someone who is completely smitten is watching.
The watcher is Alex Shaw, and he too works from home, designing logic and crossword puzzles. Alex's options are limited: he's too shy to approach Luke and his wheelchair won't let him follow into the woods. His solution? Secret messages for Luke in the crosswords he writes for the local paper.
When Luke decodes them, romance begins, but then they face greater puzzles, like Alex's interfering sister and what commitment to a man in a wheelchair really takes. And, most puzzling of all, how do you know if love is real?
New Expanded Third Edition
The Expanded Edition features 15K new words and an overall edit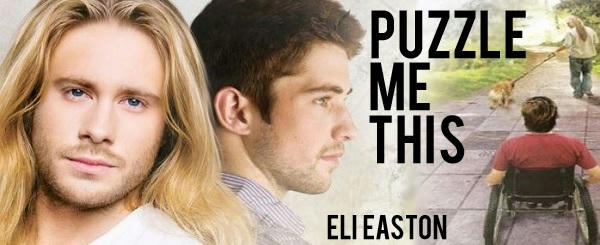 Excerpt!
"Come on, Trevor! Get the ball!"
Luke Schumaker threw a rubber baseball into the woods. The large, shaggy-haired retriever dove after it with unbounded glee. It must be nice to have one thing in life you were born to do and to do it so whole-heartedly.
Luke loved his early morning hikes in the Pennsylvania woods. The trail up Henneman Hill started at the edge of his apartment complex and was its chief attraction, as far as Luke was concerned. August was not his favorite month in the Northeast, with its damp, close heat. But he'd put up with the summers in exchange for fall and winter. He'd spent ten years after college working in California for computer game companies, and he'd been thrilled when his company had announced a work-from-home policy. It meant he could continue to do the job he loved and move back to Pennsylvania, where weather was weather and men wore flannel shirts—even the gay ones.
Gay men, that is, not gay flannel shirts, though Luke had a few of those in his closet.
Luke was pretty sure he had a serious flannel kink.
Back at his apartment, Luke had his key out before he noticed the newspaper propped against his door. It was a Philadelphia paper, the Examiner. When it was still there after his shower, he decided a little neighborly consideration was in order.
The apartment complex was called the Woodsman, and it had thirty separate units, all emphatically rustic. Each unit housed four apartments. Luke knocked on the door of all three of his neighbors. It was still early, and he found someone at home at each unit. All of them disavowed any claim on the Examiner.
He supposed it was his lucky day then. Luke returned to his apartment and sat down in his kitchenette to enjoy his breakfast of eggs and toast, today with a side of a real newspaper, printed on an actual physical medium, with pages that turned and everything.
He flipped through the news without much interest. But when he reached the Entertainment section, a crossword puzzle caught his eye. He was reminded of his teenage years, when his dad would get the Sunday paper and hand Luke the crossword puzzle page. He hadn't done one in ages. He glanced at the clock guiltily. He usually started work by nine, and it was eight forty-five. But he never could resist a puzzle. He picked up a pencil and looked down the clue list, tracing his lips with his tongue in concentration. He finished it in twenty minutes.
At lunchtime, Luke made a sandwich. Something had been tugging at his brain all morning, something about the crossword puzzle. He dragged the completed puzzle across the table and looked at the grid as he chewed his sandwich.
19 across – Gospel writer _ _ _ _
It was a four-letter spot, and the crossing "k" in space three made it Luke, not Mark or John. Luke was not uncommon in crossword puzzles. But there was more….
20 across – If it fits _ _ _ _
21 across – Dying to meet your _ _ _ _ _
2 down – Source for kindling _ _ _ _ _
12 across – Don't run _ _ _ _
18 down – What silence is _ _ _ _ _ _
22 across – Fetcher _ _ _ _ _ _ _ _ _
[Luke shoe maker woods walk golden retriever]
Luke started at the puzzle in disbelief. What were the odds that Luke and "shoe maker," the Anglicized version of his last name, would appear in the same crossword puzzle and all in the same horizontal line? Add in "walk," "woods," "golden," and "retriever" and the odds had to be off the charts. And then there was the fact that the paper had been left on his doorstep.
He looked at the crossword puzzle byline: A. Ecrivain. The name meant nothing to him.
The rest of the day passed in a daze. Luke was, by his own admission, a puzzle geek. Once his brain latched onto a problem, it was hard to tear it away. It made him a strong computer game designer, but work suffered when his brain latched onto something outside the bounds of his daily bits and bytes.
Did A. Ecrivain really send him a hidden message in a crossword puzzle? And if so, why?
He googled the Philly paper but couldn't find anything about their crossword puzzles on their website. He googled "A. Ecrivain" and the results were all in French. The word "écrivain" was French for "writer," he discovered. The crossword puzzle designer's byline was therefore "A. Writer"—obviously a pseudonym. Great. He spent an hour with an old stats textbook trying to figure out the odds of seven key words appearing among seventy random ones. He wasn't the best at stats, but he came up with something like less than three percent.
At six o'clock he had a Skype chat with his development team, and they discussed the next episode of Saints and Sinners. . That finally shifted the track in his train to the mainline. By bedtime, Luke was trying to think up a unique idea for a troll/bridge puzzle, and the crossword had been filed away in a mental TBD bin with things like picking up bread and buying Stephen King's latest e-book for his iPad.
Until the next morning.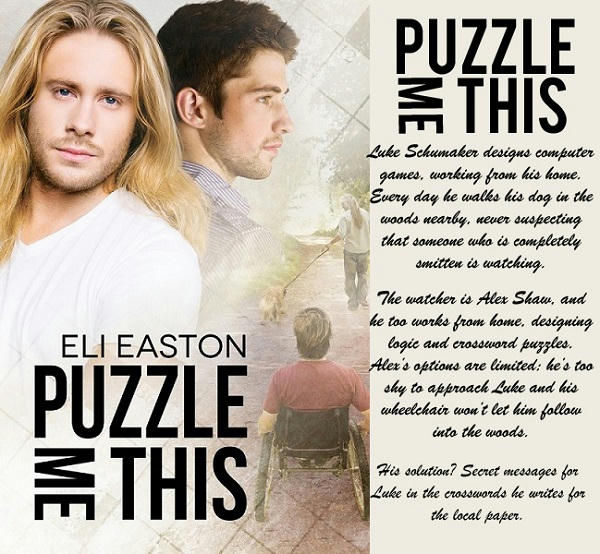 About Eli!
Having been, at various times and under different names, a minister's daughter, a computer programmer, a game designer, the author of paranormal mysteries, a fan fiction writer, and organic farmer, Eli has been a m/m romance author since 2013. She has over 30 books published.
Eli has loved romance since her teens and she particular admires writers who can combine literary merit, genuine humor, melting hotness, and eye-dabbing sweetness into one story. She promises to strive to achieve most of that most of the time. She currently lives on a farm in Pennsylvania with her husband, bulldogs, cows, a cat, and lots of groundhogs.
In romance, Eli is best known for her Christmas stories because she's a total Christmas sap. These include "Blame it on the Mistletoe", "Unwrapping Hank" and "Merry Christmas, Mr. Miggles". Her "Howl at the Moon" series of paranormal romances featuring the town of Mad Creek and its dog shifters has been popular with readers. And her series of Amish-themed romances, Men of Lancaster County, has won genre awards.
Her website is www.elieaston.com You can email her at eli@elieaston.com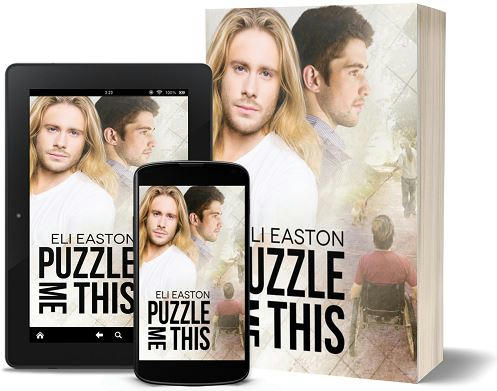 Giveaway!
Win a $10 Amazon Giftcard!