Hi guys! We have Tray Ellis popping in today with her upcoming urban fantasy release Pyresnakes, we have a fantastic guest post and a great excerpt, so check out the post and enjoy! <3 ~Pixie~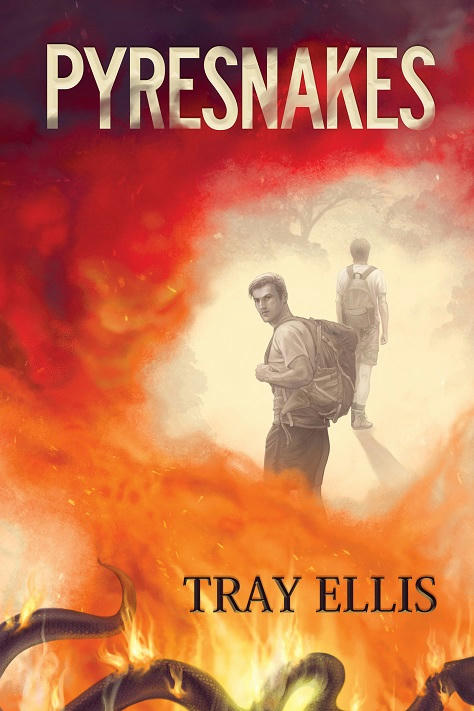 Pyresnakes
by
Tray Ellis
There is another world existing alongside the one most see everyday, and although it is a place of magic and wonder, the dangers are very real. 
Aran, an artist, grew up on his grandmother's tales of the Side-by-Side world. He never expected his knowledge of folklore would aid his boyfriend, Brandon, in an arson investigation, but the snakes that burst into flames when agitated are something he recalls from those childhood stories. 
When Aran vanishes, Brandon knows his time as a State Trooper won't help find him, so he enlists the aid of Aran's grandmother, Ruth, and they venture into the Side-by-Side world.  
But Aran has no memory of his life prior to crossing between worlds, and he's enjoying the company of his handsome new companion, Ren. Even if Brandon and Ruth reach him, convincing him to return to his former home won't be easy. In a contemporary fairy-tale adventure set among forests and trails, Aran must choose between a mystical fantasy world and the man he loves.
Release date: 28th June 2017
Summer Vacation 30% Off Storewide at Dreamspinner Press. (Limited time)
Tray Ellis!
Hello readers! My name is Tray Ellis and I'm excited to be here today for the opportunity to discuss my new story Pyresnakes, available starting on June 28th through Dreamspinner Press.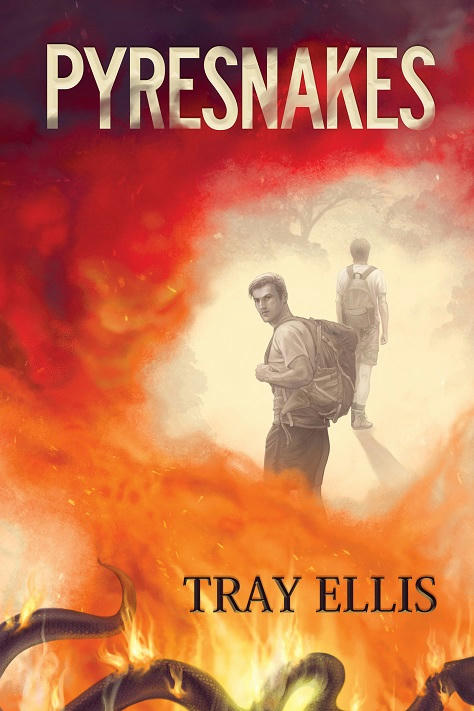 Here is my gorgeous cover, by the talented artist Christine Griffin, which contains so many important elements of the story itself, and definitely lets you know this is going to be adventurous as well as amorous:
One of the things I love best about this story–besides the driving element of romance between Brandon and Aran, of course–is that I was able to play with a lot of the elements of a fantasy novel, but put it in a more real world setting. Sort of an urban fantasy, but with a rural spin where I also indulged in my love of the outdoors.
The story takes place within a short time frame, only several days, at the end of summer. The world is lush, green, and gorgeous. At this time of year everything is wide open and sturdy. The ground tends to be dry, the trees have full, dark green leaves, and hardy flowers (some people call these "weeds" but weeds can be useful and beautiful in the right context) are brandishing their colors anywhere they can gain a foothold. Brandon and Aran both love hiking and this story takes you along for their adventure, although they end up getting a bit more than they imagined they would.
The residents they encounter in the new Side-by-Side world are ordinary people, with good and bad memories, but they've made their way into this extraordinary place because there is something slightly unordinary about them. They have the tiniest spark of magic inside. Something deep in them desperately yearned for something else, something more, and that allows them to traverse away from the ordinary world and into the Side-by-Side. I think a lot of people can relate to that yearning.
Some glorious fantasy stories go deep into magic and those are fantastic fun, but the magic in the Side-by-Side has a lighter touch.  It's almost exactly like our very own world, but with the slightest twist that allows occupants to thrive there. Each of them has special abilities, but these have scope and limits that make sense within how they live.  It isn't so far a stretch of the imagination to go from saying someone has a green thumb, in that they seem to have a knack for getting plants to grow in our ordinary world, to a character in the Side-by-Side who really does have the ability to coax plants to grow because she wishes it.
I've always loved stories that stay more toward the magical realism side of things because it made the magic seem utterly plausible. It was the kind of magic that I imagined could happen. Maybe it was happening, maybe I wasn't paying enough attention to the world around me.
That's the situation that Brandon and Aran find themselves in. The Side-by-Side was there all along, they hadn't seen it. Aran spent most of his life actively avoiding it, even though he had that magic spark within him that allowed him to traverse the gates between the normal world and the one only a step away.
Part of Brandon's journey is to stretch his beliefs from how he thinks the world works to include the magic that he witnesses in the Side-by-Side. It isn't easy for him, but he keeps witnessing people doing things that are slightly more extraordinary than he's used to.  As Brandon as he goes through this journey, so do we, and by the end, I think its not so hard to wish that we could step through to see a world with a little more magic in it.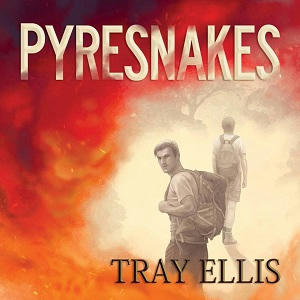 Excerpt!
Brandon scanned the area, but he didn't see a trail. With enough determination, a person could push through the vegetation and rocks, but it would be rough going. There was no reason he could see for Aran to decide to go off trail at this point. He also couldn't detect any sign of a person leaving the trail. None of the branches were broken, no footprints marred the dirt, and the moss and ferns looked beautifully intact. "I don't agree," he said. "There aren't any signs of someone stepping on anything. Aran's careful, but he isn't a ghost."
Ruth made an aggravated noise. "You can't see it." She clutched a handful of Brandon's shirt and pulled him to the side of the path.
"Hey," he said, jerking back. There was nothing at the edge but trees and weeds, rocks and stones. Ruth's grip was tight, and she tugged harder than he'd expected. He tottered off-balance, and his feet skidded off the trail. For a moment, everything grew confused. Then his orientation returned, and he realized a side trail did join the first. It was almost comically obvious, since it stretched three feet wide and sloped straight down, as if hewn out with the help of a straightedge.
Ruth let go. "Do you see it now?"
"Where did this come from?" Brandon asked. He turned in a circle. He noted the first trail and then the obvious junction where the second one branched off. He stepped backward onto the original trail, but the second trail remained clearly present. Brandon moved forward again. He scratched at the side of his face, trying to piece it together. "Shit," he said. "I couldn't see it thirty seconds ago." He looked over to find Ruth watching him with bemusement.
"Aran saw this," she said. "Like I see it and now you do too."

About Tray!
Tray Ellis grew up across from an empty field, where she spun a lot of imaginary adventures, helping to prepare her for a lifetime of writing. When she isn't writing, she stays active by hiking, cooking, stacking the odd cord of wood in the shed, baking, and being too busy to keep her home in any semblance of order. Currently she tries to find a balance between the logical way she thinks and the flights of fancy she often daydreams about. Mostly, the daydreams are winning.
Website | Facebook | Blog | Twitter