Hi guys, we have Jay Northcote popping in today with the tour for his new release Rainbow Place, we have a great excerpt so check out the post and enjoy! ❤ ~Pixie~ p.s. keep an eye out for Lisa's review of Rainbow Place!
Rainbow Place
by
Jay Northcote
Can Jason find the courage he needs to be the man Seb deserves?
When Seb Radcliffe relocates to a seaside town in Cornwall, he feels like a fish out of water. He misses queer spaces and the sense of community he enjoyed when he was living in the city, and decides to open an LGBT-friendly cafe–bar.
Jason Dunn is the builder Seb hires to help renovate the rundown space where the cafe will be housed. Jason is also gay, but unlike Seb, he's deep in the closet. He's never had a relationship with another man—only allowing himself the occasional hook up with guys who are prepared to be discreet.
The attraction between the two men is instant and impossible to ignore. But while Seb is out and proud, Jason is terrified of being exposed. With the grand opening of Rainbow Place approaching, tension is growing among some locals who object to Seb's plans. When things escalate, Jason is forced to choose whether to hide in the shadows and let Seb down, or to openly support the man he's fallen so hard for.
Although this book is part of a series, it has a satisfying happy ending and can be read as a standalone.
Excerpt!
The place Seb had found to rent was in a great location. About halfway along the high street, it used to be a greengrocers and was flanked by a clothes shop on one side and a bakery on the other. Opposite was a gallery selling work by local artists. Seb paused outside to look at the exterior. It was nothing much to look at now, just the front door with a large window either side. But Seb could imagine how it would look when it was open. He'd have a brightly coloured sign over the door, and was going to have two tables right by the windows for customers who like people watching. A menu displayed outside would help to encourage people through the doors, or so he hoped.
Unlocking the door, Seb stepped inside and let his imagination keep flowing. Lighting would be key, given that the only natural light came from the front windows. He wanted it bright enough in the day so it wouldn't feel gloomy, but with the option of making it more subtle in the evening to give an intimate feel. He'd have flowers on all the tables, and candles in the evening. Closing his eyes, he could almost hear the chatter of customers and smell the food from the kitchen.
"Um, excuse me. Are you Mr Radcliffe?"
Pulled out of his daydream, Seb opened his eyes to the dirty, dust-covered interior. Huge cobwebs hung from the exposed beams and an unpleasant smell of damp permeated the space. They had a long way to go, but with planning permission granted, there was nothing to stop him now.
"Yes, hi." Seb turned and held out a hand to greet the tall man standing awkwardly behind him on the narrow strip of pavement. "You must be Mr Dunn."
"Jason, please." He took Seb's hand in a powerful grip.
"Hello, Jason. And please call me Seb." Seb gave him a quick once over, noticing immediately how attractive Jason was. Easily over six foot and broad with it, he was powerfully built. Chiselled features were softened by a short beard that glinted gold in the sunlight, and his eyes were the dark greyish blue of the sea. His mid-brown hair was thick and wavy, and made Seb want to run his hands through it to see if it felt as good as it looked. His smile was nervous and he didn't hold Seb's gaze for long. Seb released Jason's hand, noticing the brush of his calloused palm as he did so.
A car horn blared, making them both jump.
"Shit, sorry. Come in." Seb stood aside so Jason could step in out of the path of the van driver who was glaring at him. "Mind your head."
Jason ducked just in time to avoid the low doorframe of the inner door that led from the porch into the main room, and Seb made a mental note to put a clear sign and some hazard tape on that for taller customers. At five-foot-eight, Seb fitted easily underneath it with inches to spare.
"So, on the phone you mentioned that you're looking to convert this space into a café, is that correct?" Jason looked around the interior carefully, a small furrow of concentration between his brows.
"Yes. Well, actually now I'm considering going the whole hog and making it a café/bar. I've been given planning permission to change it to licensed premises, and that means I can open later and attract different customers in the evening."
"Okay," Jason said thoughtfully, walking ahead of Seb towards the back of the main room where it was dark and gloomy. Seb probably should have put the lights on, but they were ugly strip lights and it was easier for him to imagine the potential of the place in the dim light from the window at the front.  You've got a lot of space to work with. That's good."
"Yes." Seb followed him, excitement building again at Jason's obvious interest in the project. "It's much bigger on the inside than you'd expect from the facade. And there's an extension on the back, which is where I want the kitchen, so the whole of this room can be used for seating apart from one corner for the bar."
"Can I see the space where you want the kitchen?"
"Of course. This way." Seb passed Jason, leading him to a door at the back. It opened with a creak into darkness. The blinds were down over the window of the extension, and Seb reached for the light switch in the gloom. But when he flipped it, there was a brief flash of light and then nothing. "Bollocks," he said. "The bulb blew. Hang on; let me get the blinds up." Carefully, Seb picked his way through the room. He could just make out the strips of pale light filtering around the edges of the blinds, but the back room was full of stuff. Furniture he'd picked up in junk shops that he thought might be useful, and crap left behind by the previous tenants that he hadn't got rid of yet.
"Ouch!" he yelped as he hit his shin on something hard and stumbled, falling forward, arms flailing. His hands landed on a flat and mercifully stable surface, catching him before he face-planted into the unknown.
"Are you okay?" Jason's voice was concerned.
"Yes, yes. I'm fine." Heart pounding, Seb paused for a moment, leaning over the low table he seemed to have landed on, relieved not to have made a total tit of himself in front of Jason.
A light flashed on, illuminating the space, and Seb realised Jason was using his phone as a torch. Clever." He gave a self-deprecating chuckle. "I should have thought of that, shouldn't I?"
"Are you sure you're okay?" Jason's voice was close behind him now, and Seb realised he was in a rather compromising position with his hands on a coffee table and his arse in the air. Normally he'd have been happy to bend over for a guy like Jason, but not unless he thought Jason was into the idea too.
Straightening up quickly, Seb brushed himself down, and turned to find Jason standing much closer than he expected. "Oh!" He took a step back and hit his legs on the table again and nearly fell backwards this time. A strong hand grabbed his elbow, keeping him upright. "Thanks. God, I'm not usually so clumsy." Seb's cheeks were burning with embarrassment. If only Jason wasn't so attractive this would be way less awkward. "You can let go of me now. I promise I won't fall over again."
Jason snatched his hand away as if Seb was on fire and took a step back. "Sorry."
"It's fine. Now let me get those blinds up." Seb hurried to the window and pulled on the cord. The blinds were stiff, which was why he'd left them shut, but he managed to open them and fasten the cord. "I should tear these down. They need replacing anyway." He turned in time to see Jason look up quickly, a guilty flush on his cheeks.
Was he staring at my arse?
Surely Seb must be mistaken. He hadn't got a gay vibe from Jason, but then he hadn't been looking for it, so maybe…? But no. He shook himself, trying to get his brain back onto business and away from stupid daydreams about the hot builder. Any interest he thought he'd seen must have been wishful thinking on his part. "So, this is going to be the kitchen." He gestured around the cluttered space. "I'm thinking a central island for prep, cookers against that wall, fridges and freezers there, sinks under the window—where there's already plumbing—and storage cupboards on all the remaining wall space. What do you reckon?"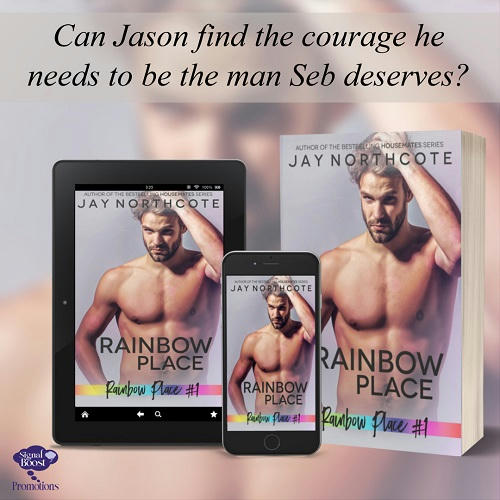 About Jay!
Jay lives just outside Bristol in the West of England. He comes from a family of writers, but always used to believe that the gene for fiction writing had passed him by. He spent years only ever writing emails, articles, or website content.
One day, Jay decided to try and write a short story—just to see if he could—and found it rather addictive. He hasn't stopped writing since.
Jay writes contemporary romance about men who fall in love with other men. He has five books published by Dreamspinner Press, and also self-publishes under the imprint Jaybird Press. Many of his books are now available as audiobooks.
Website | Twitter | Facebook profile | Facebook Author Page | Facebook Author Group | Newsletter | Jay's books

Check out the other blogs on the tour!