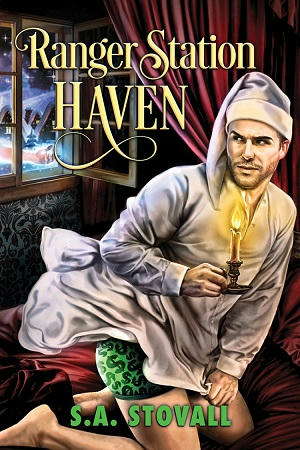 Title: Ranger Station Haven
Series: 2016 Advent Calendar Bah Humbug
Author:  S.A. Stovall
Genre: Contemporary, Holiday
Length: Short Story (42 Pages)
Publisher: Dreamspinner Press (December 30, 2016)
Heat Level: None
Heart Rating: ♥♥♥♥ 4 Hearts
Blurb: Federal park ranger Carter Williams dislikes kids almost as much as he dislikes Christmas. He chose his career to escape human contact, not embrace it. And no matter how much his husband Owen tries to sway his opinion, Carter is a grump who would rather ignore the holiday. Owen's efforts are put on hold, however, when they get a call about six missing foster kids lost in the park.
Christmas Eve takes a turn for the worse when Owen injures himself rescuing the children. Stranded in a snowstorm until dawn, Carter has to keep Owen awake and healthy while simultaneously watching six runaways. What he thinks is a nightmare come to life is actually a beautiful gift in disguise—the kids transform the ranger station into a Christmas wonderland. And before it's all said and done, they might transform Carter's heart as well—if he can keep his bah humbug attitude in check. 
ISBN: 978-1-63533-192-9
Product Link: https://www.dreamspinnerpress.com/books/ranger-station-haven-by-sa-stovall-7986-b
Reviewer: Lisa
Review: This story is more cute and tender then funny as hell, although it is that also.  Carter and his husband are Federal park rangers.  Whereas his husband is into the holidays and kids, Carter hates them.  That is until this Christmas… and well you have just got to read it.
I was definitely not ready for this one, but damn it was cute.  I especially liked the kids and well you will see.  You cannot really go into detail about these stories without giving them away.  I got a kick out of it and definitely would read it next Christmas.  It is a very quirky and fun story.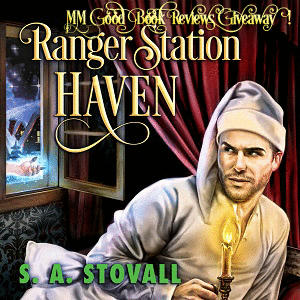 1st prize $100 DSP credits!
2nd prize $50 DSP credits!
3rd prize $25 DSP credits!
4th prize $25 DSP credits!
S.A. Stovall's Questions!
Besides reading, what does S.A. Stovall do on her free time?
(Just leave a comment with the answers on this post)
Catch up with the previous questions: MMGBR Bah Humbug Giveaway!
(Winners will be picked by a dart on 1st January 2017)