Hiya guys! We have L.A. Witt & Cari Z. popping in today with their new release Reckless Behavior, we have a brilliant tasty excerpt and a fantastic giveaway, so check out the post and leave a comment to enter the giveaway! <3 ~Pixie~  😛 
Reckless Behavior
by
L.A. Witt & Cari Z.
After too many years of putting his job first, Detective Andreas Ruffner is getting his priorities straight. He's ready to spend some quality time with his adult kids, not to mention come clean about some things he should've told them a long time ago. And introduce them to his partner and boyfriend, Darren Corliss.
But in a heartbeat, a family dinner turns into Andreas's worst nightmare. When the dust settles, one of his kids is hurt, and the other three have been abducted.
Andreas is going to find his kids, and nothing, not even a broken ankle, is going to stop him. Thank God for his sharp, level-headed partner . . . who has a crisis of his own pulling him away when Andreas needs him the most. As both men try to support—and lean on—each other, they get no closer to finding the kids. And the longer the children are missing, the less likely it is they'll ever be found.
Excerpt!
By the time dinner was over, everyone had relaxed somewhat. Casey was still tense, still obviously less than happy with me, but he hadn't said anything more about it. Could've been worse, I supposed.
I paid the bill, and we all made our way to the door. Emily needed to use the bathroom, so Erin took her, and the rest of us went outside.
We chatted a bit more, but then Ben and Casey wanted to get back to their hotel since they'd had a long day of traveling. I hugged them both goodbye, and they shook hands with Lisa and Darren.
"Where's Erin?" Ben looked around. "Aw, hell. We'll see her tomorrow at lunch. Dad, could you let her know we took off?"
I nodded. "Will do."
Lisa glanced back at the restaurant and scowled. "What is taking those two so long, though?" She rolled her eyes. "I'll go get them."
She went back in, and it was just Darren and me.
"Well," he said. "That wasn't so bad."
"No." I adjusted my grip on the crutches. "Could've been better."
"Casey will come around. He probably just needs some time to absorb it. I mean, Erin came around."
"True."
"Well, we should go. I'll go get the car." He kissed my cheek. "Wait here."
"Thank you."
Then he headed in the same direction my boys had gone. I closed my eyes and exhaled. The night had gone well. Not flawlessly, but I really couldn't complain. Casey and I would talk later, and—
"Andreas." Lisa's voice turned me around. She stepped out of the restaurant, a puzzled expression on her face. "Did Erin and Emily come out already?"
"What? No, they—"
Tires squealed. Metal crunched.
What the hell?
I turned, and to my horror, Ben and Casey were getting out of their rental car, probably to inspect the damage the other car had done.
Some employees and bystanders hurried out the door, no doubt to see what was happening and maybe to help. In the commotion, someone bumped into me, and I stumbled. Then a foot swept my good leg out from under me, and I toppled, landing hard enough to send pain shooting through my bad ankle.
"Andreas!" Lisa grabbed my arm, but then she was knocked aside too.
"Drop the gun!" Darren shouted in the distance.
I scrambled, trying to get to my feet. I reached for a crutch, but my pistol was already in my hand. I didn't even remember taking it out.
A bullet ricocheted off something. Someone shouted.
Oh shit!
"Go get Erin and Emily!" I shouted to Lisa. "Keep them inside!"
Lisa darted back into the restaurant.
Tires squealed again.
More gunfire. Shouts. A car peeling out. An engine vanishing into the night.
And then . . . nothing.
Panicked shouts and murmurs, but otherwise, silence.
Someone helped me to my feet and gave me back my crutches. I looked up to see Darren and Ben coming across the parking lot. Ben was limping pretty hard, one arm tucked protectively against his side, the other slung over Darren's shoulders.
"Oh my God." I hobbled toward them as quickly as I could. "Ben?" I touched his arm, hoping my sheer panic didn't make it into my voice. "Are you all right?"
He nodded, grimacing painfully. "Just . . . got the wind knocked out of me. When they tried to . . ."
My mouth went dry. "Where's your brother?" I looked around as my pulse ratcheted up. "Where the fuck is Casey?"
Darren, still keeping Ben on his feet, shook his head. "I'm sorry. I couldn't get to—"
"What?" The world spun around me. "Darren, what are you . . . Who . . ."
"Three guys," Ben said. "They clipped the car, then came at me and Casey and—" His voice wavered.
"They got Casey into the car," Darren said. "I couldn't get to him. I'm sorry."
"You did what you could." I hadn't seen much, but I had complete faith that whatever he could have done, he'd done. "Did you get a look at them?"
He frowned and shook his head. "Sorry. I was trying to—"
"Andreas." Lisa's voice was filled with a kind of palpable terror I hadn't heard since the day her doctor had told her that she—and possibly our unborn baby—had HIV. "Emily and Erin are gone."
The world dropped out from under me. My crutches were literally the only thing that kept me from crumpling to my knees. "What? They're . . . What do you mean they're . . ."
Reality started sinking in. Ben was hurt. God knew how close Darren had come to an injury or worse.
And . . .
Casey.
Erin.
Emily.
I sank onto the bench. Twenty-plus years of cop instincts disappeared in a heartbeat, replaced by nothing but pure, bone-deep panic. I was trained for this. Enough that I could be calm to the point of near apathy in a crisis.
I wasn't calm this time. I was closer to catatonic. I couldn't move. Think. Breathe. Act.
Three of my kids.
Gone.
Just . . . gone.
And I had no idea what to do.
Read more at: https://riptidepublishing.com/titles/reckless-behavior (just click the excerpt tab)
Bad Behavior series!
It's "hell no" at first sight for newly partnered detectives Andreas Ruffner and Darren Corliss. Darren is too chipper, Andreas is too gruff, and that whole "IA wants me to prove you're a dirty cop" thing really doesn't get them off on the right foot.
It doesn't matter if they like each other. They're partners and that's final. Though Andreas is easy on the eyes. And Darren is kind of cute. And . . . okay, maybe they can make this work.
They'd better, because as their cases get more horrifying—and more personal—they'll have to trust each other with their lives, and with their hearts.
Check out Bad Behavior!
About L.A. & Cari!
L.A. Witt
L.A. Witt is an abnormal M/M romance writer who has finally been released from the purgatorial corn maze of Omaha, Nebraska, and now spends her time on the southwestern coast of Spain. In between wondering how she didn't lose her mind in Omaha, she explores the country with her husband, several clairvoyant hamsters, and an ever-growing herd of rabid plot bunnies. She also has substantially more time on her hands these days, as she has recruited a small army of mercenaries to search South America for her nemesis, romance author Lauren Gallagher, but don't tell Lauren. And definitely don't tell Lori A. Witt or Ann Gallagher. Neither of those twits can keep their mouths shut . . .
L. A.'s backlist is available on her website, and updates (as well as random thoughts and the odd snarky comment) can be found on her blog or on Twitter (@GallagherWitt).
Cari Z.
Cari Z was a bookworm as a child and remains one to this day. In an effort to combat her antisocial reading behavior, she did all sorts of crazy things, from competitive gymnastics to alligator wresting (who even knew that was legal!) to finally joining the Peace Corps, which promptly sent her and her husband to the wilds of West Africa, stuck them in a hut, and said, "See ya!" She also started writing, because some things she just thought she could do better. She's still climbing that ladder, but can't stop herself from writing, or from sharing what she creates.
Cari enjoys a wide range of literary genres, from the classics (get 'im, Ahab) to science fiction and fantasy of all types, to historical fiction and reference materials (no, seriously, there are so many great encyclopedias out there). She writes in a wide range of genres as well, but somehow 90% of what she produces ends up falling into the broad and exciting category of m/m erotica. There's a sprinkling of f/m and f/f and even m/f/m in her repertoire, but her true love is man love. And there's a lot of love to go around.
Cari has published short stories, novellas, and novels with numerous print and e-presses, and she also offers up a tremendous amount of free content on Literotica.com, under the name Carizabeth.
Connect with Cari at http://cari-z.net/  or via her blog, http://carizerotica.blogspot.com/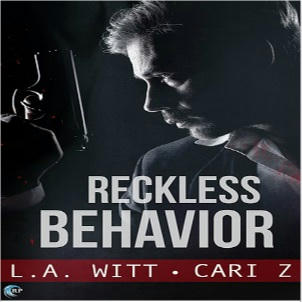 Giveaway!
To celebrate the release of Reckless Behavior, one lucky winner will receive a $10 Riptide credit and their choice in an ebook from each of Cari and L.A.'s backlist!
(Just leave a comment with your contact info to enter the contest.)
Thanks for following

the tour

, and don't forget to leave your contact info!
Entries close at midnight, Eastern time, on January 6, 2018. Contest is NOT restricted to U.S. entries.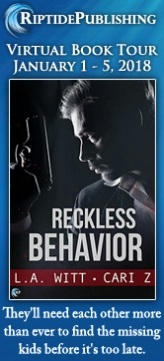 Check out the other blogs on the tour!