Hi guys! We have Jenya Keefe popping in today with the tour for her debut release Relationship Material, we have a brilliant playlist from Jenya, a great excerpt and a fantastic Powell's GC giveaway so check out the post and enter the giveaway! ❤️ ~Pixie~
Relationship Material
by
Jenya Keefe
It's not always possible to meet in the middle.

Registered nurse Evan Doyle doesn't consider himself fit for more than occasional hookups. He has a good life, but the emotional aftermath of a horrific crime makes him feel too damaged to date. So when his sister's hot bestie, Malcolm Umbertini, comes on to him, he turns him down flat. Mal is Relationship Material: the kind who thinks in the long term. What would Evan do with a man like that?

As a prosecuting attorney, Mal's learned how to read people, and he knows there's more to Evan than meets the eye. Mal has faced his own hardships since his family kicked him out as a teen, and he respects Evan's courage and emotional resilience. More than that, he wants Evan—in his bed and in his life. But can he weather another rejection?

Both wary, they agree to a no-strings fling. Mal knows that Evan wants things to stay casual, but he's falling in love a little more with each encounter. With health, happiness, and bruised hearts on the line, Mal and Evan must risk everything for love.
Reader discretion advised. This title contains the following sensitive themes:
Child Abuse (past)
Drug Use (references to past interaction with drug users/drug dealers)
Emotional Abuse Explicit Violence (past)
Eating Disorder (past)
Non-Consent (Discussion of past incident)
Self-Harm (references)
Sexual Assault (Discussion of past assault) 

Playlist!
Hi, I'm Jenya Keefe. Welcome to my blog tour! I've been writing for my own pleasure for too many years to count, and now my first novel is being published by Riptide Publishing! It's called Relationship Material, and I'm delighted to talk with you about it.
Relationship Material is about a guy who had a terrible childhood and suffered a violent assault when he was a teenager. He suffers from PTSD and chronic anxiety, and though he functions well enough in society, he doesn't feel worthy of the love offered him. It's about Portland, the love of a good dog, learning to be brave, and being open to joy.
In Chapter Seven of Relationship Material, Mal Umbertini and Evan Doyle go to a Portland, Oregon bar called Pettygrove's.
(Pettygrove's named after Francis William Pettygrove, one of the founders of Portland. It's on Hawthorne Boulevard. Portland natives may notice a similarity to Mulligan's Bar and Grill, although unlike Mulligan's, Pettygrove's is entirely fictional.)
Mal hates the New Wave music playing at Pettygrove's. It reminds him of a summer, long ago, when he fell in love with a beautiful and troubled boy, and listened to New Wave nonstop. That relationship ended very badly.
Here's the playlist:
Electric Blue by Icehouse
Always Something There To Remind Me by Naked Eyes
Blue Savannah by Erasure
Only You by Yaz
Love Will Tear Us Apart by Joy Division
The Promise by When in Rome
1963 by New Order
Save A Prayer by Duran Duran
Wishing by A Flock of Seagulls
Close to Me by The Cure
West End Girls by Pet Shop Boys
The Metro by Berlin
(To be fair to Mal, this is a pretty melancholy bunch of songs. I don't know what Pettigrove's was thinking.)
You can listen to the Pettygrove's New Wave Playlist on Spotify:
 https://open.spotify.com/user/k5hm7eu5xtd1q3793hst2dz2q/playlist/6f5BPibo5cLhFX5HRxpjf7?si=xfPQJfB4TPeyQw4XkG_15A
Excerpt!
Evan Doyle practiced mindfulness.
He sat at an outdoor table in front of his favorite coffee shop, focusing on the sensations of the moment: the chill and dampness of the autumn air on his face and hands. The gold and red maple leaves that whirled through the air. The presence of his dog, curled at his feet under the table. The smell of his coffee in its warm ceramic mug, the inky smell of the folded newspaper it was holding down, open to the crossword puzzle. Mother's sister, in Monterrey. He clicked the top of his ballpoint pen and wrote TIA.
"Alex!" shouted a woman's voice.
He startled and felt Dulcie jump. That shout—that name—shattered Evan's calmness into a million shards. He looked up to see Caroline Farkas, standing there on the sidewalk across the street, staring at him.
He hadn't seen his sister in fifteen years.
Fear crawled all over his skin, raising his hair, tightening his guts, sucking the air out of his lungs. Caroline, one palm on her heart, opened her lips as if to shout Alex again. Evan made an instinctive, convulsive shushing gesture, and she put her hand over her mouth.
He stood up, almost knocking over his chair; said, "Come on," to Dulcie; and walked away, leaving his newspaper and coffee behind.
Evan turned right and hurried down a side street, his dog trotting at his heels. In the alley behind the coffee shop he waited. Even after all these years, he knew Caroline would follow: now that she'd seen him, she would never give up, so he might as well just wait. Dulcie stood alertly at his feet, waiting with him.
"Alex?"
His sister, very grown-up in a gray suit and white blouse, picked her way down the grubby alley toward him. She looked beautiful. Clean and professional, her sensible low heels tapping on the dirty asphalt. She didn't belong in an alley, with the coffee shop's dumpster, with the smell of damp and sour milk, with him.
No air seemed to be entering his lungs. He gulped for breath. His skin flushed, both hot and cold.
"Alex," she said, coming closer. She didn't know that each Alex was like a dart in his skin. Still unable to breathe, he braced himself on his knees, head hanging.
He was dying.
He knew what was happening, knew his fear was irrational: panic attacks weren't fatal and there was no danger from Caroline, of all people in the world. But his breath whistled in his throat, his heart hammered with terror. Dying.
Caroline was touching him. "Hey. It's okay. Alex, it's okay." Then Dulcie was there, pushing her away with a kind of wagging stubbornness. The dog shoved her cold nose against his hot face, ran back to Caroline, then back to him. Back to Caroline to shoulder her farther away, then back to Evan. He caught her in his arms and hugged her. She smelled of clean dog.
I'm dying. I'm dying. His skin and hands were prickling with paresthesia caused by hyperventilation. Dulcie had driven Caroline to the other side of the alley. Created a safe zone around Evan. He tried counting his breaths. Deep calming breaths from the diaphragm. It wasn't working. Dulcie leaned into Evan and he buried his face in her fur. Breathe. Breathe.
"Okay," Caroline was saying. "It's all right, Alex."
Eventually the diaphragm breathing and the press of Dulcie's body calmed him, as it always did. The irrational conviction of imminent death subsided. He managed to get his eyes open, uncurl from his crouch, wipe the sweat and tears off his face.
Caroline was leaning against the brick wall of the alley, arms held tightly across her chest, face white and taut.
"I'm okay," he whispered.
She nodded.
"I'm okay," he said again. Just an anxiety attack. A little panic for no reason.I'm fine. He was fine.
After a moment, he managed to say, "You'll mess up your clothes."
"I don't care about my clothes."
Once she'd agonized over her clothes. She used to comb the Goodwill aisles, alter her thrift-store finds with needle and thread so they'd fit better, so she could walk tall in their high school hallways. A proud teenage girl, driven to express herself and to fit in.
That had been fifteen years ago, of course. She wasn't that kid anymore. No doubt she was just as proud, just as resolute; but now she could probably afford to get that good suit cleaned.
"We can't talk here," he said.
"Okay," she agreed. "Where?"
"My place. Tomorrow." He looked up, met her eyes as fearlessly as he could. "Come alone, Caroline. Don't tell anyone you saw me. Don't let anyone follow you."
"Okay."
"I'm serious."
"I know." She pushed off the wall, took a step closer. Her hands opened and closed, and then she folded them tightly, as though she wanted to touch him and was holding herself back. "Tell me where."
He held out a hand, and she approached and took it. Her hand was cool and much smaller than his own. He gently turned it over, pushed up the sleeve of her blazer, fished his pen out of the pocket of his flannel shirt, and wrote his address on her arm, on the pale skin where the sleeve would cover it. "After lunch sometime. We'll talk. About everything."
She touched the messy blue ink on her skin with her free hand. "I'll be there," she said. "Will you?"
Would he? This was his chance. He had almost twenty-four hours to disappear. She must know he was thinking about it.
He met her eyes. "I'll be there."
"Alex?" she whispered. "Where have you been?"
"I'll tell you," he promised his twin. "Tomorrow."

About Jenya!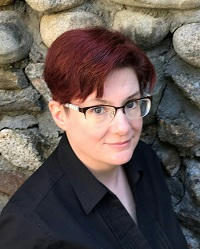 Jenya Keefe was born in the South. She has an advanced degree in European history, and has spent much of her life working the kinds of jobs a history degree qualifies you for: gift shop employee, lumber grader, classifieds clerk, hot glass artist. She currently lives in the Seattle area, where she works at a library. She has always written stories. 
Website: www.jenyakeefe.com
Twitter: @JenyaKeefe
Pre-order Jenya's next release, The Musician and the Monster, coming September 30th from Riptide Publishing!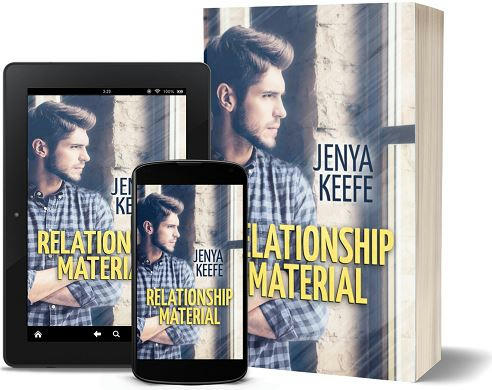 Giveaway!
To celebrate this release, Jenya is giving away a $15 gift card to

Powell's City of Books!
Powell's is an independent bookseller located in Portland, the setting for Relationship Material. Those not in Portland can shop online.
(Leave a comment with your contact info to enter the contest.)
Thanks for

following along

, and don't forget to leave your contact info!
(Entries close at midnight, Eastern time, on August 10, 2019. Contest is NOT restricted to U.S. entries.)