Hi guys! We have Clare London popping in today with her new release Romancing The Rough Diamond, we have a great excerpt and a brilliant $10 Amazon GC giveaway so check out the post and enter the giveaway! ❤️ ~Pixie~
Romancing The Rough Diamond
(Dreamspun Desires 90 / Romancing The… 04)
by
Clare London
Trust is the most precious jewel of all.
When Mayfair jewelers Starsmith Stones wins the commission for a gay royal wedding, CEO Joel Sterling is recommended to the brilliant young designer Matt Barth—only to discover Matt's the man with whom he shared an anonymous and passionate kiss on the celebration night.
Disenchanted with the commercial jewelry industry, Matt nowadays prefers muddy archaeological digs to designing. Openly resentful of Starsmith's hostile takeover of his family's firm, he is horrified at the realization he'll be working with the man who engineered that deal—but the opportunity to create something fabulous and unique for the royal couple is too tempting to refuse.
Working as a team reignites the spark between Joel and Matt. But when betrayal from within Starsmith threatens both the project and Joel's confidence, will they have built enough trust to keep their newfound love as precious as the royal jewels?

Excerpt!
JOEL STERLING'S phone was going to burn a hole in the pocket of his suit trousers.
At the very least, it was causing havoc with the beautifully tailored fabric as his hand turned it over nervously every thirty seconds. It needed to ring, and it needed to ring soon. He'd been on tenterhooks all evening, ever since he was told the Royal Household would make a decision before the end of today.
And a boring industry awards dinner wasn't the best place to be when his mind was anticipating probably the most influential contract of his career. Tonight he'd smiled so often his cheeks felt numb, listened to small talk and dispensed plenty of his own, and shaken a hundred hands—or so it felt, at this late stage of the evening. He didn't often attend these jewelry trade events. As CEO of Starsmith Stones, he had a marketing and sales team to be the public face of the company, and he preferred to manage everything from the office. But there'd been a clash of diary dates, and he'd offered to cover tonight personally. Starsmith had a prestigious and long-standing reputation to maintain. It didn't occupy one of the prime sites on London's Mayfair by accident. So the occasional—if, yes, boring—awards dinner was probably covered within his job description.
But his phone needed to ring.
Claridge's historic London hotel was as glamorous as expected, and the catering had been superb. The Jewellers Guild always hired the best for their events. He'd been served by professionally alert and beautifully dressed staff, and the 1930s design of marble and mirrors made the setting the epitome of luxury and taste. He'd also attracted his fair share of curiosity and attention from his peers, whether with awe, admiration, or antagonism. It came with the job, he assumed, along with the additional novelty that he was young—still in his late twenties—and not from the usual moneyed or aristocratic background.
His reputation obviously preceded him, but he wasn't intimidated by that attitude. He knew he was exactly what Starsmith had been looking for when they headhunted him from his previous employer two years ago, straight into his senior position. He was a tough negotiator but could also charm in any boardroom. The network of international goldsmiths based in London also liked to deal with him. Admittedly, some of the old guard wanted to challenge him, to see how much he would bend under the weight of their "superior" experience. They'd been disappointed in that, to date. And some of the younger traders were just shit scared of him—he knew that too, even if it hadn't been whispered none too quietly behind his back on many occasions.
That was all fine. He'd fought hard for this role. He'd devoted all of his working adult life to the jewelry industry, to getting to this point. Starsmith Stones, under his leadership, was going to be one of the best players in the world. He'd make sure of that. Their profitability grew by the quarter, and the team he had around him was second to none. He was loving the life of a tough businessman—at the office, at least.
But tonight? Tonight that bloody phone needed to ring. The next call could change his whole career, maybe even his life. And Joel Sterling, cool negotiator, level-headed executive, and strategic planner, certainly wasn't one to make melodramatic statements like that—
Someone rudely nudged his elbow. "Don't usually see you out and about, socializing with us minions, Sterling. Have you had a chance to think about our European contract yet?"
The blunt question was from a salesman at Marchant's, a London silver merchant Starsmith had dealt with in the past. But Starsmith's premier pieces were traditionally struck in gold, and at the moment, Joel didn't have any need for more silver.
"Dan." He nodded, barely polite. He didn't like the man, though he knew he was on duty, whatever the setting. Business deals could be forged as easily in social situations as in the boardroom. "It's on my desk. You understand, Starsmith is not currently looking at producing another silver collection. But I have time scheduled tomorrow to go through the details."
The salesman, Dan Llewellyn, young and good-looking but with sweat on his brow either from nerves or too much drink, blustered, "No need. You can trust me, it's—"
"I will go through the details," Joel interrupted firmly, though without raising his voice, "in my own time. Then I will let you know if we have any interest."
"Is it the price?" Dan frowned. "I'm already down to the wire on margin. You guys are only interested in the bottom line, I know—"
"I'm interested in the best product at a competitive cost."
"As long as it's lower than anyone else's in the market," Dan snapped back.
"I'm sorry?" Joel said, more sharply now. He was irritated because what Dan implied wasn't, in fact, true. Starsmith paid fair prices, but only for the highest quality product. It appeared Marchant's had far lower standards, and he'd heard their business practices weren't always above board. "I believe I just said that I'll let you know."
"Jesus." Dan looked angry and even more flustered. "You're a tough bastard, Sterling."
"I'm a thorough bastard." Joel sounded calmer than he felt. Was that vibration on his hip from a received text? His fingers itched to reach for it. "That's what Starsmith pays me for. Now please excuse me. I have other people to see."
He dodged swiftly out of the ballroom, leaving more than a couple of startled faces in his wake and darted into one of the more intimate, private bars. He was greeted with more stylish, 1930s-inspired décor, dark wood and red velvet furnishings, and an immediately reduced noise level. With relief, he saw it was barely occupied, apart from a middle-aged couple sitting in one of the small, snug booths, a young man at the horseshoe-shaped marble counter nursing a beer, and a bartender who was struggling to hide a yawn behind his hand. The night was drawing to a close, the attendees at the trade event would soon be moving on to clubs and restaurants in central London, and it looked like Claridge's residents were elsewhere too.
Joel paused at one of the empty booths, flipped open the button of his Tom Ford suit jacket, and pulled his phone from his pocket. He had a message to call the office. At last! He hit speed dial quickly. "Teresa? Are you still at work?"
"Finishing paperwork in peace and quiet," his PA, Teresa Manners, half whispered. "No one here but me and the cleaner, and he's at the other end of the corridor. Can you talk?"
After a quick glance around, Joel slipped into the booth, where he could rest on the stiffly upholstered seat and the high sides would shelter his voice. "Yes. What news?"
"I'm too old for this 007 stuff." Teresa chuckled. He knew she'd be shaking her immaculately coiffured head at his eagerness. "But don't worry, I fully understand the need for secrecy at this stage. Brace yourself."
For good news or bad? It was like waiting on school exam results all over again. "Tell me!"
She took pity on his impatience. "My unofficial contact at the palace called me as soon as they finished for the day. The commission is as good as ours. The palace will contact Starsmith tomorrow, and it'll be announced officially in next month's trade press."
"Three weeks' time!" Joel took a deep breath to try and calm his speeding pulse. The aroma in the bar was a rich mixture of wood polish, expensive fragrances, and good liquor. Joel thought he'd remember that smell forever as defining one of the best moments of his life. He realized he was grinning like a fool.
This news was life changing! For six long months, Starsmith had been in negotiations for a commission from the British Royal Family, the first in their company's history. Joel had initially heard about it from a casual comment at one of the networking lunches Starsmith hosted, where the guest list included celebrity friends of the aristocracy. The first gay wedding involving a member of the British Royal Family in direct line to the throne was seeking a London firm to provide jewelry for the grooms. Prince "Artie" Arthur, currently eighth in terms of succession—young, handsome, and with a twinkle in his eye to match his older brothers', William and Harry—was marrying his longtime boyfriend, the opera star and independently wealthy Paolo Astra. They were a gorgeous and eminently newsworthy couple, and the media was already wetting its pants at the thought of the coverage.
Joel's overwhelming desire had been to make that deal for Starsmith. The wedding date was still another six months away. But within twenty-four hours of the marriage announcement, he'd made a presentation to palace representatives, and knew it had gone well. He'd put his whole heart into it! Starsmith had already been informed they'd made the very short, select, and confidential list of approved firms.
And now Teresa's message was wonderfully welcome. Starsmith had won.
"Joel? Are you still there?" Teresa sounded wary. "While I have your attention, I've been asked to alert you about one of the acquisition deals on this month's schedule. It's Barth Gems, a small, independent jewelers that has been in financial trouble for some time. Our business development team identified them for potential takeover months ago, and we're due to sign tomorrow. But the owner is still wrangling a couple of the conditions. He's facing retirement, and it's a family business—there's a son involved, it seems. An awkward young man who isn't actually an acting member of the company, but who keeps throwing up obstacles to the final contract."
Joel tried to concentrate on business as usual, but his mind was racing ahead. "The team can handle it."
"I know. They just wanted you to know."
Joel didn't want to hear about obstacles. He wanted to cheer, dance, shout aloud with excitement. He was amazed the very air hadn't changed around him somehow, charged with his emotions. "Tell them to agree to the conditions," he said, in a moment of rashness. "I can't remember the specifics of the deal, though I'm sure it's not big enough to cause us serious financial grief. But we don't want any bad publicity for the company at this time. Not now we've got—"
"Hush, it's still a secret, remember," Teresa broke in with caution but then spoiled it by giving a very unbusinesslike yelp of delight. "Won't it be marvelous?"
"Yes. And thanks for staying on late to take the call. I would say take tomorrow off in return—"
"But that's when the work will start in earnest, right?" Teresa chuckled again. "No problem. You owe me plenty already. I'll just add it to your slate. And I'll be in at seven to start making calls to the team."
"Give my apologies to Dylan."
She snorted. "He's used to it by now."
Teresa had a loving husband, Dylan, and three kids. For a fleeting moment, Joel imagined having someone close to tell his news to. He couldn't remember the last time he'd gone home to anyone at all. Then he realized Teresa was still talking.
"—and I can't wait until it's common knowledge and I can tell the kids. They're mad for anything about the Royal Family."
Joel thanked her again and finished the call but stayed sitting in the booth for a while longer. He couldn't wait either, but mainly to get away from here and think through everything the royal commission would mean. It wasn't just the grooms' rings, but gifts for the whole wedding party, including VIP guests. So far, he hadn't dared bring anyone except Teresa and his head of design on board. He'd been scared of jinxing the deal. But although Starsmith's work to date had earned them notice, he knew this commission would demand something even better—a blend of modern style and traditional sophistication. His in-house design team was excellent, but maybe he should hire a freelancer to bring fresh inspiration. It would have to be someone both innovative and talented enough. Project Palace. Yes, that's what they'd call it. God! If they were successful, this could make Starsmith's the first choice of royal families across the world—
"You look like you need a drink. May I get you one?"
Joel looked up to face the man from the bar, who'd wandered over. He had a beer in each hand now, one of them held out toward Joel. His smile was quizzical, a little nervous. It was a very attractive smile. Joel found himself irresistibly drawn to it, to the underlying self-deprecation he saw, mixed with an undeniable hint of mischief. He was about as tall as Joel and of a similar age, with chestnut-colored hair cut short at the sides and wavy on top, a dark beard, and sharp blue eyes. Lovely, lively eyes. He wore a dark suit that was smart but probably a few seasons old, and the heavy body under his white shirt hinted of strength and fitness. A man who worked outdoors, maybe. Joel hadn't seen him in the ballroom, though the suit implied he was on business of some kind. No tie, no identity lanyard, no slick, acquisitive arrogance in his manner. Joel was startled at how relieved he felt about that.
"Couldn't help seeing you smile," the stranger said bluntly. "After your phone call. Like some kind of private joke."
"I'm sorry?"
"Shit." The man frowned and shook his head. "Dammit, I'm the one who's sorry. My conversation is usually a lot more civil. I just meant… it was good to see someone so cheerful tonight. I'm not asking about the call—that's your business."
"Yes. It is."
The man looked irritated now. His expressions changed within seconds. Everything he thought seemed to show on his face. He apparently had no professional detachment. It wasn't the restrained behavior Joel was used to, and he regretted there was no hint of the original, sexy grin.
"Just thought you may like to celebrate, whatever the hell it was," the guy said. "But you don't want a clumsy arse like me butting in." He put the beer down on the table in front of Joel and took a step back. "I'll leave you to it."
"Wait." The word escaped Joel without any further thought. He didn't know whether this was a pickup—wasn't sure whether he minded. He had plenty of advances when he did socialize in London, and he knew his position and power were attractive. He wasn't bad-looking either, though he didn't think he was particularly vain. But this guy apparently had no idea who Joel was, had just approached him with a simple expression of companionship. This guy who had a refreshingly blunt way of speaking that Joel hadn't found in the corporate behavior so far this evening, who had thought to buy Joel a drink, when Joel could have drunk himself stupid several times over on Starsmith's account, and who… was hot.
What else did Joel have to look forward to when he got home, apart from plans for the workday ahead? And yes, dammit, even if he couldn't tell anyone why, he did want to celebrate.
"Join me," he said, smiling and gesturing at the cushioned seat beside him.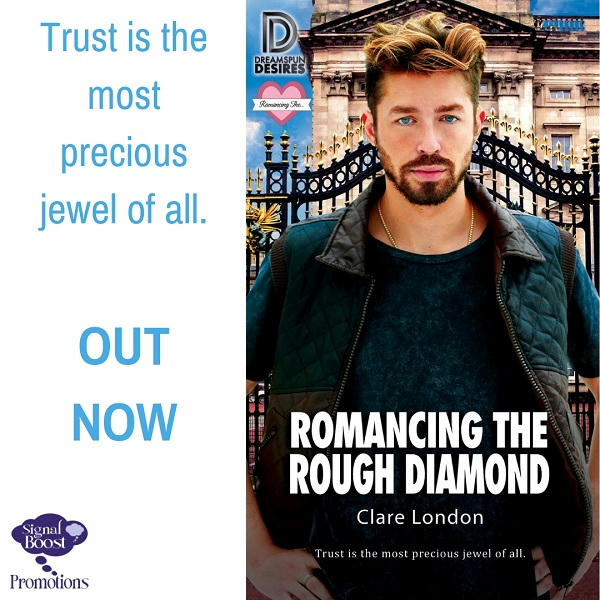 About Clare!
Clare London took her pen name from the city where she lives, loves, and writes. A lone, brave female in a frenetic, testosterone-fueled family home, she juggles her writing with her other day job as an accountant.
She's written in many genres and across many settings, with award-winning novels and short stories published both online and in print. Most of her work features male/male romance and drama with a healthy serving of physical passion, as she enjoys both reading and writing about strong, sympathetic, and sexy characters.
All the details and free fiction are available at her website. Visit her today and say hello!
Website | Facebook | Mailing List | Twitter | BookBub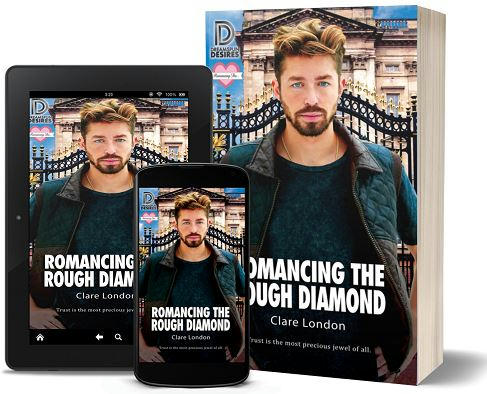 Giveaway!
Win a $10 Amazon Gift Card!