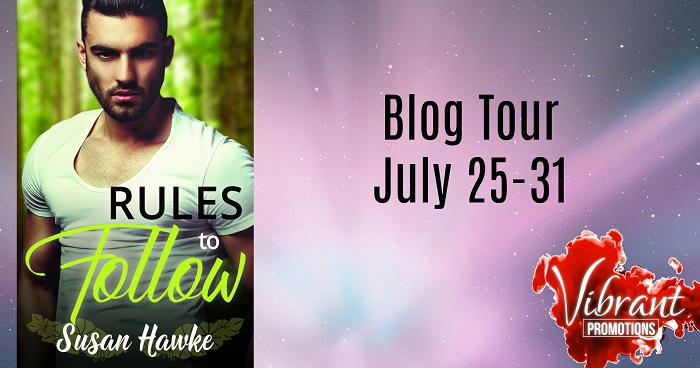 Hi guys! We have Susan Hawke stopping by today with the tour for her new release Rules To Follow, we have a great excerpt so check out the post and enjoy! ❤️ ~Pixie~
Rules To Follow
by
Susan Hawke
Davey's Rule #86: A good Daddy will never lie to his boy… even by omission.
Travis Miller has a pretty solid life in the small California beach town he calls home. He's working his way up in the district attorney's office, he owns a home with an ocean view, and he has close ties with his family. Life is good. If only he could find a sweet boy to call his own, life would be… perfect.
Adam Nichols' life has never been easy. Growing up in foster care taught him to be strong, so finding himself in a violent relationship was a shock. Now that he's finally free of it, he faces new problems. He's jobless, homeless, and terrified of starting from scratch.
With a little help from an old friend, Adam discovers a whole new world. He goes from rock bottom to renting a room from a hot assistant DA and working at Daddy's Lap, a kink club that opens his vanilla eyes to things he'd never imagined. His new roommate is a balm to Adam's damaged soul. The tender way Travis cares for him is almost like the Daddy kink community he's seen at the club. But Travis isn't a Daddy… right? If he were, surely he'd have said so.
What happens when a lie by omission threatens to bring their budding relationship tumbling down around them? Will Travis ever be able to earn Adam's trust again?
This is the first book in a new series about not-so-perfect Daddies, adorable "boys," and one sassy brat with an insane list of rules. Grab your fan and tissues because this series comes with both a high heat advisory and all the squishy feels you'd want from a Susan Hawke book. Possible trigger for references to domestic violence.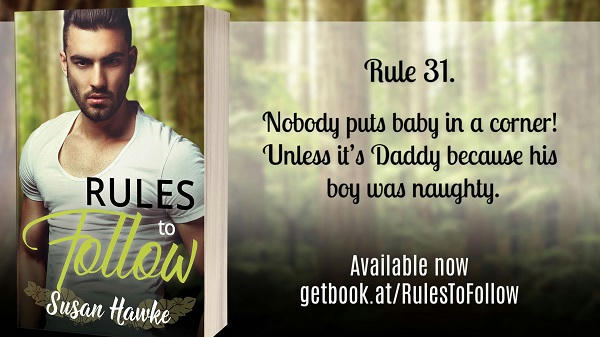 Excerpt!
After the movie, we finally took our groceries home. Travis insisted on putting everything away himself. "While I do this, how about you order us a pizza? After that scare fest you talked me into watching, I'm in the mood for something lighter. While we eat, maybe we can watch that Adam Sandler movie we never finished."
"That sounds like an excellent plan. Same order as last time?" I was already on my phone, loading the website to order online.
"Yes, but no onions or extra garlic on this one." He sounded so certain, I couldn't help but look up curiously. He was bent into the refrigerator, so I couldn't see his face. Not that I minded the view I did have, though. In fact, I was so busy checking out his butt that it took me a second for his next comment to register. "Unless you promise to eat the same thing. If we end up kissing again, I refuse to have bad breath unless it's mutual."
This was the first time he'd acknowledged the kiss. And he was hinting at another? My mouth went dry as I adjusted my pants that had suddenly gotten a little too tight in certain areas. "I-I, umm…" I gave my head a shake and started again when I couldn't get the words out the first time. "I vote for onions and garlic on the whole thing. Mutual bad breath for the win. Besides, there's garlic in the sauce anyway."
When he stood and looked over at me, I focused on my screen. I could feel my stupid cheeks blushing. I knew he'd noticed it when I heard a quiet chuckle. Deciding this was a good time to excuse myself and get a little bit under control, I headed out of the room.
"I'll be right back; I'm just going to change. If we're going to be in relaxation mode, these stiff jeans need to go." Just the mention of the word stiff had me blushing all over again, because my pants weren't the only stiff thing on my body.
By the time I cleaned up and changed into pj pants, Travis was waiting in the living room with our pizza and a couple glasses of wine. My eyes widened when I took in the dimly lit room with the movie paused and waiting on the TV. Gulping, I glanced at Travis. "Wow, I didn't mean to take that long."
He shook his head and patted the couch beside him as he turned and stretched a leg out like he had last time. "You didn't take too long, they were just really fast with the delivery this time. Come sit with me. I was thinking maybe we could cuddle. Unless you think that's too much, too soon?"
"No, that sounds… ah… nice." My heart pounded as I scurried over and got settled between his legs with my back to his chest. Travis pulled the coffee table closer and opened the pizza box.
"I brought napkins, if you need one. But I figure we can forgo plates tonight and keep it casual. Does that work for you?" His voice was like velvet as it caressed my ear.
I felt my blush return as I awkwardly nodded. "Y-Yes. That sounds good." I waited while he started the movie then reached into the pizza box. I figured I would grab my slice after he'd taken first pick.
Instead of biting into the piece he'd chosen, he held it to my mouth instead. "Take a bite, sweet boy. You always tease me about wanting to feed you. Tonight I'd like to live up to my reputation." He chuckled and waited for me to bite into the pizza.
It was weirdly nice to be fed. He patiently waited, lowering the slice while I chewed each mouthful. It wasn't until I'd finished three slices and groaned that I couldn't handle another bite that he finally ate his own. I slouched back against his shoulder, watching the movie while he had his turn at dinner. I didn't even bother with the wine; I was buzzed enough on Travis.
If anybody had walked up right then and asked me about the movie, I doubted I could have told them anything more than who starred in it. I was too aware of Travis and how good it felt to snuggle against his hard body.
Was I falling for him? It sure felt like it. The way I kept blushing, the way my palms got damp, the way my heart raced when he was near… the signs were definitely there. I thought back over everything I'd seen of this man, poking my memories for a sign of anything wrong with him.
Something had to be, because I did not have a good track record where men were concerned. The more I considered it, though, I couldn't find a single thing that would put up a red flag. If anything, he made me feel protected and special.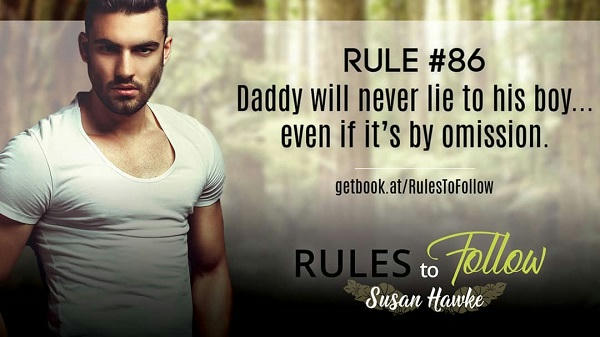 About Susan!
As an avid reader and big romance fan myself, I love sharing the stories of the different people who live in my imagination. My stories are filled with humor, a few tears, and the underlying message to not give up hope, even in the darkest of times, because life can change on a dime when you least expect it. This theme comes from a lifetime of lessons learned on my own hard journey through the pains of poverty, the loss of more loved ones than I'd care to count, and the struggles of living through chronic illnesses. Life can be hard, but it can also be good! Through it all I've found that love, laughter, and family can make all the difference, and that's what I try to bring to every tale I tell.
I'm a happily married mom with one snarky teenage boy, and three grown "kids of my heart." I'm more widely known for my mpreg writings as Susi Hawke; this new name is a departure from that. Whether written by Susan or Susi, the books are filled with that all-important love, laughter, and family I mentioned; the only difference is that this name has no male pregnancy. I look forward to sharing my stories with you, and to bringing more romance and laughter into this world that needs it so very badly.
Instagram | Facebook | Bookbub | Newsletter | Audio | FB Group | Website