Hi guys! We have Karma Kingsley stopping by today with her new release Runner, we have a great guest post where Karma chats about her writing, a great excerpt and a brilliant giveaway, so check out the post and click that giveaway link! <3 ~Pixie~ 
Runner
by
Karma Kingsley
Alex Banez is a runner for a Los Angeles film set. When he has a chance encounter with executive producer Atwell Richards, he finds himself falling fast and hard. Atwell is rich, powerful, gorgeous, and everything Alex never thought he would have. But Atwell also has a dark side and an inflexible need for control that threatens to suffocate everyone around him.
Alex has to figure out if he can love Atwell without losing himself.
Karma Kingsley!
What first drew you to writing and why did you decide to pursue it?
I've always been imaginative. When I was younger I used to make up stories about how I had older siblings but my mother killed them to make me a leader…I suppose I've always had mommy issues too.
When I was a teenager, I went through the angsty poetry era. And then around twenty-two or twenty-three, I started my first novel. It was originally supposed to be a joint short story project that I was writing with my little brother, but he quit after about two sentences and I just kept going with it until I was staring at what I thought at the time to be a 60,000 word masterpiece. But as I started writing more seriously and learning more about the craft, I realized it was more like a 60,000 word pile of chaos. Last year, I burned it at a bonfire, because of course I had about a dozen print copies because my younger self just knew random people on the street would ask me to read it. I was thoroughly convinced I was toting around the next Harry Potter. The blind confidence of twenty-year-old me was out of this world.
Anyways, after the first-novel-fiasco, I wrote about two more embarrassments before I learned to question myself. It sounds like a bad thing, but really, it keeps you growing. Once you realize that you have a lot to learn, you start learning it. I became aware of my shortcomings and started writing more consciously. Honestly, even now, sometimes I can write a project in March and go back in April and know how to make it better. It's actually kind of cathartic. It's like when you were a kid and you grew an inch. Growth is like a tangible sort of pay off to writing my ass off.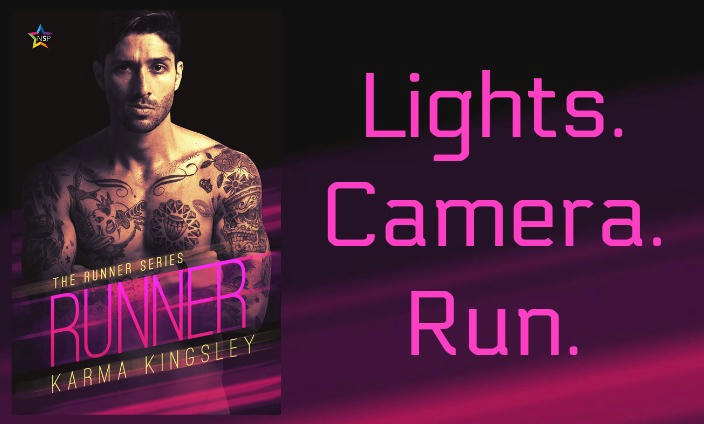 Excerpt!
Karma Kingsley © 2017, All Rights Reserved
Chapter One
"Dammit. Son of a…" Alex shook out his hand, holding back a curse as he blew a puff of cool air onto his burning fingers. The skin on his knuckles reddened and sizzled, and he clenched his jaw as he waited for the pain to subside. Goddamn new directors and their tea fetishes. He'd burned himself nearly a thousand times since the new management team had taken over the set. He was certain his hands were merely bone and burn marks, as the last of his skin had certainly just sizzled off.
Taking a deep breath, he carefully placed the scalding hot cup of Orange Jasmine onto a tray with two others, both varying pretentious flavors of tea. His new bosses from Maryland, flown in to save the current film from going up in flames, had a particular palate for teas.
Alex had thought they were joking when they requested that he place an order for the list of nearly fifty different flavors of the beverage, but the cold, sharp looks from his collection of recently arrived employers had quickly assured him that being a "tea connoisseur" was no laughing matter. He'd nodded in obedience and quickly hopped on the task, having to call in nearly every favor owed to him for the more exotic brands. He'd thought that was the hard part, until they had taken to requesting that he deliver them a new flavor of burning hot tea on the hour. In addition to the other millions of tasks he had to complete, he now had a timer attached to his waist, set to beep every fifty minutes and remind him to hydrate the arrogant devils that controlled his paycheck.
Though he wasn't in the business for the money. God knows he wasn't in it for the money. The shit job came equipped with equally shitty pay, but this was where he needed to be. Starting from the bottom was the only way to get to the top.
He picked the tray of mugs up and balanced it on his palm, keeping it steady with the light touch of his other hand. He plastered on a smile and moved forward toward the three men sitting confidently in chairs labeled with their individual titles. None of them mattered. They all outranked him.
"Oh, the tea is here," one of them exclaimed, turning in his chair to reach back for one of the glasses.
Alex opened his mouth to warn him that he was taking the wrong glass. He'd arranged them in the order that they sat, so as not to forget who ordered what, but his effort was futile as the man brought the cup to his lips. He took a sip and immediately spit it back into the cup.
"Is this Pomegranate Raspberry?" he asked angrily.
"Uh, yes. But it wasn't—" Alex started to answer but was quickly cut off.
The man stood up from his chair. He wasn't an intimidating man. His features were light, his hair platinum blond, and he was barely half Alex's size, but he was obviously used to having power and money and thought that his size was more threatening than it actually was. His gaze burned furiously into Alex. "I specifically asked for Red Velvet. Did you think that I wouldn't taste the difference? Do you think that I'm an idiot?"
Alex stared back at him openmouthed. He had no words. He wasn't even sure how the two questions correlated. He would never be able to taste the difference between any flavor of tea, ever, and he certainly didn't think himself an idiot. "Well, it's just—"
"It-it's just—" the man mocked him. "Just go, runner."
Alex stood frozen, still staring at him, and mortified by his outburst.
"I said go, before I find your replacement. Hopefully, one that can read the label on a bag of tea." The man waved him off as his two companions watched silently. Alex gathered himself. He closed his mouth and turned to leave them to bitch about him and his incompetence. He clenched his teeth together. If you want to be in one of those director chairs one day, then you better damn well keep it together, he reminded himself. He was the set's bitch boy for now but one day, he'd be running the show. One day soon.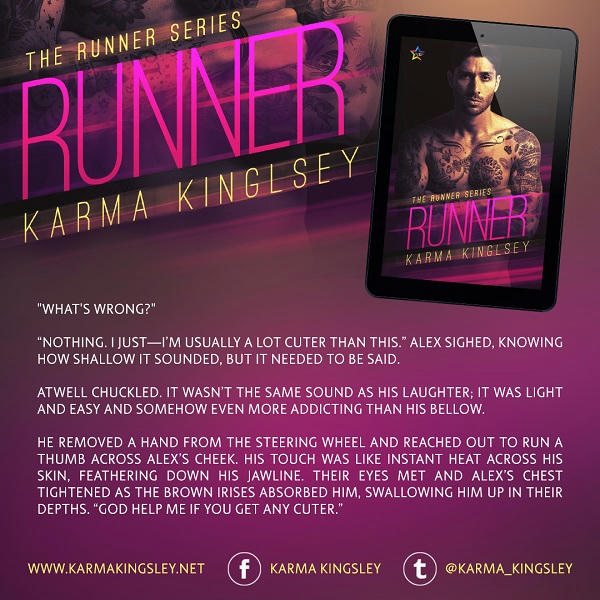 About Karma!
Karma is a wine-enthusiast, feminist, activist, humanitarian, vegetarian and just all around liberal and that often seeps into her writing. She loves any place with white, white sand and blue, blue water and an endless supply of prefix-mo drinks (Moscato, Mojito, etc.).
Author Links
Website | Twitter | Facebook | Email: KarmaKingsley@gmail.com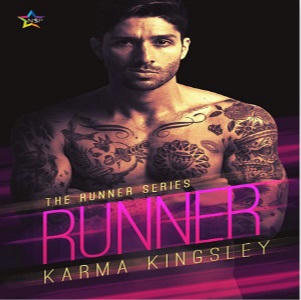 Giveaway!
One lucky winner will receive an ebook of their choice from NineStar Press!
(Just click the link below)
(Ends Midnight 25th August 2017)

Check out the other blogs on the Blog Tour!