Hey guys! We have R.J. Scott & V.L. Locey stopping by today with the tour for their new release Save The Date, we have a great excerpt and a fantastic $10 Amazon GC giveaway so check out the post and enter that giveaway! ❤ ~Pixie~ ~
Save The Date
by
R.J. Scott & V.L. Locey
Ever since he first set foot in Harrisburg, Tennant's life has been a rollercoaster. Ups and downs too numerous to mention, hard knocks and championship rings. Through all of those monumental moments, one thing has been a constant for him, Jared Madsen. Now that their wedding day is drawing nearer, Ten is seriously considering eloping. He would, if not for his mother, his father, his brothers, the wedding planner, the guests, the cake, the press, and the team. Oh, and then there's his best friend, who is vying for the job of ringmaster of the wedding circus. Would sneaking off during the night with Jared and skipping to the honeymoon part of the festivities really be all that bad?
When Jared proposed to Ten, he imagined a quiet wedding, on a beach somewhere, with family, and maybe the team. But life gets complicated with Ten's warring brothers, a Russian goalie with a love of sequins, and a bachelor party organized by Adler. When Trent sends them a wedding planner, every spare hour is filled with choosing invitations, cake tasting, and finding a rose in the perfect shade of green. Add in Layton organizing a press conference, and suddenly their private wedding is destined to become a media sensation. Is it wrong to think seriously about kidnapping Ten and spiriting him away to a small deserted island?
Adler organizing the bachelor party, Trent supplying the wedding planner, and Stan writing a speech. What can possibly go wrong?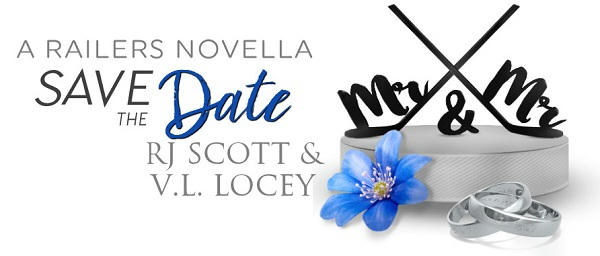 Excerpt!
Tennant
I dipped my hand into the bag of peanuts and nodded. I'd been nodding at a steady rate for about twenty minutes now. I'd tried to speak a few times, but my attempts to slide into the conversation had been trucked, but in the prettiest and sweetest ways possible.
"… added that picture of that triple-layer fudge cake to the food board. Did you see it?" That was Mom, high priestess of the Tennant & Jared Pinterest wedding boards. Noting the "S" on the end of that word board made me sigh.
I cracked the peanut shell and bobbed my head. "Uhm, no, I haven't been to Pinterest for a few days…"
All three women participating in this FaceTime morning meeting gaped at me.
"Tennant" Mom sighed and gave me her I'm-slightly-put-out-with-you stare.
"Maybe we could just pick out our top three choices for the cake patterns and send them to you? Would that work, Ten?" Brady's Lisa, the lovely blonde legal aide, asked.
"Uhm…"
"Oh! We could make a vision board and send him that when we whittle down the choices! My girlfriend Penny did that for her wedding, and it really helped us figure out what to buy as a gift," Jamie's Lisa, or Lisa #2, the tall brunette who worked as a dental assistant, chimed in. My niece Sylvia sat on her lap chewing on her fingers, her green Rowe eyes wide and happy.
That's a great idea!" Mom and Lisa #1 exclaimed.
I took a swig of chocolate milk to wash down the peanut and dipped a toe into the rapid-fire conversation. "What's a vision board?" I inquired.
Six slim eyebrows flew up three smooth brows.
"Tennant," Mom said in that voice again.
"Sorry, what? I don't do a lot of pinning or vision-boarding. Help a guy out here," I begged, giving the women a piteous look. It worked on my sisters-in-law but not so much on my mother. She was far too used to seeing my puppy dog face.
"Well— Girls no! No, do not feed that to Bourque! I'll be right back. The oldest twins are trying to medicate the dog with their doctor's kit. I think they've gotten into the liquid stool softener I had to take after Leah and Lanie were born. No! Do not give that to the dog! Bourque, no!"
Wow, okay. That was information about after-birth stuff I did not need to know.
Then mom joined in. "Ugh, I remember being so constipated after I had Tennant. I strained so hard I tore a few of my episiotomy stitches and had to—"
"Mom! Please, give a dude a break here, would you?" I pleaded just as Jared walked into the living room, all freshly showered and shaved.
"Oh for goodness sake, Tennant. Your fiancé puts his wang into your butt, and you're getting squicked out about a little discussion about hootchie stitches?"
"Mom! Oh. My. God." I slapped my hands over my hot cheeks. Jared raced into the kitchen, the coward. Lisa #2 was laughing so hard she was crying. Lisa #1 was heard in the distance yelling at her first set of twin girls. The second set were too young to feed the dog stool softener yet. "Can we not discuss what Jared and I do in bed? How do you even know about anal sex?"
"Tennant, for the love of Pete, I've been around the block a few times. Your father and I were quite adventurous when we were younger. One time before Brady was born we found some flavored lube and—"
"And no, nope, no way!" I shot to my feet, peanut shells tumbling from my lap to the carpet Jared had just vacuumed last night. Oops. "Mom, can we go back to talking about wedding boards?"
"Well, you looked bored so I thought we could talk about things that were important to you," she said innocently.
I rolled my eyes, sat down, and spent another fifteen minutes with all the Rowe gals, being talked at and around. Finally, when Mom called an end to the meeting to go to her tai chi class, I slapped the lid on my Dell shut and whimpered.
"Is it safe?" Jared called, peeking around the doorframe.
Harrisburg Railers Series!
Changing Lines (Book #1)
.•.•.**❣️ Amazon US | Amazon UK | B&N | Kobo | Smashwords | iTunes ❣️**.•.•.

First Season (Book #2)
.•.•.**❣️ Amazon US | Amazon UK | KOBO | Smashwords | B&N | iTunes ❣️**.•.•.
Deep Edge (Book #3)
.•.•.**❣️ Amazon US | Amazon UK | Smashwords | B&N | KOBO | iTunes ❣️**.•.•.
Poke Check (book 4)
.•.•.**❣️ Amazon US | Amazon UK | B&N | Kobo | Smashwords ❣️**.•.•.
Last Defence (book 5)
.•.•.**❣️ Amazon US | Amazon UK | B&N | Kobo | Smashwords ❣️**.•.•.
Goal Line (book 6)
.•.•.**❣️ Amazon US | Amazon UK | B&N | Kobo | Smashwords ❣️**.•.•.
Neutral Zone (book 7)
.•.•.**❣️ Amazon US | Amazon UK | KOBO | iTunes | B&N | Smashwords ❣️**.•.•.

Hat Trick (book 8)
.•.•.**❣️ Amazon US | Amazon UK | B&N | Smashwords | KOBO | iBooks ❣️**.•.•.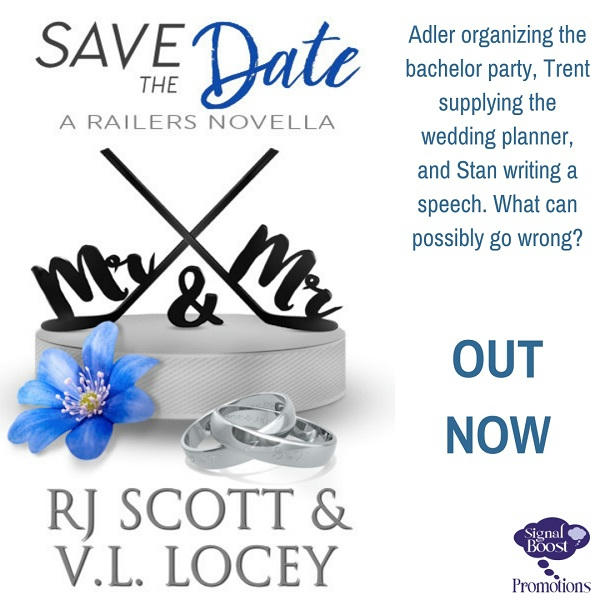 About R.J. & V.L.!
RJ Scott is the bestselling romance author of over 100 romance books. She writes emotional stories of complicated characters, cowboys, millionaire, princes, and the men and women who get mixed up in their lives. RJ is known for writing books that always end with a happy ever after. She lives just outside London and spends every waking minute she isn't with family either reading or writing. 
The last time she had a week's break from writing she didn't like it one little bit, and she has yet to meet a bottle of wine she couldn't defeat.
Website | Facebook | Goodreads | Twitter | LibraryThing | mailto:rj@rjscott.co.uk
V.L. Locey loves worn jeans, yoga, belly laughs, walking, reading and writing lusty tales, Greek mythology, the New York Rangers, comic books, and coffee. (Not necessarily in that order.) She shares her life with her husband, her daughter, one dog, two cats, a flock of assorted domestic fowl, and two Jersey steers. 
When not writing spicy romances, she enjoys spending her day with her menagerie in the rolling hills of Pennsylvania with a cup of fresh java in hand. She can also be found online on Facebook, Twitter, Pinterest, and GoodReads. 
Website | Facebook | Twitter | Pinterest | Goodreads | Blog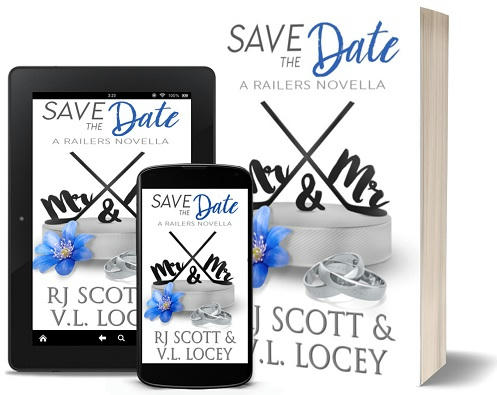 Giveaway!
Win a $10 Amazon Gift Card!