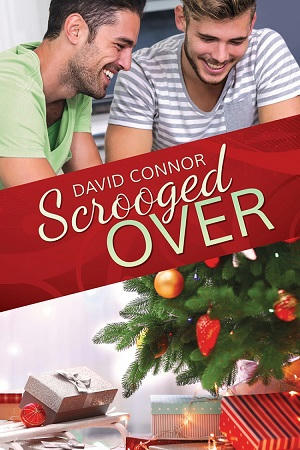 Title: Scrooged Over
Series: 2016 Advent Calendar Bah Humbug
Author: David Connor
Genre: Contemporary, Holiday, Humor
Length: Novella (95 Pages)
Publisher: Dreamspinner Press (December 26, 2016)
Heat Level: Low 
Heart Rating:  ♥♥♥♥ 4 Hearts
Blurb: For dueling radio hosts Deke and Dudley, the battle over Christmas starts the day after Thanksgiving. Deke hates the whole season. Dudley is a yuletide overachiever. They put their debate to a vote, inviting audience members to weigh in. The loser must go on a blind date of the winner's choosing. Dudley decides he wouldn't mind taking the loss, if his blind date, picked by Deke, turns out to be Deke himself. As Christmas gets closer, not only does that fantasy seem unlikely, but everything that can go wrong for Dudley does, including malfunctioning decorations, rancid cookies, and a lost pile of hundreds of handwritten Christmas cards. Just days before Santa's arrival, Dudley's about to throw in the red and green towel and join all the haters. It'll take a miracle to change his mind….
ISBN: 978-1-63533-188-2
Product Link: https://www.dreamspinnerpress.com/books/scrooged-over-by-david-connor-7982-b
Reviewer: Lisa
Review: When I first got this book, I wasn't really sure about it.  Here you have two guys who have the hots for each other, but they are so different in many ways.  Deke hates the holidays and Dudley loves them.  However it works perfectly with their jobs. You guessed it, Deke plays the grump and Dudley loves the holidays.  However this year there is a bet going on, and the looser has to go on a blind date.  A blind date that the winner picks out.   Wouldn't be so bad if it was with each other, but you will have to read the story to find out what happens next.
This is a cute and funny little story that will knock your socks off.  I had a blast reading this and wouldn't mind doing so again.  These two are perfect for each other, however if I was Dudley, I would have kicked Deke's butt around the corner.  I had a lot of fun reading this and would definitely be checking out the rest of this author's books out.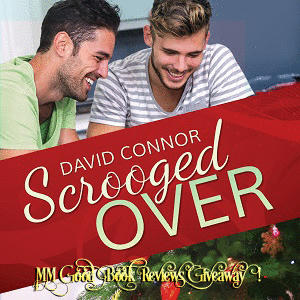 1st prize $100 DSP credits!
2nd prize $50 DSP credits!
3rd prize $25 DSP credits!
4th prize $25 DSP credits!
David Connor's Questions!
In Orange You Glad I Said Kiss what is Eddie?  
(Just leave a comment with the answers on this post)
Catch up with the previous questions: MMGBR Bah Humbug Giveaway!
(Winners will be picked by a dart on 1st January 2017)