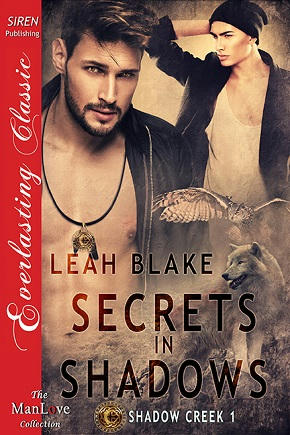 Title: Secrets in Shadows
Series:  Shadow Creek 01
Author: Leah Blake
Genre: Paranormal, Shape-shifter
Length: Novel (192pgs)
Publisher: Siren-Bookstrand, Inc. (June 5, 2017)
Heat Level: Moderate – Explicit
Heart Rating: ♥♥♥♥♥ 5 Hearts
Blurb: Wolf shifter Rex Vanderbilt has lived a life of luxury and privilege. That changes one fateful night following an attack by hunters that nearly kills him and his family. They seek refuge and protection at the private paranormal sanctuary, Shadow Creek. Rex discovers how little he understands his wolf's blood after the strangest out-of-body experience in the presence of one particular shifter.
Devon Michaels is a great horned owl shifter and part of the Creek's top circle of guards. He prefers solitude after a betrayal that nearly cost him his life. When Rex arrives on the manor's doorstep, he instantly recognizes the rowdy wolf as his mate. He has no interest in the irresponsible, spoiled man, but Rex has other plans to win Devon's affections.
When the Creek's borders are breached by hunters and Rex is injured, Devon must make a decision. With the promise of another attack looming, time is running out. Can he let go of the past to protect his mate?
ISBN: 978-1-64010-379-5
Product Link: http://www.bookstrand.com/book/secrets-in-shadows
Reviewer: Shorty 
Review: So much tension between Rex and Devon you could cut it with a knife. Devon wants nothing to do with his mate. Yet Rex very much wants him. Cruel words are exchanged between the two and mistakes made until an attack brings them together. 
Shadow Creek is a safe place for paranormals who are on the run can go. It houses a wide variety of creatures. I really liked this place as a refuge for all who have been kicked or hunted by hunters.
I loved this book. There was action, danger, mystery, tension and drama. I really enjoyed the fact that even though these two were mates they did not fall into bed right off the bat as is the case with most paranormal books. They each had issues to work out before that was able to happen.
Loved it. Highly recommended.