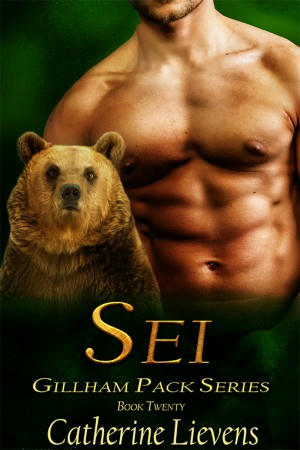 Title: Sei
Series: Gillham Pack #20
Author: Catherine Lievens
Genre: Paranormal 
Length: Novella (120 Pages)
Publisher: eXtasy Books (February 10, 2017)
Heat Level: Moderate
Heart Rating: ♥♥♥♥♥ 5 Hearts
Blurb: Rushing into things isn't always wrong, no matter what everyone says.
Sei has had enough of dodging his mother's and his aunt's attempt to arrange a bonding for him since Clea mated with Christian. They don't see a reason for him not to bond with someone they choose, but he doesn't care about traditions. He wants the real deal when it comes to mating—love, lust, and a happily ever after.
Donovan is the liaison between the pack and the government. His job isn't running around Washington rescuing street kids, but he wants to help the pack, and those kids. The last thing he expected from his impromptu mission was to meet his mate.
When Sei is overwhelmed by a crowd of reporters who have come to Gillham to find out more about shifters, he's rescued by a bear shifter. He recognizes Donovan as his mate only once Donovan shifts, and he doesn't let the occasion slip away. They mate within hours of their first meeting, but Sei hadn't considered the complications that would come with it.
The attacks on the pack are escalading, Donovan's son is vehement about his dislike of Sei, and Donovan doesn't know what to do. Will he have to choose between his mate and his son? What can he do to keep the pack safe? Will this be the time when everything falls apart?
ISBN: 978-1-4874-1000-1
Product Link: http://www.extasybooks.com/sei/
Reviewer: Lisa
Review: Each book in the Gillham Pack collection features a new romantic couple. To enjoy the overall story arc and crossover characters, I would recommend reading the series in sequential order. This series is also connected to the Whitedell Pride collection. There is nothing better than a good paranormal romance with two gorgeous men involved.
I have been reading romance and paranormal's for over 30 years and can honestly say that I love a good paranormal romance more than any other kind of story.  It was not until 5 years ago that I started read m/m romance stories.  The action in them just seems to be more believable then when it is m/f.  So over the years you come to cherish and love certain authors more than many others.  It is the way they tell a story that will have you wishing you were right there with them.  And sometimes you wished you were the one falling in love.  This author has moved up the line to be one of my top favorite authors and from the way her stories are told, she will probably stay there.  
Her characters are quirky as hell, protective to the point of well you can guess that answer.  I still have my ultimate favorite ones but many start to work their way into my heart.  Her stories also are full of action, suspense and danger plus some hot sexy time for our guys.  They catch my attention the moment I start reading and keep it all the way to the very last word.  This story gave me everything I could ask for in a story and so much more.
Sie is a sweet and very cute little firecracker who can shimmer where ever he needs to go.  His family has set him up to bond with a female, but of course our sexy guy is so not into girls.  However he is one of the lucky ones, whose family just seems to flow with it.  Out on a little side trip to the store, leaves him overwhelmed by a group of nasty reporters, although Connor is not so bad.  But to is luck, his mate just happens to be a big old brown bear shifter.  
Donovan works for the government as a go between human and pack.  Now that he has found his little mate, he just might be rethinking that.  Especially when the attacks on the pack are getting out of hand.  And you have your total asshats who are in the pack, acting like well asshats.  Kam sure does have his hands full.
I love how it has that serious tone to it but there is a bit of humor in it that your attention is captivated throughout it all. I loved the cover and that was what caught my attention first. Although to be honest any book that Catherine writes is automatically bought by me. I just can't seem to get enough of this series. There is something about the way that she tells you a story more than likely have you laughing your ass off at parts of it.  
This story is perfect for when you are trying to take a break or when you just need the sun to shine for you. It caught my attention from the moment I started reading and kept it all the way to the end. It also gave me everything I could want in a book. I can honestly tell you that this is going to be one of those types of series. One that I will have to read over and over. I love the way all the feelings they felt was involved in this story. It was the perfect story for me and I loved it. I can't wait to read the next story.