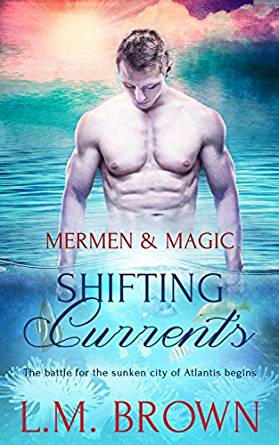 Title: Shifting Currents
Series:  Mermen & Magic 04
Author: L.M. Brown
Genre: Fantasy, Paranormal
Length: Novel (235 pages)
Publisher: Pride Publishing (April 25, 2017)
Heat Level: Moderate
Heart Rating: ♥♥♥♥♥ 5 Hearts
Blurb: Can a merman and an Atlantean, separated by centuries and prejudices, find love together?
Merman Delwyn is an Oracle of the past. He loves nothing better than observing the comings and goings of those who lived centuries before he was born. His favorite time period to visit is when both Atlantean and mer inhabited the sunken city of Atlantis, and his guilty pleasure is watching lovers come together in passion. Secure in the knowledge that no one can see him when he's viewing the past, nothing can prepare Delwyn for the moment Fabian, an Atlantean living in the past, speaks to him.
Fabian is a man with divided loyalties. The demi-god son of the Goddess of Sea Creatures has sworn to serve the Goddess of Prophecy as her Oracle of the present. His unique status gives him the power to see anything in the present, including the mysterious merman voyeur from the distant future.
Despite the centuries that separate them, Delwyn and Fabian find they have a lot in common and quickly form a friendship that both hope one day will become something more. But before they can be together in the present, Delwyn and Fabian must unravel the mysteries of the past.
Only time will tell if truth about the long-since vanished Atlanteans will bring them together or tear them apart, as the battle for the sunken city of Atlantis begins.
ISBN: 978-1-78651-544-5
Product Link: https://www.pride-publishing.com/book/shifting-currents
Reviewer: Shorty 
Review: I loved this book. Definately proves that time and distance does not mean a thing when it comes to love. Delwyn, the oracle of the past, delves into the past and comes across an Atlantean, Fabian who is a Demigod, that intrigues him but shocks him when he actually sees him. He continues to go back to see him and the two form a bond. 
What I liked most was the way the story unfolded. There were twist and turns and Delwyn tried to solve the mystery as to Fabian's whereabouts in his time. Where he was came as a shock to me but I was thrilled at the same time. 
I really despised Fabian's mother, the goddess of sea creatures. I have my suspicions as to why she the mer people so much. I was curious as to why the Atlantean's were banished as I don't think it said unless I missed it somehow. 
Intense, mysterious, suspenseful and plenty of action. That is how I would describe this story as it has many things unfolding as it progresses. I am very much so looking forward to the next book to see what else happens. 
Highly recommended.