Hi guys! We have Amy Aislin stopping in today with the cover for her upcoming release Shots on Goal, we have a great excerpt and a fantastic giveaway, so check out the post and enter the giveaway! ❤️ ~Pixie~
Shots on Goal
by
Amy Aislin
Recently traded to the newly formed Vermont Trailblazers, professional hockey player Roman Kinsey needs to focus on helping the team win games and filling the stands, not on the blond, bespectacled part-timer who works at the library he volunteers at. He knows all too well that outing himself equals heartache and ridicule…or worse.
Cody Evans, psych major and grad school hopeful, notices everything and thinks too much. But he doesn't know what to think when he sees Roman reading to kids. The rugged hockey player just doesn't look like the type. But it stirs something in him, something he's never felt before.
When the library is threatened with closure, Cody enlists Roman's help. As they get to know each other better…much, much better…they realize that they have more in common than books. But Roman's keeping a big part of himself from his team, and giving in to his feelings for Cody might be more than he's willing to risk.
.•.•.**

❣️

Release date: 7th January 2020

❣️

**.•.•.

Excerpt!
Getting to know Roman Kinsey was going to be all kinds of interesting.
"Mr. Kinsey, this is Cody Evans," Eileen said. "Cody's one of our part-timers and he'll be running Tiny Tot Storytime on the Tuesdays you're unable to make it."
Roman nodded once. "Thanks." It was so grudging that Cody's smile widened.
Roman's lips pinched.
Holding out a hand, Cody said, "It's nice to meet you, Mr. Kinsey."
"It's just Kinsey. Or Roman. Whatever." His voice was pitched low, almost rough from thirty minutes of reading aloud.
"Which do you prefer?"
Something flickered across his face, and his hand jerked in Cody's before he pulled back. "Roman's fine."
"Let me grab your things from the staff lounge, Mr. Kinsey," Eileen said with a pat on his arm.
"Oh no, I can . . ."
But Eileen was already walking away, her old lady loafers with the buckle on the side silent on the carpet. Leaving Cody alone with Roman Kinsey. He bit the inside of his lip to conceal a grin.
Roman parked his butt against the hip-high bookshelf and crossed his arms. Silent. So, not one to fill awkward silence with inane chatter then. Cool. Except Cody, for some reason he couldn't name, itched to get him talking.
"Good game last night," he said.
That startled Roman, surprise crossing his features before he schooled them again. "We lost."
"Only by one point, and you guys put up a hell of a fight. And Mr. Hannigan was right, you know." Cody jerked his chin toward Mr. Hannigan, trailing his twin boys out the door. "Ritz is a left shooting center." Meaning that on rushes down the ice, he tended to pass to his right winger more often than his left winger. "And you're now the strongest right winger on the team. You really would be well-matched. Oh, and Mr. Mulligan's right too—you guys really do need more shots on goal."
Surprise crossed Roman's face again, and this time it stayed there. "You know hockey?"
Cody shrugged. "Some."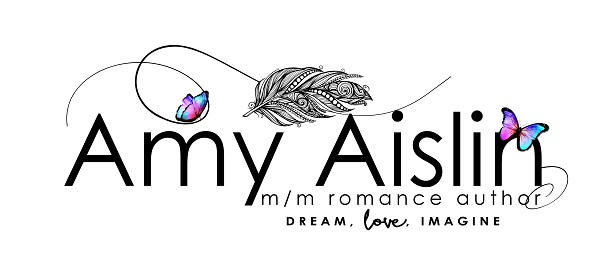 About Amy!
Amy Aislin's lived with her head in the clouds since she first picked up a book as a child, and being fluent in two languages means she's read a lot of books! She first picked up a pen on a rainy day in fourth grade when her class had to stay inside for recess. Tales of treasure hunts with her classmates eventually morphed into love stories between men, and she's been writing ever since. She writes evenings and weekends—or whenever she isn't at her full-time day job saving the planet at Canada's largest environmental non-profit.
An unapologetic introvert, Amy reads too much and socializes too little, with no regrets. She loves connecting with readers. Join her Facebook Group to stay up-to-date on upcoming releases and for access to early teasers, find her on Instagram and Twitter, or sign up for her infrequent newsletter here.
Website | Facebook | Facebook Page | Twitter | Instagram | Pinterest | Tumblr | Goodreads | QueeRomance Ink | Amazon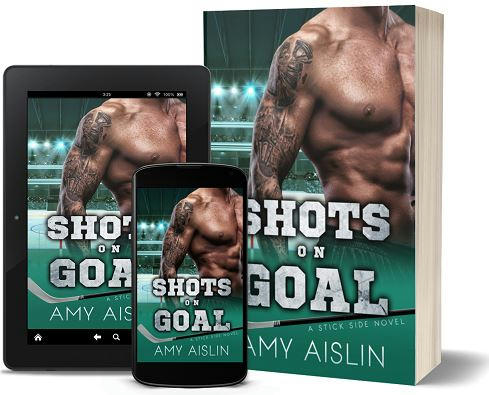 Giveaway!
Win an e-ARC of Shots on Goal!