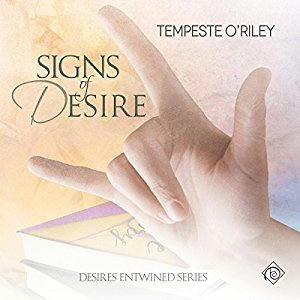 Title: Signs of Desire
Series:  Desires Entwined 04
Author: Tempeste O'Riley
Narrator: Jeff Gelder
Genre: Contemporary
Length: 6 hr, 35 mins
Publisher: Dreamspinner Press LLC (27th July 2016)
Heat Level: Moderate
Heart Rating: ♥♥♥♥♥ 5 Hearts
Blurb: Simon Tyler knows his job as a gay romance author makes his lack of faith in love more than a little ironic, but he's tired of being used for his wallet. When a night out turns into a matchmaking scheme orchestrated by his best friends, Simon's not thrilled, but since he's not the target and he's sworn off happily-ever-after anyway, he goes along with it…until he meets Adrian, the object of their efforts, and finds perhaps he hasn't given up on love after all.
Professor Adrian Keys has tried to date Hearing men before, but being Deaf himself, he's never had any success at making a connection. After his friends con him into going out and Adrian realizes it's all an elaborate plan to set him up, he braces for yet another failure, only to discover there is a spark – except it's not with the man his friends had in mind, but with Simon Tyler instead.
Not all their friends have found a way past their romantic failures, but Simon and Adrian might be on the path to happily-ever-after.
Product Link: Audible US | Audible UK
Reviewer: Prime
Review: This is the fourth installment of the Desires Entwined series. This one could probably be heard/ read as a standalone, though by now both main characters in this one have been known to us for some time now. Simon we've known from the start of the series, and Adrian was introduced to us very briefly in Book 2. This series, in general is sugary sweet with the sweetest, romantic heroes and just so satisfying to hear. Actually, it's the perfect series to just sit back or go about your day and listen to.
Simon is part of the small group of friends that are central to this series. Just like his friend, Chase, he's seen to be nothing more than a party boy and generally a slut when it comes to men. Simon is from a wealthy and influential family, although he distances himself from them since they do not like the fact that he is gay. But Simon is independently wealthy and also happens to be a romance writer. The poor guy writes book after book of HEA for his characters (gay or otherwise) but he is just unlucky in love.
Simon meets Adrian, through Chase. Adrian was Chase's professor at college for an advanced computer forensics type of course. Adrian also happens to be deaf. He can lip read very well but it is only natural that his primary language is American Sign Language.
Simon and Adrian seem to hit it off really well. Simon goes in with his heart on his sleeve. He doesn't hesitate in doing whatever it takes for him to be with Simon, including learning and taking classes in ASL. Simon also deals with Adrian's sometimes difficult but always overprotective friends. That entire story line with Adrian's friends is just wonderful – including the set down Adrian gets from an ASL teacher about throwing Simon into the deep end of ASL. But Simon takes it all in his stride.
Honestly, this is a very enjoyable and sweet story. I really loved this one because Tempeste O'Riley brought to life the challenges of learning ASL as well as telling a story from the POV of a deaf main character.