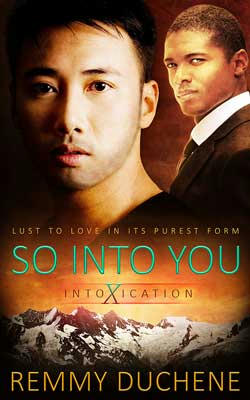 Title: So Into You
Series: INTOXICATION #1
Author: Remmy Duchene
Genre:  Contemporary
Length:  Novella (125 pages)
Publisher: Pride Publishing (15th March 2016)
Heat Level: Moderate
Heart Rating: ♥♥♥♥♥ 5 Hearts
Blurb:  Alfred Leung's life is in the crapper. From his gold-digging, racist mother and a cheating ex-boyfriend to his hang-ups about sex—everything in his existence depresses him. Add to it spending his days serving faux French food in a diner. It isn't how he planned on spending the rest of his life—the fates have definitely conspired against him. Just out of a relationship, he decides to focus on work and going back to one of the things that makes him happy—photography. Then Darius Stark in his Armani suit walks through the door of the diner, and Alfred's world is about to take on a spin he never saw coming.
Darius Stark hasn't been with a man in years. Men see the suit and run screaming in the other direction or they tear-ass toward him because they see dancing dollar signs. He decides to focus on his business, but soon he's buried himself so deeply in his work that years goes by without someone to love. Finally, he sees Alfred and wants him, but Darius is about to find out not everyone thinks he's almighty and that some men are flawed.
ISBN: 9781786513878
Reviewer: Veronica
Purchase Link: https://www.pride-publishing.com/book/so-into-you
Review: Darius Starks is a man that have given up on Relationships and Love. He's tired of people looking at him and seeing Dollar signs, being with him only when they want something or they're afraid of him. Alfred not to long got out of a bad relationship, where his ex cheated on him, and another having hang-ups about Sex. They both want to be Loved for who they are on the inside, and not for their outer appearance.
Alfred's mother is a piece of work, she's Racist, she doesn't approve of her son being Gay, but yet she wants him to stay in a bad relationship because it benefits her, money-wise. She doesn't care if her son is happy or not.
From the moment, Darius walked into the Diner that Alfred works in, Alfred becomes weak in the knees and has an instant attraction to Darius, but thinks that there's no way that Darius would look at him in a sexual way. After a misunderstanding at their second meeting. Darius sets out to change Alfred's mind about him.