Hi peeps! We have Archer Kay Leah visiting today with the tour for Soulbound, we have a great exclusive excerpt and a fantastic giveaway where there's 3 $10 Amazon GC's up for grabs, so check out the post and enter the giveaway!  ❤ ~Pixie~
Soulbound
by
Archer Kay Leah
In a relationship that violates rules and expectations, Mayr and Tash have found their perfect match in each other. Despite their fears and difficult pasts, they hope for a shared future with security and a family. When Mayr's secret first love, Arieve, proposes they create that family with her, it seems dreams could become reality.
But life is complicated, and so is the delicate balance between duty and love. While Mayr protects the Dahe family at all costs, Tash is determined to succeed as a priest. Both positions require sacrifice, forcing their relationship into painful choices. To make matters worse, criminals lurk in the shadows, seeking revenge on them and those they guard.
The life they want risks losing everything—including Arieve and each other. Even if they can have it all, keeping it may take more than they can give.
Warnings: "Soulbound" contains some explicit content, references to self-harm, suicide, and mentions of suicide-related behavior and intent. This story also contains instances of graphic violence, references to rape and domestic abuse, and depictions and mentions of depression.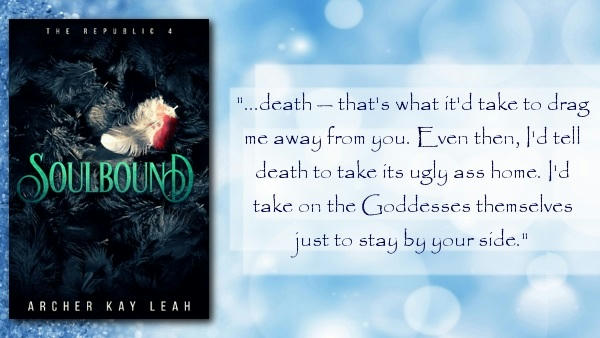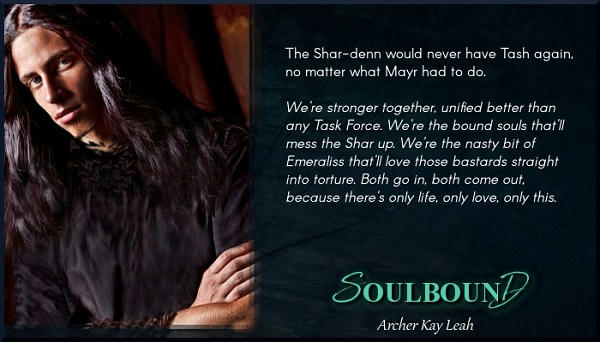 Exclusive Excerpt!
Hello, everyone! I'm Archer Kay Leah, author of LGTBQA+ romances with a fantastical kick (and sci fi, too!) because if there's a whole new world out there to explore, I'm there. Thanks to all of you for dropping in to check this out, and warm thanks to MM Good Book Reviews for hosting me today. ❤
Today's stop on the Soulbound blog tour is an exclusive excerpt! This bit comes from one of the most romantic scenes in the book, where Mayr's got plans and he's set on making them happen. He's absolutely determined to make this one night their everything, having practiced and schemed and agonized over it for a week. The location is significant to them, too, going back to a night in book 2, Four, where they got up close and personal in this same conservatory. It's become their little hideaway… at least when they can disappear without anyone looking for them. Enjoy!
Excerpt: Conservatory
"Come on." Mayr spun on his heel and led Tash through the hall by the wrist. Stopping at the conservatory, he reached for the gold door handles.
"Wait, what are you doing?" Tash eyed Mayr with a dazed look. "It's freezing in there."
"It's been a mild day."
"It's still winter. Cold, icy."
"I have every confidence you'll keep me warm." Mayr turned the handle slowly, testing how long he could prolong Tash's horrified expression. Silent laughter toyed with his memories of their first time together in the conservatory. It was their hideaway to touch and worship among fragrant scents and the inspiration of life. No season would keep them from it.
"Have you lost your mind?" Tash stepped back as Mayr pushed on the door. "It's been locked since the Feast of Taleyra."
"Yes, and now it's not."
"The gardener's the only one that goes in."
"Not tonight." Mayr held out his hand. "Come in with me, even if it's just for a moment."
The uncertainty on Tash's face deepened before he clasped Mayr's hand. "A moment."
Mayr slipped inside and coaxed Tash with a gentle tug. A wall of warmth hit him, the air thick with a myriad of aromas, blending sweet flowers and woody leaves with scented wax. Quiet pops and hisses sounded from around the room. Before him, the white marble path and its silvery-blue veins appeared golden in the candlelight.
Tash's grip tightened as he stopped. His shaky breaths cut through Mayr with all the sharpness of a scream.
"I don't understand," Tash whispered. "How?" He glanced over the room. When he looked back, tears glistened in his eyes. "Why?"
Mayr closed the door and wrapped his arm around Tash's waist. "Magic," he said against Tash's jaw, "for you."
Moving behind Tash to embrace him, Mayr rested his chin on Tash's shoulder to survey the transformed room. In the spring and summer, the conservatory boasted flowers of various colours and glossy leaves with a multitude of hues, but in the winter, the garden beds were dominated by plants that thrived in the cold. Prickly bushes of rich purple branches and brown, tear-shaped nuts stood strong among the red-black shrubs of hard, coarse leaves striped with yellow. They towered over hardy flowers with ice-blue petals, black leaves speckled with silver spots, and dusky blue tendrils that crept onto the marble path. Winter vines coiled around anything they found, their deep blue limbs and rugged, mauve leaves anchored to the remnants of summer vines and thick, yellow stalks of plants that would bloom again in the spring. Where the gardens ended at the edges of the glass walls, vines grew upwards in tangles on wood lattices. White leaves lay scattered over the soil and paths.
Unlike other days, the conservatory looked ethereal. Bushes that normally glistened with ice glimmered with drops of water from an imposed thaw. The colourless glass walls were not opaque due to snow and frost but from steam and heat. Throughout the room, white candles flickered. Small brass lanterns hung on the bushes on either side of the marble pathway. Around them, crystalline glass balls and silver ribbons hung from shrubs and vines staked upright. Strands of shimmering glass beads looped and twisted around the stalks and limbs, accompanied by chains of bright blue jewels that dangled from leaves and mimicked the creeping vines. A light layer of silver dust gave the soil a metallic sheen like delicate snowflakes.
Even the pool of water in the centre of the room was adorned. The round enclosure of white and silver stones stood to Mayr's knees, filled with water warmed by Adren's magic. Candles floated on the surface amidst silver petals. Beside the pool lay a pile of thick blankets and colourful silk pillows. Gold, purple, and red fabrics beckoned, offering a comfortable space to love and be loved.
Tash latched onto Mayr with trembling hands as if he never wanted to let go.
Not bad for a week of conspiring, Mayr mused, smiling into Tash's shoulder. The ornaments had been the easiest to arrange, most of them from the collection used for the Feast of Taleyra. Each year for the feast, the conservatory was decorated and opened to guests as a reprieve from the festivities in the ballroom. Afterwards, the baubles were removed and the room left unlocked but closed tight to keep the cold air from the rest of the house. Sometimes Aeley or Lira visited the conservatory, bundled up in winter attire while they contemplated. Other than them and the occasional guard, only the gardener, Noa, entered in order to tend the plants and check for drafts and damage. There was no reliable and efficient heat source, particularly given the large space and extensive glass encasement. While other Grand Families experimented with ways to warm their conservatories, Aeley preferred to keep the winter garden as it was.
Except for one night. Mayr buried his face in Tash's neck and breathed him in. For tonight it's warm, beautiful, and ours.
"Ecstasy in glass," Tash whispered. "How?" He held out his hand and glanced upwards as though he expected rain to fall from the fogged ceiling.
Slow and steady, Mayr glided his fingers down Tash's extended arm, lingering in the crook of Tash's elbow with circling caresses before continuing over his bracer. His touch dipped into Tash's palm, feather-light to the touch.
"If you look hard enough, you'll see," Mayr answered.
As Tash shivered and drew his arm back, Mayr laughed softly and twined their fingers. He lifted Tash's arm towards the wall to their right, gesturing to one of the water barrels. Inside the perimeter of the garden beds were water-filled troughs and buckets, all strategically placed.
Mayr folded Tash's arm across his chest. "Adren tried all week to come up with something. Then ce came up with this, all elegant and perfect." He slid both of his hands up Tash's chest, over his shoulders, and stopped at Tash's neck. "Inside the barrels and troughs are rocks infused with Adren's magic. They're so hot they boil the water and let off steam," he murmured against the sensitive skin behind Tash's ear. "Even the pool has them. We're fine as long as we don't touch them." Brushing Tash's veil and hair aside, Mayr licked Tash's nape. "It won't last long. Adren says it takes less than half a day until everything goes cold. We should—"
Tash was a blur as he turned and kissed Mayr with so much fervour it hurt. His arms looped around Mayr's neck, pulling him into the assault.
Mayr surrendered with a choked cry. He met each thrust of Tash's tongue with his own, their lips attempting to meld and move as one. Arms around Tash's waist, Mayr held tight and ground against Tash. Fingers raked down his back. Tash's desire staked its claim on Mayr without restraint.
In an instant, his weapons belt was unbuckled and in Tash's hands.
"We don't have much time then," Tash said, tossing the belt aside and seizing Mayr's second belt. Tash's face flushed as he fumbled with the buckle. "We need to make the best of this." He flung the second belt behind him. The leather and metal skidded across the floor into a shrub.
Not a breath later, his palms clamped around Mayr's cheeks. In a heated frenzy, he jerked Mayr in for another kiss, almost toppling them both…
~~~
And with that, here ends today's post! Thank you so much for reading. I love hearing from readers, so feel free to share your thoughts, questions, or comments. Have a great one, and happy reading!
The Republic series!
With the right people and the right price, the Republic of Kattal can be brought to its knees. But for every line crossed, someone waits on the other side, ready to push back.
Armed and ready to defend their lives, these heroes are not afraid of the fight. They stare adversity in the eye and dance with the darkness within. But in their justice, there is wisdom. In wisdom, there is protection. In it all, there is love. Sometimes it's a matter of saving a village; sometimes it's a matter of saving the one they can't live without. Sometimes it's just about doing the right thing and learning to love oneself.
Magic may lurk in the shadows. Crime may never sleep. But love doesn't back down.
A Question of Counsel (book 01)
Less Than Three Press | Amazon US | Amazon UK | B&N | Smashwords | KOBO | iTunes
Four (book 02)
Less Than Three Press | Amazon US | Amazon UK | B&N | Smashwords | KOBO | iTunes
Blood Borne (book 03)
Less Than Three Press | Amazon US | Amazon UK | B&N | Smashwords | KOBO | iTunes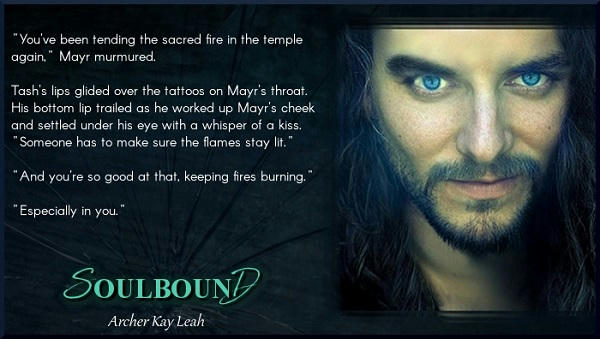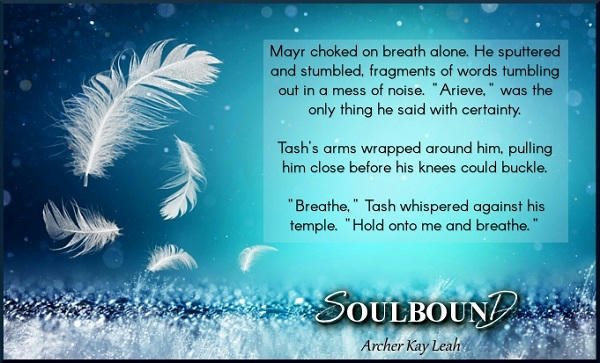 About Archer!
Archer Kay Leah was raised in Canada, growing up in a port town at a time when it was starting to become more diverse, both visibly and vocally. Combined with the variety of interests found in Archer's family and the never-ending need to be creative, this diversity inspired a love for toying with characters and their relationships, exploring new experiences and difficult situations.
Archer most enjoys writing speculative fiction and is engaged in a very particular love affair with fantasy, especially when it is dark and emotionally charged. When not reading and writing for work or play, Archer is a geek with too many hobbies and keeps busy with other creative endeavors, a music addiction, and whatever else comes along. Archer lives in London, Ontario with a bigender partner and rather chatty cat.
Website | Facebook | Twitter | Goodreads | Amazon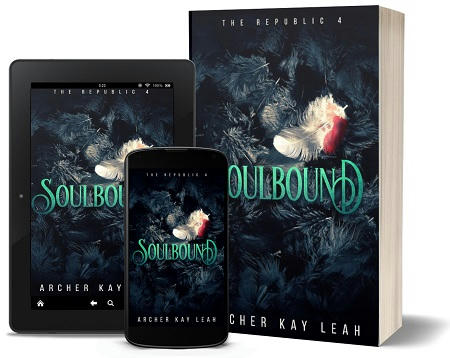 Giveaway!
Win! 3 $10 Amazon Gift cards!