Hi guys, we have Posy Roberts popping in today with her new re-release Spark, we have a great excerpt and a fantastic giveaway so check out the post and enter the giveaway! ❤ ~Pixie~
Spark
by
Posy Roberts
A love story with a seventeen-year intermission.
Hugo Thorson fell in love when he was sixteen. He's maybe been in love since, but probably not. He's been too busy directing plays to devote much time to men who can't accept all of him. No one ever made him feel like his first love did.
Kevin Magnus married a woman and has two children, but the marriage wasn't happy. In the shadow of divorce, he's striving to be a better father, but he's still a work in progress.
When Hugo and Kevin bump into each other at the lake, memories of their last kiss incite a new first kiss. Visions of the life they always wanted are vivid, but so much stands in the way of their dreams. Hugo is out and proud but no one knows Kevin's bisexual. If Kevin comes out, he risks losing custody of his kids. If he doesn't walk hand in hand with Hugo, he risks losing the love of his life.
The curtain may never rise on their second act.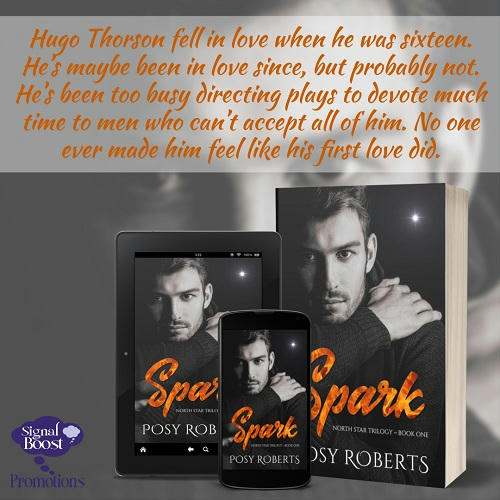 Excerpt!
A gentle kiss brushed against Hugo's mouth, startling him away from a peaceful, inattentive moment. He didn't mind. He lay on plush grass cooled by the shade of trees. Kevin hovered above him with his nose near Hugo's chin. A second kiss, softer than the first, bottom lips dragging as Kevin shifted away and came in for yet another.
Breaths fanned over Hugo's mouth so he could taste Kevin, making him want to kiss again and again. And deeper. But Kevin kept it sweet, tender, lips on lips, the sensitive pull almost ticklish at points.
A raindrop landed on Hugo's cheek, but he ignored it. Nothing would drag him away from this perfect moment.
His tongue drifted up, grazing Kevin's lower lip. It sounded sinful.
Another raindrop, followed by several more.
Hugo refused to give this beautiful instant up to something as trivial as getting wet. So he tilted his head, opening his mouth for something deeper⁠⁠—something that might ground them enough to ignore the rain that came down harder with each passing second. Kevin licked into Hugo's mouth, intensifying the kiss, seeming to pour all his love there. Hugo tried to do the same, sharing his love in a way his words never managed.
Then water poured from the heavens, drenching them.
Kevin pulled back, helping Hugo to his feet, tugging him away from the wooded meadow.
If Hugo had known that was to be the last kiss they'd share, he would've stayed. Kissed Kevin with water dripping down his face, into his ears, his mouth, his eyes⁠—his clothes soaked until he shivered. But he'd run away from the green meadow framed by trees, following Kevin as tiny purple and pink flowers blurred the faster they ran.

North Star Trilogy Pre-Order
Fusion (Book #2) 
Flare (Book #3) 

About Posy!
Posy Roberts started reading romance when she was young, sneaking peeks at adult books long before she should've. Textbooks eventually replaced the novels, and for years she existed without reading for fun. When she finally picked up a romance two decades later, it was like slipping on a soft hoodie . . . that didn't quite fit like it used to. She wanted something more.
She wanted to read about men falling in love with each other. She wanted to explore beyond the happily ever after and see characters navigate the unpredictability of life. So Posy sat down at her keyboard to write the books she wanted to read.
Her stories have been USA Today's Happily Ever After Must-Reads and Rainbow Award finalists. When she's not writing, she's spending time with her family and friends and doing anything possible to get out of grocery shopping and cooking.
Follow Posy on BookBub | Subscribe to Posy's Newsletter | Join Posy's Reader Group | Website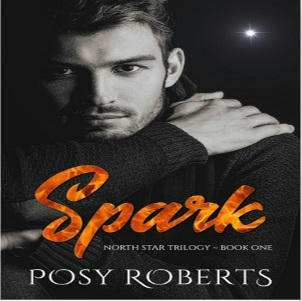 Giveaway!
Win a Backlist Ebook From Posy Roberts!