Hi guys! We have Julia Talbot popping in today with her upcoming release Sparkle and Shine, we have a short intro from Julia and a brilliant exclusive excerpt, so check out the post and enjoy! <3 ~Pixie~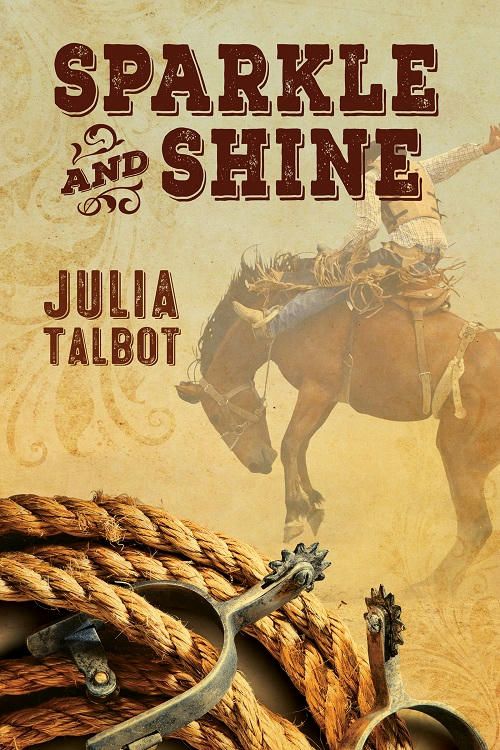 Sparkle and Shine
by
Julia Talbot
All that glitters is not gold. No-frills cowboy Evan learned that lesson the hard way while married to a rodeo princess, a relationship that was all flash and no substance. At least Evan held on to his daughter, Cheyenne, and his best friend, Brooks, when the sparkle wore off and things fell apart. Life could be a lot worse.
But it could also be better… if Evan and Brooks took a step beyond friendship. Just as they start to explore their feelings, Evan's ex-wife sticks her nose in to sabotage them. Suddenly everything is up in the air, and they have difficult choices to make about the rodeo, Cheyenne, and the romance they both want so badly to pursue.
First edition published by Torquere Press, November 2007.
Release date: 3rd August 2017 Pre-order:
Dreamspinner Press
Julia Talbot!
Hey y'all! Stopping by today to share an excerpt from one of my favorite stories. Dreamspinner Press has been kind enough to re-edit and re-release it for me, and it's called Sparkle and Shine. Rodeo cowboy Brooks has an ex-wife who's a rodeo princess, a daughter he adores, and a best friend he's in love with…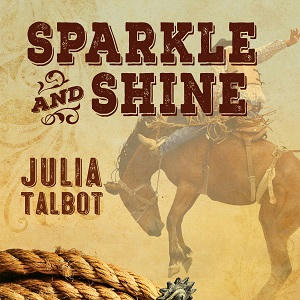 Excerpt!
Brooks wandered back into the little single-wide house, hands in his pockets. "You need any help, Ev?" he asked, poking his head into the little galley kitchen, where Evan was unhooking the ice maker. Wasn't no sense in taking a chance on anything failing while they were gone, and they'd be off to Nana's after the rodeoing.
"Nah. I got it. You could sit a minute, though." He got a glinting grin, Evan's dark green eyes twinkling at him. Thank heaven, the man seemed in a much better mood than he had been all week.
"Sure." He turned a chair about and straddled it, folding his arms on the back. "Old Man Ramirez coming over to check the place and all?"
"Yeah, and I had the mail forwarded to Momma's."
"Cool." Brooks admired the lean cut of Evan's jeans, the way the long legs seemed to go on and on until they attached to that fine, tight ass.

"Brooks!"
"Huh?" Oh shit, had Evan been talking to him? "What?"
"Hand me the needle-nose pliers, will you?"
"Sure. Sorry." Their fingers touched when Evan took the pliers from him, making his breath catch. Damn. What had gotten into him? He wasn't usually so obvious.
"You okay?" Evan asked, frowning a little as he loosened the last bolt.
"Yeah. Just ready to hit the road, you know?"
"I do! I was kinda dreading it, but now it's here, I'm happy." Yeah, that smile said happy like nothing had in a while, and Brooks was glad to see it.
"Well, good deal…." He sat and watched, and soon enough, Evan ran out of things to turn off and unplug. "You ready, buddy?"
"I am. Let's go."
Time they got outside, Chay was already curled up in the back seat of the king cab of his truck, sound asleep. Chuckling, they climbed into the truck, and Brooks took the first turn driving. They'd head up I-25 and hit I-40 across to Vegas.
"You figure on stopping in Holbrook?" Brooks asked. It was maybe twelve hours to Vegas with stops, but with an eight-year-old, they'd learned it was better to split it up into two days.
"Seems likely enough. I doubt we'll make Flagstaff."
Damned shame. Evan liked Flagstaff, Arizona, and Brooks liked to wander around with Ev and listen to the man tell stories and shit. "Well, if we have time, we'll stop there for lunch tomorrow, huh?"
"Oh, that would be cool. Too bad Black Bart's won't be open." Evan loved that silly steakhouse with a passion.
It was damned cute. 'Course the man would knock him slobbering for using the word cute.
"We can hit Buster's. Your girl's got an unnatural love of fish anyway."
Giving him a sideways smile, Evan whapped his leg. "I know. I think she gets it from someone not me."
"You're more of a red-meat man." That sounded dirty somehow.
"I am. I admit it." Evan probably had no idea, but his fingers lingered on Brooks's thigh, stroking absently, and man, did that give him an extra leg to work around while he was driving. Lord.
"So what are we taking Chay to see this year?" Last year they'd gone to see the tigers at the Mirage and the fountains at the Bellagio. Free shit, but it had made that little girl's eyes light up.
"I was thinking the light show down at Fremont Street."
Sometimes it struck him how they sounded like an old married couple. The thought made him grin, and he had to duck his head, watching the road with squinted eyes. The yellow-and-brown desert flew past, and the sky was so blue it hurt. It was a good day to be alive.
"You doing all right?" Evan asked near two hours later, stretching and yawning.
Which meant he moved his hand off Brooks's thigh, damn it.
"I could stop. Chay's bound to wake up and want food soon."
"Yeah. I could do with a biscuit or something myself."
"Cool. We're right on Albuquerque. I'll stop once we get through the worst."
Evan nodded, humming along with the radio, low and sweet, and Brooks kept on driving, happy in his bones.
Life surely was good.

About Julia!
Stories that leave a mark. Julia Talbot loves romance across all the genders and genres, and loves to write about people working to see past the skin they're in to love what lies beneath. Julia Talbot lives in the great mountain and high desert Southwest, where there is hot and cold running rodeo, cowboys, and everything from meat and potatoes to the best Tex-Mex. A full time author, Julia has been published by Dreamspinner and Changeling Press among many others. She believes that everyone deserves a happy ending, so she writes about love without limits, where boys love boys, girls love girls, and boys and girls get together to get wild, especially when her crazy paranormal characters are involved. She also writes BDSM and erotic romance as Minerva Howe. Find Julia at @juliatalbot on Twitter, or at www.juliatalbot.com "The mountains are calling, and I must go"