Hi guys, we have Nicki Bennet & Ariel Tachna popping in today with their upcoming re-release Stronghold, we have a brilliant guest post and a great excerpt, so check out the post and enjoy! <3 ~Pixie~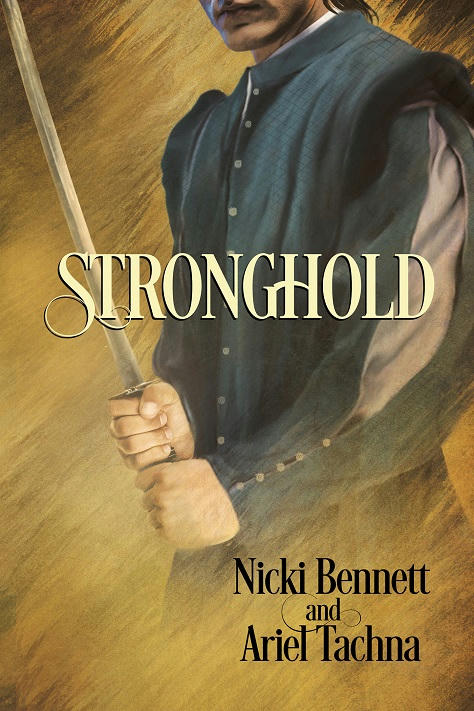 Stronghold
by
Nickie Bennett & Ariel Tachna
"Are you surprised that strength is drawn to strength?"
For the last six years, the gypsy healer Raúl has lived a life he never dreamed possible. Gerrard Hawkins has stood at his side, his love a source of silent strength like nothing Raúl has ever known.
When a letter from Gerrard's estranged father forces them in separate directions—Gerrard back to England to make peace with his family and Raúl to Saintes-Maries-de-la-Mer for his annual pilgrimage—Raúl expects to suffer for their parting, but he holds on to their plans to meet again in France when Gerrard has satisfied his father's demands.
Gerrard left England never expecting to return, especially after he pledged his life and love to Raúl. Yet he cannot dismiss his father's offer of peace without some acknowledgment. When he arrives in England to find tragedy, his sense of duty toward his family's tenants wars with his promises to Raúl.
As tensions mount and illness spreads in France, Raúl stands as a bastion of hope, but his strength is not limitless. Gerrard is the rock he leans on, and without that strength, Gerrard's arrival in France may come too late.
Release date: 28th November

Nickie Bennett & Ariel Tachna!
Making Raúl Human
When we first introduced Raúl, Teodoro's best friend and partner in arms, in Checkmate, he was deliberately a very mysterious, slightly larger-than-life character, our own little bit of deus ex machina. That continues in All for One when he shows up just in the nick of time to save first Benoît and later Aristide. Raúl has secrets, and he's content to keep it that way.
While it makes him a hopefully intriguing and at times amusing secondary character, moving him into the role of main character presented the challenge of making him human, of cracking open those secrets and showing the soft underbelly of a man who didn't have one before now without losing his mystique or his power as a character.
For us, there are two keys to that. One is Gerrard, of course. By virtue of their relationship, Gerrard sees parts of Raúl that no one else does—not even Teodoro, despite their long friendship and checkered past. The other was a bit dicier, and that was to explore Raúl's seemingly magical abilities. For that, we drew on the deep tradition of spirituality and mysticism associated with the Romani devotion to Sainte Sara, also known as Black Sara, who according to legend landed in Saintes-Maries-de-la-Mer with Mary Magdalene, Mary Jacobe, and Mary Salome. To this day, Roma from all over Europe travel to Saintes-Maries-de-la-Mer in May each year to pay homage to their patroness. Raúl's devotion to Sainte Sara is especially strong, enough to ease the disquiet of his separation from Gerrard, at least temporarily. You can read more about Saintes-Marie-de-la-Mer, Sainte Sara, and the annual pilgrimage here.
All great blessings come with a price, and that is the piece of the puzzle that has always been missing until now. Esteban, Teodoro's son, says more than once that Raúl can do anything. Later, he admits it was a boy's faith talking, but that he was a man fully grown before he saw evidence of being wrong. What Esteban—and all the others before Gerrard—never sees is the toll that takes on Raúl. It is precisely that toll that forms the basis for Stronghold.
Raúl says at one point that everyone expects him to be the strong one. Esteban may be the one to say that Raúl can do anything, but the characters of the other books in the series share that faith. They have learned not to question Raúl's assertions and to accept his healing skills when needed. They turn to him without thought when a problem arises, and Raúl shoulders that responsibility without complaint. No one thinks to ask, though, what Raúl does when he has doubts, when his fears grow heavy in the night, when his flashes of prescience shake him to the very core. To some extent he wants it that way, but even he cannot be strong all the time.
When Gerrard and Raúl first meet in Checkmate, Gerrard makes the mistake of dismissing Raúl, and then later he accuses Raúl of using magic on him. While he has long since learned the error of both those assumptions and has come to see Raúl more fully than anyone else, even he doesn't truly understand how much Raúl has come to rely on his presence and support. Only in Stronghold—for that is truly what Gerrard represents for Raúl—does Gerrard come to realize the true depth of his place in Raúl's life. He may no longer see Raúl as omniscient and omnipotent, but he has been content to follow Raúl's lead in their travels and in his role as leader of his compagnia. Only after he returns from England does he begin to see that Raúl draws as much strength from him as he has ever drawn from Raúl.
The shift in his perceptions and in their roles will require careful negotiation to allow them a life together in their changed reality, but Esteban's faith in Rául has never been misplaced. There may be one or two things Raúl can't do, but loving Gerrard will never be one of them.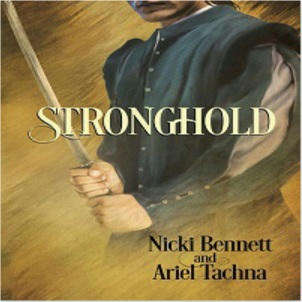 Excerpt
"What caused Gerrard and his father to fall out?" Teo asked again, his dark eyes fixed on Raúl.
When Raúl remained silent, Christian answered in his stead. "He wanted to marry a young woman from the village near his father's estate," Christian explained. "He was a second son, never much in his father's favor, and so he had little expectation of wealth to support an aristocratic wife and family. The girl he met was amenable, even knowing Gerrard would never inherit the title. Gerrard's father, Sir Harald, categorically refused to have his son marry the daughter of a farmer and threatened to cut him off completely if he went through with the ceremony. Gerrard chose to leave instead."
"And earn his livelihood hiring out his sword," Raúl added with a smile, since it was Gerrard's putative role as Christian's protector while his father, the Duke of Ranleigh, was negotiating a treaty between England and Spain, that had led to their first meeting. His expression sobering, he continued, "Perhaps this will be the occasion of a rapprochement between them. Sir Harald will surely see that his son has matured into a man any father would be proud of."
"He has you to thank for much of that," Christian said. "He was still very much the hothead when we first met you. Living with the Rom has tempered that."
Dwelling on the years he had lived with Gerrard would come close to undoing him, and Christian had just given Raúl the opening he needed to announce his departure. "As Gerrard does not anticipate returning for several months, I thought to join a group of Rom making the pilgrimage to la Camargue. There is always a family willing to welcome a healer into their caravan."
"You know you're welcome to stay here," Christian said. "With or without Gerrard, you are as much a part of this family as Teo or me."
Christian's words echoed in Raúl's ears and a sudden, momentary flash of vision blinded him to his surroundings. He could not say where he was, only that it was cold and dark and he was alone. "Without Gerrard." Without Gerrard. Had he not been leaning against the doorjamb, Raúl would have staggered. Drawing a deep breath, he blinked, but the moment of prescience had vanished as abruptly as it came, leaving him with only an uneasy dread of he knew not what.
About Nicki & Ariel
Nicki Bennett
Growing up in Chicago, Nicki Bennett spent every Saturday at the central library, losing herself in the world of books. A voracious reader, she eventually found it difficult to find enough of the kind of stories she liked to read and decided to start writing them herself.
Visit Nicki:
Facebook | E-Mail: nickibennett1@gmail.com
Ariel Tachna
When Ariel Tachna was twelve years old, she discovered two things: the French language and romance novels. Those two loves have defined her ever since. By the time she finished high school, she'd written four novels, none of which anyone would want to read now, featuring a young woman who was—you guessed it—bilingual. That girl was everything Ariel wanted to be at age twelve and wasn't.
She now lives on the outskirts of Houston with her husband (who also speaks French), her kids (who understand French even when they're too lazy to speak it back), and their two dogs (who steadfastly refuse to answer any French commands).
Visit Ariel:
Website | Facebook | E-mail: arieltachna@gmail.com