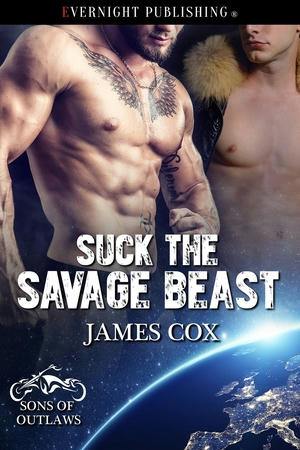 Title: Suck the Savage Beast
Series:  Sons of Outlaws # 3
Author: James Cox
Genre: Futuristic, May-December, Sci-Fi, MC Romance
Length: Novella (106 pages)
Publisher: Evernight Publishing (January 17, 2017)
Heat Level: Moderate – Explicit
Heart Rating: ♥♥♥♥♥ 5 Hearts
Blurb: Earth beasts are sexier than he expected…
Welliver is a scientist first and an Outlaw MC member second. He's the smartest man in the crew that's exploring Earth to create a new home. But when a monster attacks them and he's separated from the crew, he is saved by a savage and sexy beast.
The beast doesn't remember his name. He was sent to the Earth prison when he was a boy and left behind when the prison was evacuated. Beast has spent nearly twenty years alone on Earth, trying to survive this dangerous world. He's the best hope humans have for staying alive with these new threats.
Beast doesn't understand it's not okay to lick strangers, or the whole wearing clothes thing, but neither man is prepared for the attraction between them. Welliver will have to pull on his Outlaw MC heritage to endure the wilds of Earth but how will survive the savage beast?
ISBN: 978-1-77339-149-6
Product Link: http://www.evernightpublishing.com/suck-the-savage-beast-by-james-cox/
Reviewer: Shorty 
Review: Welliver is on the mission to earth to scout out a safe place to live. He is super smart and knows it. When things go bad he is the one called on to fix the problem. Case in point when the creatures attack the ship. Unfortunately Welliver is too far away and has no chance getting to the safety of the ship so he takes off into the unknown. About to be attacked. A sexy, naked man comes to the rescue and saves Welliver from being eaten.
Beast has been alone on earth since the prison was deserted twenty years before. He cannot remember his name but he does know that he wants Welliver. Things progress nicely between these two. 
I loved this book. Beast is dangerous and sexy a definite plus for me. Welliver is smart and handsome. I loved how Welliver went through the system and discovered who Beast was. The interactions between these two were hot.
Amazing and fascinating read from start to finish. Highly recommended.