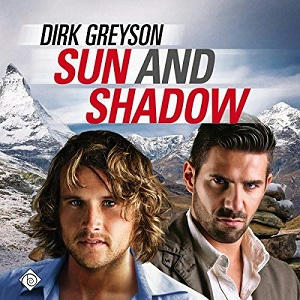 Title: Sun & Shadow
Series: Day & Knight 02
Author: Dirk Greyson
Narrator: Andrew McFerrin
Genre: Contemporary, Suspense
Length: 7 hrs, 4 mins
Publisher: Dreamspinner Press (17th July 2017)
Heat Level: Explicit
Heart Rating: 💖💖💖💖💖 4.5 Hearts
Blurb: Dayton "Day" Ingram is recovering from an injury suffered in Mexico – and from his failed relationship with fellow Scorpion agent Knight. While researching an old government document, Day realizes he might be holding the key to finding an artistic masterpiece lost since WWII.
But the Russians are looking for it, too, and they have a team in place in Eastern Europe hunting it down. Day and Knight are brought back together when they are charged with getting to the painting first.
Knight wants to leave Mexico and everything that happened there behind and return to the life he had – except it wasn't much of a life. When he's partnered up with Day, keeping his distance proves to be challenging. But Day is as stubborn as Knight and isn't willing to let him walk away.
Their assignment leads them through Germany and Austria with agents hot on their tail – agents willing to do whatever it takes to get to the masterpiece first. If Day and Knight can live long enough to find the painting, they might also discover something even more precious – each other.
Product Link: Audible US | Audible UK | Amazon US | Amazon UK
Reviewer: Prime
Review: Sun & Shadow is the second book in Dirk Greyson's Day and Knight series. Since having discovered that Dirk Greyson is Andrew Grey's pen name, I've been keen to get my hands on some of his books. I'm quite particular about my suspense books, but I have to say that I have enjoyed the two books in this series.
If you've not read the first book, Day and Knight, you have to go back and read it, it is vital as Sun and Shadow picks up where it left off. This is the continuation of Dayton's, aka Day, and Knighton's, aka Knight, romance, which is just as rocky as it was in the first book.
Day is still recovering from the gun shot wound he got in Mexico on his mission with Knight. Knight wants to forget about Mexico, everything including his feelings and his failed relationship with Day. The problem is a piece of art that went missing in WWII means that Scorpion, the agency the guys work for, bring the guys together again. The Russians are desperate to get their hands on the artwork. To stop a delicate international relations situation from exploding Day and Knight need to find the art work. Knight is the big tough guy with all the skills he got from this marine training, he also possesses some of the brains of the operation. While Day is a great deal of the brains and the intel of the operation. Their abilities compliment each other. Their professional life together fits together as well as their personal life. Regardless of how well they fit though, with two argumentative men it makes their professional relationship just as rocky as their personal.
This is a fun, Cold War kind of espionage story line. In fact, I have to say that I enjoyed this second installment a bit more than I enjoyed the first book. Day and Knight are two very complex characters and their character development tends to raise tensions between them rather than ease them. These guys are fighters and so it's so easy to believe that once they get their acts together, that they really do belong to each other. Just like in the first book, the narration was totally top notch reflected the tone, emotion and suspense necessary to pull of this story.