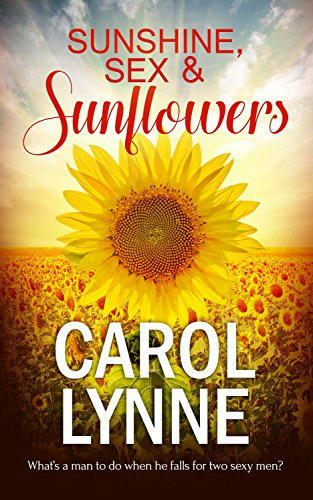 Title: Sunshine, Sex & Sunflowers
Series: Sequel to Harvest Heat
Author: Carol Lynne
Genre: Contemporary, Ménage
Length: Novella (91 pages)
Publisher: Pride Publishing (11th April 2017)
Heat Level: Explicit
Heart Rating: 💖💖💖 3 Hearts
Blurb: Will Jacko find love among the sunflowers?
After losing his family's station in Australia to the bank, Jacko Hennesy moves in with his best mate, Lochie McBride. Trouble is, Lochie already has a roommate—his new lover, Jamie. Trying to settle into everyday life with two men isn't as easy as Jacko had hoped. Although he's been in love with his best friend for years, Jacko also finds himself attracted to Jamie. Watching the constant flirting and touching every day is enough to reduce the tough bushman to a puddle of need. What's a bloke to do when he falls for two sexy men?
Publisher's Note: This book is a sequel to Harvest Heat and is best read in sequence. This book has previously been released elsewhere. It has been revised and re-edited for re-release with Pride Publishing.
ISBN: 978-1-78651-549-0
Product Link: Pride Publishing | Amazon US | Amazon UK
Reviewer: Prime
Review: Sunshine, Sex & Sunflowers is the sequel to Harvest Heat by Carol Lynne. As the publisher recommends, you should read book one first. There isn't a lot of character introduction or development in this book and I feel most of it actually happens in the first book. This book was published previously, however, I think I somehow missed it because I really don't remember reading it before. Which seems a bit odd for me because I absolutely fell in love with the authors two big series, Campus Cravings and Cattle Valley and would actually look for her other releases.
The story continues the story of lovers Lochie and Jamie. They've recently fallen in love and have moved in together on Lochie's farm. In fact, Jamie has moved to Australia from the States to be with his man. Now we're adding Jacko into the mix. He's recently fallen onto hard time and is living and working with his best mate, Lochie. Jacko has always been attracted to Lochie but he finds himself torn with now developing an attraction to Jamie as well. Lochie and Jamie are happy together and yet they see the possibility for a lot more love in their lives with Jacko.
I can't go further because this is essentially the bones of the book and if I say anything else there's no point in reading it. I think part of the reason I didn't read this in the past was because there are so many books that are set in Australia that just don't capture the true Aussie nature. I suppose that is true for others who read books set in their own country but written by an author who does not live there. For any Aussies, I recommend ignoring the stereotyping of farms and regional life because for me it did come across as a little silly at times.
This is a simple, quick read. If you want to just read something sexy without thinking too much, this is probably a good choice. Unfortunately, there isn't a lot of character or plot depth, which is annoying because I like the author so much, but come (no pun intended) for the romance and stick around for the sex. That's all I can say.