Hi guys, we have D.J. Jamison stopping by today with the tour for her new release Surprise Groom, we have a brilliant guest post from D.J., a great excerpt and a brilliant $15 Amazon GC giveaway, so check out the post and enter the giveaway! ❤ ~Pixie~
Surprise Groom
by
D.J. Jamison
Can two men fake their way to marital bliss?
Caleb Taylor is shocked to learn his family could lose Bliss Island Resort — their home and livelihood — unless he makes use of a clause to marry the child of investor Louis Chastain. Sofia Chastain is more like a sister than a love interest, and Caleb isn't ready to sign over his future. But Sofia has a brother, and Caleb has a plan …
Julien Chastain was disowned at fifteen and has made a life as a go-go dancer in Miami, but he lives paycheck to paycheck. When his childhood friend proposes an outlandish marriage contract, he thinks he's crazy. But it's a chance at a future that's tough to pass up.
Caleb and Julien must present themselves as an authentic couple for the legal loophole to work, but the lines between "fake" and "real" keep shifting as they navigate intimacy, public scrutiny, and sabotage.
Love isn't part of the plan, but plans change. If they can outsmart Julien's father and prove their love is worth more than a transaction, they just might find a true happily-ever-after.

D.J. Jamison!
GETTING TO KNOW THE GROOMS
I'm excited to be here celebrating the release of SURPRISE GROOM, the first book in a new series called Marital Bliss. Surprise Groom is a marriage of convenience / fake relationship book, so I thought it'd be fun to introduce you to the two grooms using a little wedding party game I've named, "Getting to know the Grooms."
I've done my best to create questions and answers that will give you some insight into the characters without spoiling the story.
Who made the first move?
Answer: This is an easy one. Caleb did! I think popping the question after seeing a guy for the first time in twelve years is pretty bold. However, if we're talking "sexy moves," then Julien might contest that result.
Who hogs the bed?
Answer: Caleb all the way! Julien wasn't thrilled to discover that little tidbit when he moved to Bliss Island!
Who owns the most clothes?
Answer: Julien! His closet is filled with lots of colors, but especially purple, and tons of fabrics and styles. On an average day, though, he wears jeans and T-shirts, often bedazzled or brightly colored because he's not one to blend into a crowd.
Who's more likely to do the cooking?
Answer: Anna, the household manager. There are perks to living on a resort! But when they do need to fend for themselves, Caleb and Julien takes turns. Caleb is decent with scrambling eggs and assembling sandwiches; Julien cooks healthier meals. Having been on his own since he was eighteen, Julien learned to take care of himself, and as a longtime dancer, a good diet is important to him.
Who's more romantic?
Answer: Caleb. Julien appreciates romance, but he's a little too jaded to think of romantic gestures on his own. Caleb, on the other hand, creates romance for a living as a wedding planner. It's second-nature to him.
Which groom would you choose? The organized but romantic wedding planner or the sassy, colorful dancer? I love them both, and I hope readers will too!
Excerpt!
"Should we kiss?" Caleb asked.
Julien gave him an arch look. "My answer to that question is always yes."
Caleb chuckled awkwardly. "For the selfie, I meant."
"Mm-hmm." Julien managed to make skeptical sound sexy.
"Okay, shut up and put your lips on mine," Caleb said.
"Oh, baby. Your dirty talk is off the charts."
Caleb laughed. "Stop, I'm trying—"
Julien caught his mouth mid-word, shifting toward him as their lips clung. The feeling it evoked caught Caleb off-guard. They'd been joking around like friends, but the kiss didn't feel friendly. It wasn't erotic. No tongues plunging deep. But it was sweet. He had no idea kissing another man could feel that way.
In contrast to his soft lips, Julien's hard chest pressed against Caleb's shoulder. His right arm was behind Caleb, fingers brushing his neck, and his left hand slid down to just over Caleb's upper chest. Their position was a little awkward, Caleb's neck craned to the left, and he had his right arm outstretched for the selfie.
The kiss wasn't getting his entire focus as he fumbled with the phone in his hand. Even with his attention divided, even with the very un-sexy circumstances of why they were doing this, the kiss felt real. Just as real as any he'd shared with a girlfriend. Maybe even more so. Julien had been the most important person in his life once. He couldn't say the same for any of his short-lived girlfriends.
It took only seconds to break through Caleb's self-delusion. His surety he wasn't into men that way. He liked Julien's lips on his.
Julien shifted, then slipped, and they were ripped apart by gravity as he nearly faceplanted in Caleb's lap.
"Whoa!" Caleb said, catching Julien's shoulder with one hand. "Trying for second base already? Or is that third? Not sure with guys."
"I slipped! I had my arm braced behind you, and the pillow moved, or—"
"Suuure," Caleb said. "I bet you say that to all the guys, huh?"
Julien pushed himself upright, his hand leaving a brand of warmth on Caleb's thigh, before he pulled away. Grabbing the pillow behind his head, he smacked Caleb in the head. "Asshole."
When Caleb finally stopped laughing, he noticed Julien didn't look amused.
"I was kidding. I'm sure you're much smoother when you're actually trying to put the moves on someone."
Julien flipped him off. "That picture better be worth it."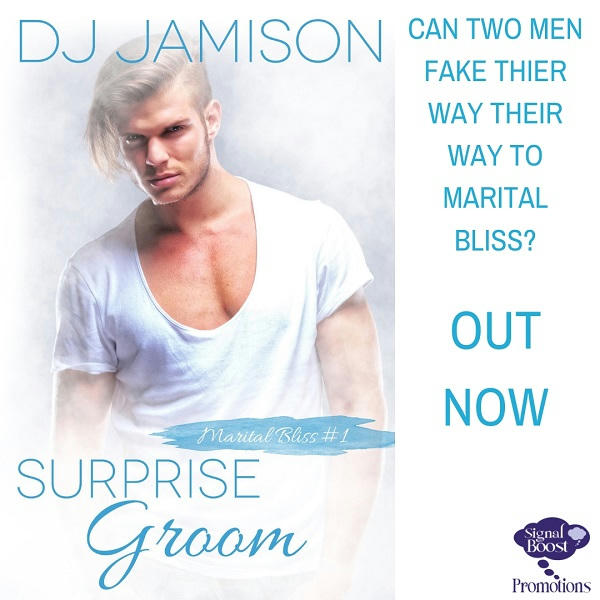 About D.J.!
DJ Jamison is the author of more than a dozen m/m romances, including the Ashe Sentinel series and the Hearts and Health series. She writes a variety of queer characters, from gay to bisexual to asexual, with a focus on telling love stories that are more about common ground than lust at first sight. DJ grew up in the Midwest in a working-class family, and those influences can be found in her writing through characters coping with real-life problems: money troubles, workplace drama, family conflicts and, of course, falling in love. DJ spent more than a decade in the newspaper industry before chasing her first dream to write fiction. She spent a lifetime reading before that, and continues to avidly devour her fellow authors' books each night. She lives in Kansas with her husband, two sons, two fish and, regrettably, one snake.
Facebook Author Page | FB group | Mailing list! | Follow me on Twitter | Find me on Goodreads | Check out my Book Bub profile!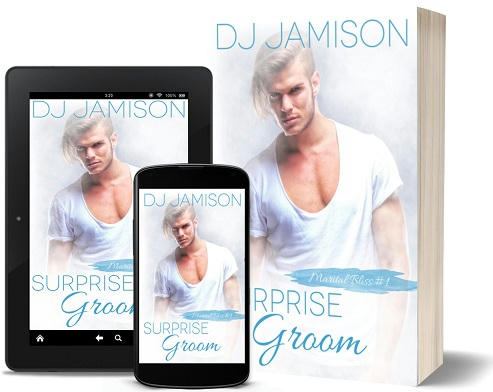 Giveaway!
Win a $15 Amazon Gift Card!