Hi guys! We have Andrew Grey popping in today with his upcoming release Survive and Conquer, we have a short guest post from Andrew and a great excerpt so check out the post and enjoy! ❤ ~Pixie~
Survive and Conquer
by
Andrew Grey
Newton DeSantis was on the ground when the towers collapsed on 9/11. Though he still carries the scars on his body and his heart, he's determined to ease some of the world's suffering. Now a social worker and father to two children with special needs, he's doing his best. But when his son's health takes a drastic turn, Newton knows he can't do it alone.
Family law attorney Chase Matthews is a rising star, and he's in high demand. Still, Newton is very persuasive, and Chase takes his case pro bono. Everything about the other man appeals to Chase, but he's determined to keep the relationship professional—even though, after meeting Newton's kids, he wants to be a part of their lives.
Chase's job doesn't always allow him to pick his clients, though, and a case that could make him partner will put him on the opposite side of the courtroom from Newton—along with everything he believes in and the future they could build together.

Andrew Grey!
Survive and Conquer was a gift from a friend. She had told me that she had been at ground zero on 9-11 because she worked disaster relief and happened to be in New York at that time and when the first plane hit, she got in her converted ambulance andheaded down. She spent a great deal of time telling me about what happened and both of us shed more than a few tears as she told the story.
Then she gave me the gift and said that I could use parts of her story in writing this story. That floored me because she is a very private person and she told me that she I was one of the few people she had ever recalled the full story to. My only hope is that what I wrote is worthy of what actually happened and the courage she carries with her every day.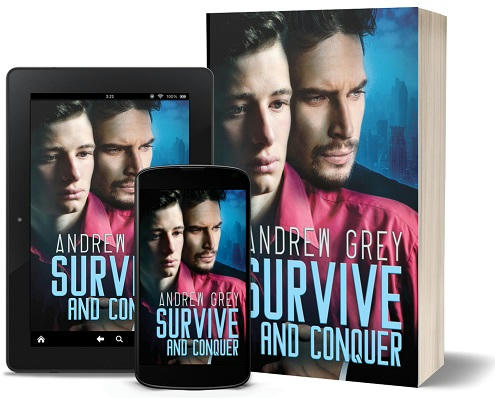 Excerpt!
Newton slowly ate his cake, watching that Eric didn't gulp his and that Rosie didn't make a huge mess. "Are you all done?" Newton asked the girls. "Then go wash up and you can play." He cut Eric another small piece of cake because he didn't seem to be able to get enough to eat. Eric took his plate and left the table to play video games, leaving the adults alone once again.
"Do you think you can help?" Newton asked Chase. He could see the indecision in his eyes.
"Yes," he finally answered, sharing a smile with Angela before turning his intense gaze on Newton. "You sure don't take no for an answer when you really want something." He didn't seem angry or upset. Chase passed Angela a business card. "Call my office and make an appointment for next week. Bring all the documentation. We'll develop a strategy and counter these arguments before they can really take hold." Chase pushed away from the table. "I need to get going." He stood, with Newton and Angela both doing the same.
Newton saw Chase to the door. "Thank you for helping her," he said softly. "I know I came on strong, but…."
Chase actually smiled. "You're a man who follows his passions, I can see that. You have strong beliefs and are willing to fight for them. That's something worth admiring, and—"
Angela hurried over. "There's something wrong with Eric. He's having trouble breathing."
Newton hurried to the family room, where Eric sat in the chair, gasping for breath. Newton took his pulse and found it racing.
"What do you need me to do?" Angela asked.
"I need to get Eric to Children's Hospital right away," Newton said with remarkable calmness.
"Should I call an ambulance?" Chase asked.
"No. They aren't going to know what to do for him," Newton said as Chase lifted Eric into his arms and carried him through the house. "Rosie," he called, "go get in the car, right now! We have to take care of Eric."
"I'll get him into the car," Chase said.
"We have to go. Rosie, hurry, we need to go." His heart raced as Chase carried Eric to the car, thinking only of his son. This had happened before, but it had been months since he'd had an attack. They used to scare the hell out of him, but he knew what to do now. So did Rosie, who brought the backpack he kept in Eric's closet and climbed into her car seat. Newton got Eric settled in the back and told him to stay calm. Angela was already leaving the house with the girls as Newton climbed in the car. Chase raced back and locked the house.
Newton jumped when the passenger door opened and Chase got in, buckling up. "Let's get going."
"You don't need to…." Newton began even as his hand put the car into reverse and he backed out of the drive, then took off down the road like a bat out of hell.
"Can you talk to me, Eric?" Newton asked.
"Yes," he said raspily.
"What do you need me to do?" Chase asked, turning toward the back seat.
About Andrew!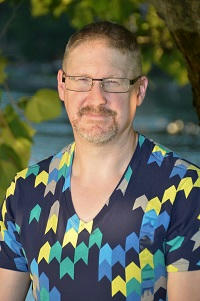 Andrew grew up in western Michigan with a father who loved to tell stories and a mother who loved to read them. Since then he has lived throughout the country and traveled throughout the world. He has a master's degree from the University of Wisconsin-Milwaukee and works in information systems for a large corporation.
Andrew's hobbies include collecting antiques, gardening, and leaving his dirty dishes anywhere but in the sink (particularly when writing)  He considers himself blessed with an accepting family, fantastic friends, and the world's most supportive and loving partner. Andrew currently lives in beautiful, historic Carlisle, Pennsylvania.
.
Author Links
Amazon Author Page | Barnes and Noble Page | Dreamspinner Press | Facebook | Facebook Group All the Way with Andrew Grey | Goodreads | Twitter  | Website