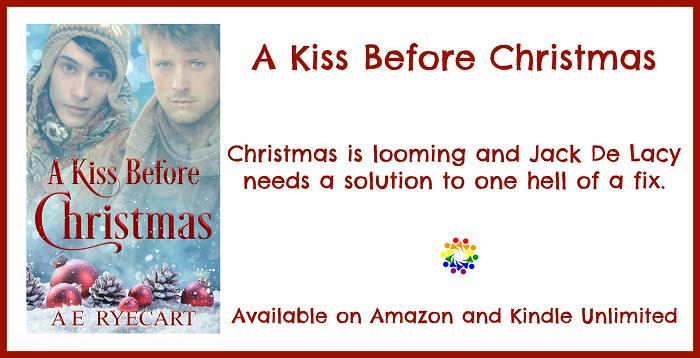 Hi guys! We have A.E. Ryecart popping in today with her new release A Kiss Before Christmas, we have a great excerpt and a brilliant giveaway where 2 ecopies of A Kiss Before Christmas are up for grabs, so check out the post and enter he giveaway! ❤ ~Pixie~
A Kiss Before Christmas
A snowy London love story
by
A.E. Ryecart
Christmas is looming and Jack De Lacy needs a solution to one hell of a fix.
Dumped by his boyfriend in favour of his best friend, Jack's been busy bragging about the hot new man in his life.
A hot new man who doesn't exist.
With an important function to attend where he'll come face-to-face with his ex, Jack knows he'll be a laughing stock when his boasts are exposed as nothing more than wishful thinking. He's desperate but time, like his options, is running out.
Rory Kincaid is scared he won't last another night sleeping rough on London's frozen, snowbound streets. With all the homeless shelters full, Rory seeks refuge in the first empty doorway he stumbles across.
Finding Rory shivering in the sub-zero temperatures, Jack can no more send him away than kick a puppy out into the cold. A shower, shave and hot drink later, and the grubby street kid is transformed into a beautiful young man.
As the attraction between them grows, so does a plan that will get Jack out of the mess he's in and give Rory a warm, safe home for Christmas. Sweet and adorable, Rory will make a great fake boyfriend for the holidays – the problem is, neither Jack nor Rory is sure where the make believe ends and the truth begins.
Warning: this 37k novella contains a camp Christmas tree, a drag queen Christmas fairy called Doris, way too many jugs of eggnog, a closet posh boy, and the sweetest Kiss Before Christmas ever.