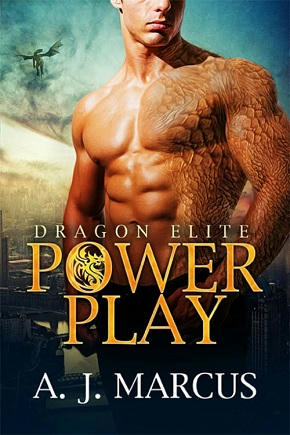 Title: Power Play
Series: Dragon Elite 01
Author: AJ Marcus
Genre: Paranormal
Length: Novella (84 pages)
Publisher: eXtasy Books (17 March 2017)
Heat Level: Moderate
Heart Rating: ♥♥♥♥ 3.5 Hearts
Blurb: Can an average man end up landing one of the hottest dragons in Denver?
Naga Industries wasn't Calvin's first choice of a place to intern. It wasn't even his tenth. But when every other internship spot is taken, he finds himself at the mercy of Draeke Lindwurm and he's way over his head. 
Draeke doesn't want an intern, but his go-to man is threatening to revolt if he doesn't get them both some help. Calvin is everything Draeke doesn't like in men. He's too young, too average, never on time, doesn't dress well, and worst of all Calvin is human which makes things complicated between them when he becomes a pawn in a power play with the world's dragon elite.
ISBN: 978-1-4874-1036-0
Product Link: http://www.extasybooks.com/power-play/
Reviewer: Prime
Review: For me, AJ Marcus is a very enjoyable story teller. I'm not sure exactly why, but the simple fact is that I connect with and enjoy the writing. And hey, that's all that really matters, isn't it?
The story stars one very surly dragon called Draeke. He is the head of Naga Enterprises – which essentially is a massive company run by shifters that has so many umbrella companies and interests they might as well be ruling the world with their obscene amount of money. Drake is tall, dark, sexy and surly – everything that your typical dragon hero should be. He grabbed me from the get go and held on for the whole story.
Then there is Calvin. He's very human and doesn't know about the paranormal world. In fact, he doesn't know much about Naga Enterprises besides knowing that he landed an internship and this lends to showing us the wide-eyed naiveté that I have no doubt he was meant to portray. However, in no time at all, he is going in deep with his boss – he flies off to Shanghai after the murder of one of Naga's most senior dragon employees and then finds out about the existence of shifters.
This is a totally fun and very hot story. For everyone that can't go past a dragon shifter tale, you will definitely enjoy this one. I think the only reason I've rated this 3.5/5 is because this was a tad bit predictable despite the fact I thoroughly enjoyed it.