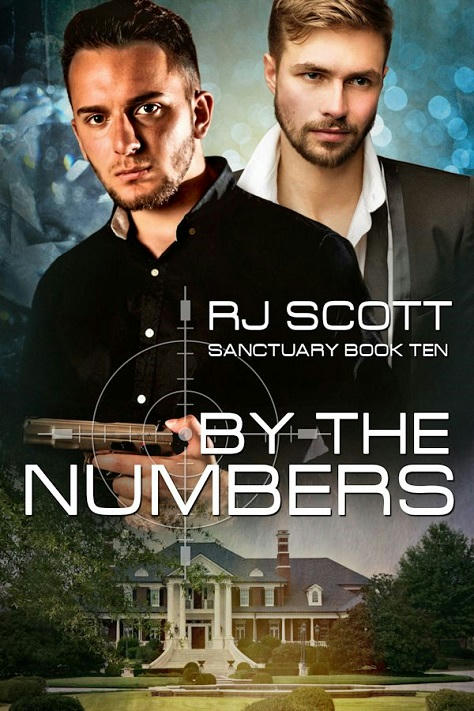 Title: By The Numbers
Series: Sanctuary #10
Author: R.J. Scott
Genre: Contemporary
Publisher:  Love Lane Books Limited (May 17, 2017)
Length: Novella (136 Pages)
Heat Level: Moderate
Heart Rating: ♥♥♥♥♥ 5 Hearts
Blurb:  Secrets and lies threaten Brandon and Daniel's new love.
Brandon Hoselton is running scared, finding security in his obsession with patterns and numbers. With his family threatened, he feels he has nowhere left to go, and even considers ending his life to keep them safe. Until Sanctuary, in the shape of the enigmatic Daniel Karnes, gives him a reason to stay alive and offers the possibility of a future free from fear.
Former SEAL Daniel is new to Sanctuary, tasked with watching Brandon, a brilliant geek with way too many secrets. Falling in love with quirky Brandon is easy; now he just has to make sure secrets don't end up with them both dying.
The only way of destroying Varga is to cut the crime boss's money, and the two men become part of an intricate take-down involving millions of dollars. But Brandon has a secret he can never share with Daniel, and their new love is at stake.
When the villain has murder in mind, sometimes the only way to stay alive is to lie.
ISBN: 978-1-78564-078-0
Product Link: Amazon US | Amazon UK
Reviewer:  Lisa
Review:  Each book in the Sanctuary collection features a new romantic couple. To enjoy the overall story arc and crossover characters, I would recommend reading the series in sequential order. 
As a reader I have several favorite authors and stories that I collect.  Although I favor paranormal romances, I will say that R.J. Scott is one of my ultimate favorite contemporary writers of all time.  The story or stories are intriguing and fascinating with the way they are told.  The characters all have their own little way of making you connect with them.  They go from being bold to shy, hard, difficult and sometime pretty strange I would say.  There is an amount of danger in their world that will definitely keep you on the edge of your seat.  The lust also seems to be off the charts sometimes, although in my mind, maybe a bit too eager and fast in some cases.  It doesn't take away from the story though.
This is the final book in this amazing series, and I have to say that I am not really pleased to see that it is coming to an end.  However it did have a great run.  With this I had to go back and read the previous books to remember each character and their place in the story.  Brandon is a very unique type of guy.  He reminds me of a computer himself sometimes.  He sees the world as numbers and patterns.  Even a pattern on a curtain could drive him crazy.  Brandon and his best friends decided to bring down one of the deadliest men, by going undercover.  It had not worked the way they had thought and now Brandon was the only one left alive.  Sanctuary steps in and keeps him and his sister's safe, but Brandon has other ideas.
Daniel is going to keep Brandon safe, even if it gets him killed.  More than likely it might want to make him commit murder in the end.  He knows Brandon is not being truthful, but damn he does have a fine ass.  He just has to get Brandon to let him in, because well if you really want to know more, read the book.
There are a bit of quirks to this story that will definitely keep your attention.  I also loved the little twists to it.  The ending really caught my attention, wished I knew what type of snake it was.  I had a lot of fun reading this and can't wait to see what new stories this amazing author has to come. 
I would definitely recommend this book to everyone who loves a bit of suspense, mystery and danger, not to mention sexy men who carry guns.