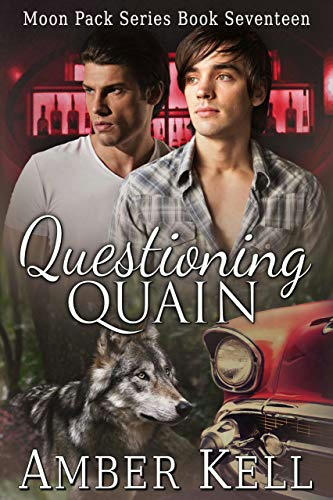 Title: Questioning Quain
Series: Moon Pack 17
Author: Amber Kell
Genre: Fantasy. Paranormal
Length: Novella (159pgs)
Publisher: Amber Kell (November 20, 2018)
Heat Level: Moderate
Heart Rating: 💖💖💖💖 3.75
Blurb: In a the race to warn the snow cougars, Peter Woods and Quain Ilves use Peter's newly renovated car to reach the mountain lions before the wizards get there first. Along the way, Quain learns all about the warmhearted man he's been bound to and the increasing importance of pack and family.
Peter Woods, mechanic and mate to seer Quain Ilves, wouldn't change a single hair on his beloved. However, certain situations make it perilous for Quain to keep up his visions, and Peter worries over his mate's sanity in these tumultuous times.
The clock is ticking while they compete with the magic wielders to save as many shifters as possible. Will they succeed, or will the wizards get their hands on other shifters to experiment with?
ISBN: B07KRNYQWC
Product Link: Amazon US | Amazon UK
Reviewer: Shorty
Review: I loved reading about Quain and Peter as they head out on their journey to warn others of impending dangers. Adventurous and tense at times this story adds to the series. However, I felt at a loss at it's abrupt end with no resolution.
I am looking forward to the next book to see what happens next with Quain and Peter.
Good read.