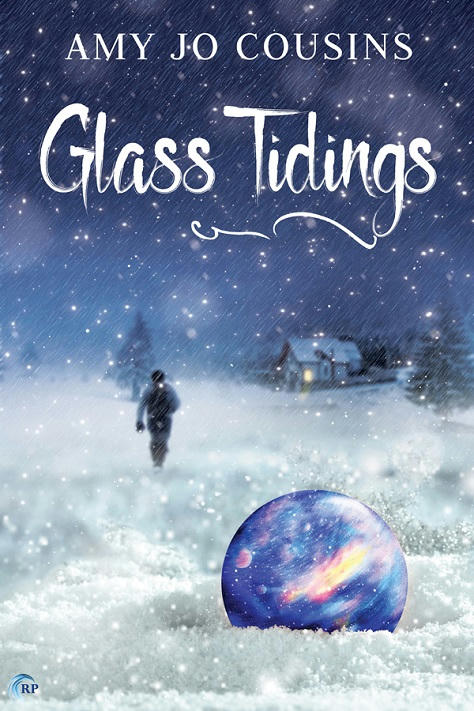 Title: Glass Tidings
Author: Amy Jo Cousins
Genre: Holiday, Contemporary
Length: Novel (226 pages)
Publisher: Riptide Publishing (December 5th 2016)
Heat Level: Moderate
Heart Rating: ♥♥♥♥ 4 Hearts
Blurb: Eddie Rodrigues doesn't stay in one place long enough to get attached. The only time he broke that rule, things went south fast. Now he's on the road again, with barely enough cash in his pocket to hop a bus south after his (sort-of-stolen) car breaks down in the middle of nowhere, Midwest, USA.
He's fine. He'll manage. Until he watches that girl get hit by a car and left to die.
Local shop owner Grayson Croft isn't in the habit of doing people any favors. But even a recluse can't avoid everyone in a town as small as Clear Lake. And when the cop who played Juliet to your Romeo in the high school play asks you to put up her key witness for the night, you say yes.
Now Gray's got a grouchy glass artist stomping around his big, empty house, and it turns out that he . . . maybe . . . kind of . . . likes the company.
But Eddie Rodrigues never sticks around.
Unless a Christmas shop owner who hates the season can show an orphan what it means to have family for the holidays.
ISBN: 9781626495234
Product Link: http://riptidepublishing.com/titles/glass-tidings
Reviewer: Aerin
Review: Ohhh, this story was so beautiful, with just the perfect amount of angst and holiday spirit! Without any doubt, I consider this Amy's best writing to date.
Eddie Rodriquez had been through many foster homes in his life, so many in fact, that he's learned not to get attached and to always rely on nobody else but himself. He doesn't own anything he can't carry with him anywhere he goes, and drifts from state to state, working Renaissance Fairs to sell his beautiful glass creations. After witnessing a hit and run one night on his way to Texas, Eddie is stuck for a while since he's the only witness and police want to question him.
Grayson Croft has lived in his small town all his life. After being abandoned by his lover years ago, Gray became a recluse who hates socializing with people, and he spends all his time keeping his Shoppe open and restoring his house. After volunteering to host Eddie for the time he needs to stay in town, Gray starts to realize how lonely he is. Listening to someone else's footsteps in his house makes it seem more like a home again, and as much as he finds himself attracted to Eddie physically, he craves his company even more.
What was supposed to be a couple of days at the most turned into an open ended invitation for Eddie to stay and work with Gray for as long as he wants. The initial awkwardness between them turns into a reluctant friendship, and both Gray and Eddie realize how much they love each other's company and how well matched they are. Gray doesn't get his hopes up that young and beautiful Eddie would want to settle down with him, while Eddie has a foot out the door the entire time, preparing himself for the moment Gray gets tired of him.
I loved seeing how both Gray and Eddie became emotionally vulnerable to each other, despite the big age difference between them, which turned out to not be a problem at all. Eddie's past experiences that taught him to never rely on anyone and that he's not good enough to make people stay; those are the real issues. Despite how frustrating Eddie was at times, I thought he was very realistic and easy to relate to. Gray on the other hand made it real hard to warm up to; I never understood why it took him so long to get over his ex leaving him to move to a big city. It's been YEARS since the breakup, and I didn't like the idea that he needed someone to move in with him in order to move on with his life, because that screams pathetic to me. Gray is not a child; he's a mature man in his 40's, although at times he didn't read as such.
This is a beautiful about finding love and trusting that for some people you mean everything. It's about learning to rely on others and believing that despite a horrible past, you can be happy and deserve to be so. It's about realizing that there are good people in this world, who want to help without expecting anything in return. Lovely ending!