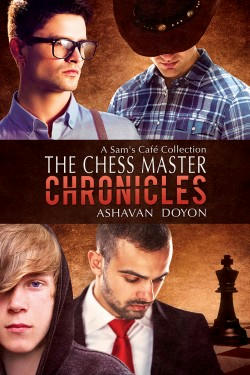 Title: The Chest Master Chronicles
Series:  Sam's Cafe Romances 1 – 3 
Author: Ashavan Doyon
Genre: Contemporary
Length: Anthology (290 pages)
Publisher: Dreamspinner Press (November 30, 2016)
Heat Level: Moderate
Heart Rating: ♥♥♥♥ 3 1/2 – 4 Hearts 
Blurb: A Sam's Café Romances Collection
Welcome to Sam's Café, where men from all walks of life gather for the best coffee in town and to try their hands at the King's Game. Through challenges on and off the board, they move toward an endgame that might involve romance and a happily ever after—if they make the right moves.
The King's Mate
Sam convinces Russell Pine to act as grandmaster in a chess tournament, but he soon learns the game isn't the real challenge. A secret admirer is courting Russ through words and pictures. But in a café full of beautiful young minds, who could be interested in the aging chessmaster?
A Wounded Promise
With his abusive ex behind bars, Justin is eager to pursue his relationship with Russ. But when an alcohol-induced rage rekindles Justin's trauma, Russ will have to find a way to make amends for his mistake and heal the wounds on his lover's heart.
The Rodeo Knight
Amnesiac Brian Stouten doesn't fit into the heterosexual life laid out by his family, so he returns to a small college town in search of clues to his past. The man he hopes to contact won't be of any help—but an out-of-place cowboy just might.
ISBN: 978-1-63477-914-2
Product Link: https://www.dreamspinnerpress.com/books/the-chess-master-chronicles-by-ashavan-doyon-7830-b
Reviewer: Shorty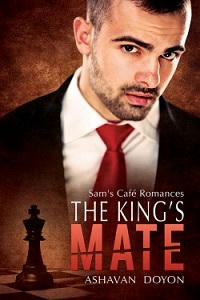 The King's Mate: ♥♥♥ 3 Hearts
 I liked the secret admirer aspect of the story but would have preferred it that I did not know who it was. Russell comes to Sam's every day for coffee and conversation. When asked by Sam for a favor Russell agrees. Thus begins a secret admirer sending Russell hints to his identity, which I guessed right away.
It was a cute, sweet story. If you like a fast read with sexy men and romance then this is for you.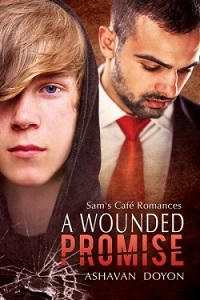 A Wounded Promise: ♥♥♥♥ 4 Hearts
One man one step away from becoming an alcoholic and another trying to live again after a horrific relationship nightmare come together and all seems to go well until Russell erupts in a blind alcoholic rage after an incident. Poor Justin is thrown back into a scenario he'd rather forget so leaves in terror.
These two men Justin Russell had so many issues I was honestly surprised they got together at all rather taking time and getting through their baggage before attempting a relationship. Nevertheless, the two men seem to need one another and once the incident that drove Justin away is talked over they come together. 
Emotional, dramatic and tense at times this book delivers a punch.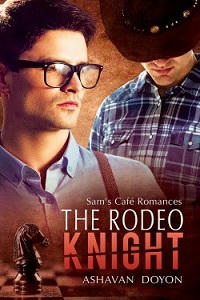 The Rodeo Knight: ♥♥♥♥ 3 3/4 Hearts
Brian has no clue who he after a car accident leaves him with amnesia. His family help but Brian soon discovers they are lying to him so he leaves for a small town that seems familiar looking for Russell. He learns that Russ is on his honeymoon.
Sylvester has longed for Brian for a while yet kept it secret. Now Brian is back with no memory. I loved that Sylvester seemed to have a second chance. Though Brian at times seemed out of character with his callousness. 
It was an interesting story that draws you in with plenty of drama. Good read.