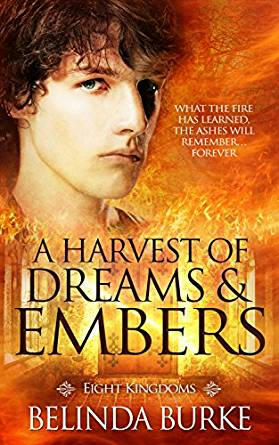 Title: A Harvest of Dreams and Embers
Series: Eight Kingdoms # 5 
Author: Belinda Burke
Genre: Erotic Romance, Fantasy
Length: Novel (196 pages)
Publisher: Pride Publishing (February 7, 2017)
Heat Level: Moderate
Heart Rating: ♥♥♥♥ 4 Hearts
Blurb: What the fire has learned, the ashes will remember…forever.
For the first time in ten thousand years, Myrddin has what he wants—Kas for his lover again. Now that the Black King is his once more, Myrddin is desperate to make sure he keeps him. The vision that came to him in the Spring madness is beginning to come true, and the terrifying loss at the blank end of that vision drives Myrddin to do anything that might prevent it.
He will even live among mortals for a while. Even help the High King of Britain, Uther Pendragon, win the woman he wants.
While Myrddin plots and Kas worries over him, Macsen and Bran have decided to put their own concerns to rest. Macsen is hungry for Dealla's life and Bran will no longer deny his lover what he wants. Only Dealla herself still stands in their way. To save herself, and make one last attempt on the Red King's life, she has forged stolen Summer weapons into golden chains.
With Macsen captive, this time it is Bran who must rescue his lover…but the cost may be too much for him to bear.
Is love really worth any price? 
ISBN: 978-1-78651-524-7
Product Link: https://www.pride-publishing.com/book/a-harvest-of-dreams-and-embers
Reviewer: Shorty 
Review: This complex yet riveting addition to the Eight Kingdom series is about two couples who strive to banish the darkness they all face. Myrddin makes many changes to keep Kas with him after so long apart. I worried for him as it seemed he was taking on so much at times that he left Kas constantly. 
On the other side we have Macsen and Bran along with the always evil Daella who I am thankful to say finally gets whats coming to her. Bran showed remarkable determination when their plans go awry and Macsen is captured. I loved that Bran came to Macsen's rescue.
This story will not be for everyone. It is dark at times and complicated at others. I found myself frustrated a couple of times but stuck with it. I love the world this story is revolved around. The characters all have their roles to play to make this story pop.
Great read.