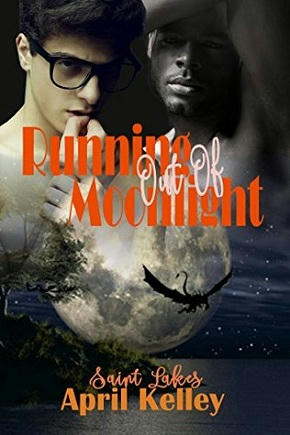 Title: Running Out of Moonlight
Series: Saint Lakes #2
Author: April Kelley
Genre: Paranormal
Length: Novel (186 Pages)
Publisher: Bonydee Press (April Kelley) (February 10, 2016)   
Heat Level: Low
Heart Rating: ♥♥♥♥♥ 5 Hearts
Blurb: They thought finding each other would heal them both, but life in Saint Lakes doesn't make it that simple.
Sage Rickman was in the wrong place at the wrong time. At least that's what he think when the vampires kidnap him. Working through the mental anguish of all the vampires did to him is difficult to get through to say the very least. Peace of mind is an elusive creature though. He thought finding his mate would make things better, but trust doesn't come easy.
Garridan Arach can't remember anything about his past. He's been in his dragon form far too long for a normal shifter to take. Being feral is the least of his worries though, especially when his memory starts coming back. Not that he cares about his past. All he wants is his mate. A mate that keeps rejecting him every time they're together. His past has a way of catching up with him, and he discovers things that will make life in Saint Lakes less than peaceful.
ISBN: 978-1530183876
Product Link: https://www.amazon.com/Running-Moonlight-Saint-Lakes-Book-ebook/dp/B01A3DYW2A
Reviewer: Lisa
Review:  Each book in the Saint Lakes collection features a different romantic couple. To enjoy the overall story arc and crossover characters, I would recommend reading the series in sequential order.  This series is connected to the Wingspan series but I would suggest reading this series first.
My mother got me started reading romance stories at a pretty young age and it just seem to click with me from the first one.  It wasn't until about two years after I started reading that I realized I actually liked the paranormal ones the best.  Then close to four years ago I accidentally downloaded two m/m romance stories.  Let's just say once I got over the shock, I started reading more and more of them.  So much so that I cannot read any books with girly parts in them.  My mother got a kick out of that at least.
When April wrote her very first book and I got my hands on it, I knew that she was going to be a big hit with me and I was right.  Her characters are unique and very fresh to me.  Also her worlds just seem to hit with my desires.  I knew from that point on that she was going to be an automatic buy from that point on.  I have not been let down yet.
There is something about the way that she writes, that not only draw you in but keeps you there.  They are not only the perfect length for me, but they are so full of detail that it feels like you are right there with them. They not only entertain you but captivate you throughout the whole story. For me once I start reading I can't move until I find out how they end. Her characters are also very fascinating and unique to me.  The characters are beautifully written with big hearts, however if you cross them, they have no problem putting you down.  
You don't come across many books where the characters are dragons so imagine my delight when I found out that they were in April's stories.  Garridan is a powerful dragon shifter who had just lost his best friend.  His friend and his wife left behind a beautiful young boy who was afraid to let him out of his sight, but Garridan knew he had to find out who was behind the killings and end them.  Too bad for him, he hadn't counted on being caught and kept for many years.  That is until he is found and rescued over forty years later, nor to find his mate.
The ones that had Garridan had also kidnapped his mate, Sage.  The things done to Sage is horrific and evil, but between the two of them well you will just have to read the book to find out more.  
I can honestly tell you that this is going to be one of those types of series that you can't put down and have to read more than once. It is the perfect story for me and gave me all that I needed. I love the way all the feelings they felt was involved in this story. I had a blast reading it and I can't wait to read the next story.