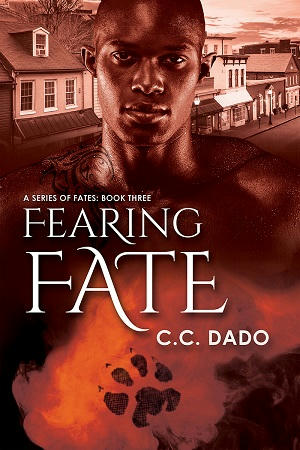 Title: Fearing Fate
Series: A Series of Fates 03
Author: C.C. Dado
Genre: Humor, New Adult, Paranormal
Length: Short (71pgs)
Publisher: Dreamspinner Press (December 14, 2018)
Heat Level: Moderate
Heart Rating: 💖💖💖💖 4 Hearts
Blurb: He is a fearless protector by nature and in his heart. But nothing's ever simple with love… or fate.
At nearly seven feet tall, Zeus's role had always been to protect the pack—but his newest charges need him more than most. Kimber and Kron are transplants from another pack, and they have a dangerous stranger on their tails. Zeus is determined to do his duty and drive the human out of town. But when he confronts Toren, his wolf has other ideas….
Something isn't right, but should a huge, tattooed wolf with a secret soft heart fear his fate—to love a man with secrets of his own?
ISBN-13: 978-1-64080-731-0
Product Link: Dreamspinner | Amazon US | Amazon UK
Reviewer: Shorty
Review: Zeus will do anything to protect the pack he loves. Threats arise as a mystery to two children's parents death come to light. Zeus is in full protection mode when he comes across Toren lurking around.
I loved how the characters in others books are always relevant to each book and not forgotten. They each played a role in bringing the story to life. I do not want to give away to much but the plot was intriguing filled to the brim with secrets coming from from several different directions.
Well written and intriguing.
Great read.