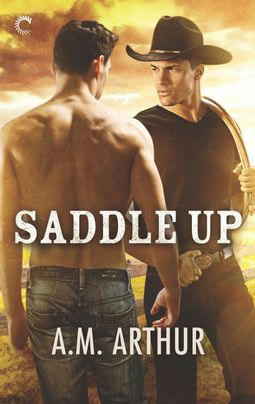 Title: Saddle Up
Series: Clean Slate Ranch 03
Author: A.M. Arthur
Genre: Western, Contemporary Romance
Length: Novel (224 pgs)
Publisher: Carina Press (September 17, 2018)
Heat Level: Moderate
Heart Rating: 💖💖💖💖💖 4 1/2 Hearts
Blurb: Reyes Caldero keeps his past buried deep and his emotions buried deeper. But what he doesn't say he always makes up for with his actions. When the hot chef he once saved from an abusive ex turns up at Clean Slate Ranch, the quiet cowboy is happy to act on their sizzling chemistry, even if he's not ready to share his secrets—or his heart.
Miles Arlington needs to get the hell out of San Francisco, and heading north for a job near Clean Slate Ranch seems like just the thing. It doesn't hurt that his secret crush slash onetime rescuer happens to work at the ranch. Miles has never been one for the outdoors, but the superhot Reyes has him ready to saddle up.
Reyes is happy to keep things casual, even though his heart has other ideas. And when Miles is forced to confront his past again, Reyes and Miles will have to put all their trust in each other if they want any chance at building a future together.
ISBN: 9781488097157
Product Link: Carina Press | Amazon US | Amazon UK
Reviewer: Shorty
Review: A sweet romance about Reyes and Miles. These two men have tragic pasts they are both trying to deal with. Reyes is an ex firefighter that had something bad happen on the job. While Miles is trying to get away from his crazy ex.
Despite the way they met, Reyes saves Miles they both have a mutual attraction to each other. What I liked most was these two took things slow. They got to know one another and were there for the other when they needed it most.
Sweet, tender and romantic are words that come to mind with these two. For all the drama they have been put through they eventually are ready to saddle up for a new relationship with each other.
Great read.