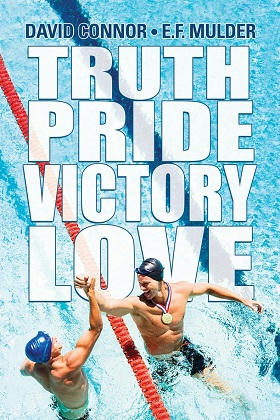 Title: Truth, Pride, Victory, Love
Author: David Connor & E.F. Mulder
Genre: Contemporary, New Adult
Length: Novel (342 Pages)
Publisher: Dreamspinner Press (December 30, 2016)
Heat Level: Low  
Heart Rating: ♥♥♥♥ 4 Hearts
Blurb: Beneath the surface, they share more than dreams of Olympic gold.
Since elementary school, the question of Reed Watson's race has needled him. But the one thing he's always known is that he is destined to become an Olympic star—he felt it the moment he first hit the water. Chosen by a former Olympic swimmer to train for the 2016 Olympics, Reed determinedly works toward his dream.
Along the way, Reed develops feelings for two men he's known since childhood: Cal, his next-door neighbor, and Mathias, his rival since the fourth grade. Cal's struggle with his sexual identity and a tragedy complicate Reed's feelings, while Mathias's wealth quickly makes it obvious they are from vastly different worlds.
As Rio approaches, Mathias becomes a gay sports icon, while Reed is told to hide his sexuality for a lucrative endorsement deal that will offer his family a financial boost and help him with mounting debt. Reed's unresolved desires for both men remain and so too do all the things that have kept them apart. Has he grown enough to navigate rougher waters, to find truth, pride, victory, and love?   
ISBN: 978-1-63533-234-6
Product Link: https://www.dreamspinnerpress.com/books/truth-pride-victory-love-by-ef-mulder-and-david-connor-7937-b
Reviewer: Lisa
Review: I have not had a chance to read any stories from these two authors, so I wasn't really sure what to expect.  I must admit that the title and the cover of the book really didn't do it for me.  The cover was a bit dull and almost had me looking for another story.  Also the title seemed a bit dated for this type of story.  Then I got to the blurb and I was a little bit more interested.  Although I will admit that stories that focus around sports really don't rock my world.  
Reed is a strange character but there was one goal he never let go, and that was to be in the Olympic's. He was a typical boy who had the hots for two of his classmates and friends.  At first it was Cal, his best friend and neighbor, and then there is Mathias.  Now him and Mathias are at different ends.  Mathias comes from a wealthy family and Reed's is just making it.  Things slowly change when Cal was injured in a car accident and his swimming career that he looked forward to ending.  The coach brings Mathias into the deal.  
Cal is still Reed's best friend but his heart is with Mathias.  The problem was Mathias was out and proud, where Reed had to stay in the closet. They become better friends and closer.  For the whole story you really need to read the book.
I am afraid that even though it was a very entertaining story, it was just so long that I lost interest in it through certain parts of the story.  I hate to admit that I put the book down, then went back to it, and then put it down again. It is a very slow paced story that is not my kind of book.  It was as I said very entertaining but the book itself was just not for me.