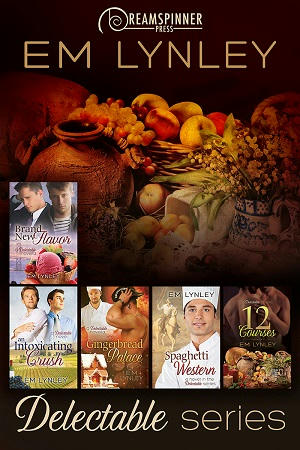 Title: Delectable Series
Series: Dreamspinner Press Bundle 01
Author: E.M. Lynley
Genre: Contemporary
Length: Novel (671 Pages) (2 Novels, 3 Novellas)
Publisher: Dreamspinner Press (February 3, 2017)
Heat Level: Low
Heart Rating: 💖💖💖💖 4 Hearts (Overall)
Blurb: The way to a man's heart is through his stomach, and no one knows it better than the men in EM Lynley's Delectable Series.
In Brand New Flavor, Artisan ice cream maker Jay Brown and food critic Cameron Clay have one delicious encounter that could lead to much more, if they can find each other again. Simon Ford resents the easy life of those like Austin Kelvin, owner of Kelvin Cellars in Napa Valley, in An Intoxicating Crush. But Austin's business is going under, and when Simon's true reasons for being at the winery come to light, Simon will have to risk everything to prove his sincerity.
When Alex Bancroft's bakery burns down a week before Christmas and he's pulled from the flames by Kevin Flint in Gingerbread Palace, the gingerbread house he donates to charity seems like it's not going to happen, until Fire Station 7 comes to the rescue yet again. But can Kevin come out of the closet long enough to see what he might be missing?
In Spaghetti Western, professional chef Riley Emerson's dreams are in tatters when he takes a job at the Rocking Z guest ranch. Colby Zane is ecstatic when the new cook turns out to be his hot one-night stand, but financial problems at the ranch may drive them apart. In 12 Courses, chef Thom Kennedy has finally regained his confidence after the theft of his recipes when ex-boyfriend Blake Warner shows up at his restaurant several days in a row. But can he trust Blake again when he seems to know more that he's saying about the theft?
ISBN: 978-1-63477-439-0
Product Link: Dreamspinner | Amazon US | Amazon UK
Reviewer: Lisa
Review: Brand New Flavor 💖💖💖💖 4 Hearts
Jay has had a hard time trusting others after a disaster of a relationship. It wasn't even the relationship itself that cause the problems, but the damn man stole his recipes. He created the most erotic ice cream ever. The taste was just that good. So when a man wanted to taste his ice cream, lets say things heated up. But trouble always gets in the way, when Cameron's ex tried to mess with Jay's head.
The ice cream that was mentioned in this story, made me want to go out and get some. Jay definitely has self esteem issues and I wasn't to sure about him. He is a sweetie and cute as can be. Cameron is a little better then him, but he comes off as a bit of a player at first. I don't like cheating or close to it, and this one pushed it. However the story is cute and I did enjoy it quite a bit. Now normally I would have given it a harder rating but I truly had fun reading it.
The characters are charming and for such a short story it gives you a good taste. I do wish it had been a bit longer, but it is perfect to heat your day.
Intoxicating Crush 💖💖💖💖 4 Hearts
Austin loves owning and running the winery. His father had given it to him and his brother, but it was Austin that truly loved it. However he is a bit stubborn when he is in need of help, he won't tell anyone about it. When Simon came to the to taste the blends, Austin was a bit tongue tied. Things were going good, then Austin's world just drops out. Simon is in big trouble now.
I am not much of a wine or beer person so some of the story went over my head, but the guys were a different subject. They were definitely tasty and damn sexy. This story was a cute addition to my library and I was glad that I had taken the time to read it. It is an even paced story that didn't really draw it out, which was nice.
I really like the characters but I think Austin would win out here. Simon seemed a bit to weak in my eyes when it came to his boss and what he truly wanted. Other than that I did have fun reading this book and can't wait to start in on the next one.
Gingerbread Palace 💖💖💖💖 4 Hearts
Every year Alex and his screw always makes nice size gingerbread houses and men to sell. The money they raise goes to a charity for foster kids and to place them in the best homes. He had not been so luck and he over came all that had happened to him, but he wanted to give other children a chance at having a better life. When a fire looked to stop them from doing it, the firehouse stepped in to help. To bad the one fire fighter he had the hots for, acted like a homophobic asshat. However not everything is as it seems.
Lets just say Kevin is an asshat and I didn't really care for him. Even getting to know him there was just not really a chance to like him till the very end. I loved Alex and understod where he had been standing at. I enjoyed reading the story and the charcters were quite a hit with me.
This is a sweet story with a bit of heartache added in. The guys were sexy and always did love a man in uniform. I enjoyed this book quite a bit.
Spaghetti Western 💖💖💖💖 3.5 Hearts
Riley has done something that many would wish they did, he followed his dreams. He became a professional chef and is one hell of a cook. He can make food that is orgasmic to say the least. When he heads to Colorado to be with his boyfriend, he hadn't expected that boyfriend in bed with another. Now he not only had to mend a broken heart but find a new job. Searching around ends him up at a ranch that catered to guest. He had not expected the one man he had slept with after what had happned to be one of the owners of that ranch. Things are looking good, until a potential investor wants more from Colby.
This story gave me mixed feelings. I actually thought about giving it a lower rating because of the near screwup with the Colby and that investor. However thanks to intervention it turned out pretty good. I just don't condone what was going to happen and felt that it would have caused big trouble between our sexy characters, but was glad the author took it in another direction. However it did make the story drop for me in the end.
I hate to admit that this story was really good but I have certain pet peeves and this one was knocking on the door for me. It could have gone either way for me and I didn't much care for it. I liked Riley quite a bit and in the end Colby went down the drain. So this particular story just about made me want to say no to the rest of the book.
12 Courses 💖💖💖💖 3.5 Hearts
Thom was an inspiring chef till someone stole his ideas, and he was the one blamed for it. Now a few years have past and the one man he had loved back then shows up. Blake had taken off when all of the damage had been done to Thom, but it wasn't what Thom took it for.
This one was a bit dry to me. Betrayal and anger given to one for something that had been an accident, even though the end was horrible. Now starting over and Thom was terrified by the results. They both come off a bit weak to me and the connection that should be there wasn't. The story just
They don't truly have trust and trust is definitely needed in a relationship, but then again with a small story I can see how it was worked. It is a cute story and the characters were enjoyable but they were missing something big to me.
Overall
I liked the recipes that were in the stories but it made them drag out and that wasn't good for me. The story did make me hungry though. I liked most of the characters but there was so much drama that wasn't needed to keep my attention. I had a few likes and dislikes, but overall each story was pretty unique and fresh for me. I liked the guys and their happy endings. I enjoyed reading it and would recommend it.