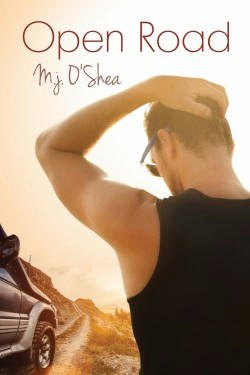 Title: Open Road
Author: M.J. O'Shea
Genre: Contemporary  
Length: Novel (200 Pages)
Publisher: Dreamspinner Press (July 25, 2016)
Heat Level:  Low
Heart Rating: ♥♥♥♥ 3.5 Hearts
Blurb: Angus has been with the same guy for ten years. When his boyfriend breaks up with him the night of his thirtieth birthday party and announces his engagement to a twenty-two-year-old less than ten hours later, Angus is… a mess. To put it lightly. He spends days in bed, drinks himself into a stupor every night, and ends up losing his job and his apartment. His best and oldest friend, Reece, decides it's time for an intervention. And a change of scenery.
Reece and Angus take off on a buddy trip across the US. They don't have much of a plan; they just start driving. It takes Angus a couple of days to do much more than grunt when Reece talks to him, but slowly he opens up. They drive, talk, heal, shout, drink a bit too much sometimes, dance, meet new friends… and somewhere between Portland, Oregon, and Portland, Maine, they fall in love.
Which was the last thing in the world Angus expected.
ISBN: 978-1-63477-316-4
Product Link: https://www.dreamspinnerpress.com/books/open-road-by-mj-oshea-7308-b
Reviewer: Lisa
Review: Angus's boyfriend dumps him on birthday and then announces his engagement to a very much younger man.  He has lost his long-time partner, then his job and his apartment.  Can anything else go wrong for one man?  Thank god his best friend decides to help the man.  However there is something to say about a sexy best friend stuck in a car with you.  Things are about to heat up.
Now one would think that things would heat up just a bit faster than they had.  The first kiss was about three fourths into the book so I was a bit bored.  It is a very entertaining drive to say the least though.  These two are just driving and learing about each other in ways one would never had expected, well except a reader who wants something to happen.  Angus can't believe he never noticed how sexy his best friend was though, so his eyes were opened.
Now Brad is an ass, which is not surprising to say the least but there was something off about him.  Then there is Reece who left me with more questions never answered.  You never really get an insight into his life at all.  You don't find out if he was gay or straight in the beginning so Angus had no clue either it would seem.  It is very odd to say the least.
Now this book is a very cute story about two best friends who find out that they might just be more than best friends.  The sex is sweet and tender, but I don't feel the passion at all.  So I guess it fits with the book at least. 
I guess I am just not into friends turned lover's type of reader.  I want more heat and passion, plus some action and danger.  I am afraid that I lost interest before we even got to the kiss.  The first sex scene was close to the end which was a drag for me.  I just couldn't connect with this book.  I am afraid that this was one story that was not for me.