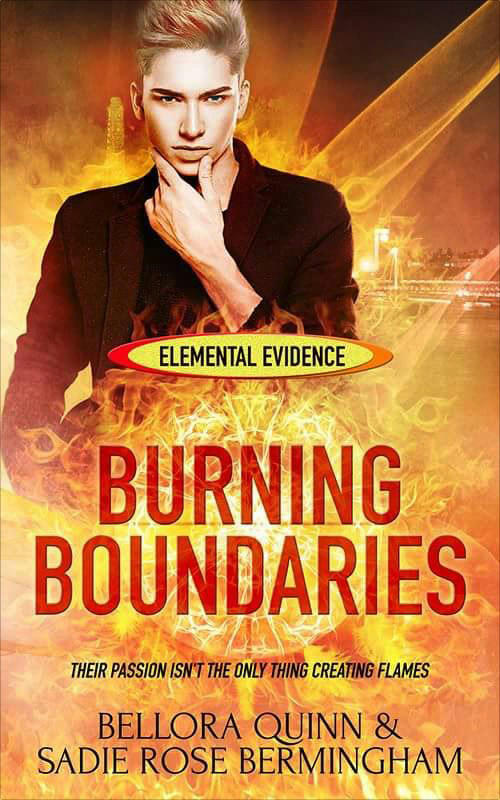 Title: Burning Boundaries
Series:  Elemental Evidence 02
Author: Sadie Rose Bermingham & Bellora Quinn
Genre: Fantasy, Paranormal, Thrillers & Suspense
Length: Novel (257 pages)
Publisher: Pride Publishing (July 4, 2017)
Heat Level: Moderate
Heart Rating: ♥♥♥♥ 4 Hearts
Blurb: Their passion isn't the only thing creating flames.
Mari Gale's life has been a whirlwind since meeting Jake Chivis. A new job prospect and his mother's health preoccupy him, so when Jake invites him on a date he's ready to cut loose. Their night out turns into a nightmare when a fire breaks out in the basement of the bar and they barely escape.
Soon Jake learns that the horrific accident is being investigated as a possible homicide, and it's not the only case. Detective Inspector Cordiline of the London Met hints at spontaneous human combustion, but as far as Jake knows, SHC doesn't exist.
When Mari looks into a group called Birthright, he finds a connection to the victims of the fires and Jake risks himself to go undercover at the shadowy organization. The race is on to determine the truth before Jake becomes the next target.
Reader Advisory: This book contains a non-consensual scene.
ISBN: 978-1-78651-559-9
Product Link: https://www.pride-publishing.com/book/burning-boundaries
Reviewer: Shorty 
Review: Mari and Jake are back in this exciting addition to the series as the two investigate a suspicious fire. Going undercover in a shadowy group could be the end of Jake if they don't find out what is going on before they are found out.
Suspenseful, dramatic, danger and romance are all in abundance in this story. I was on the edge of my seat at times awaiting the outcome. I love how Jake and Mari are growing their relationship despite the dangerous situations they find themselves in.
I loved the investigation part of the story. It was interesting how they came up with their theories and went about determining if they were right or not.
Great read.