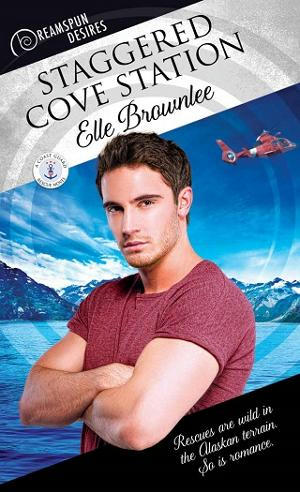 Title: Staggered Cove Station
Series: Coast Guard Rescue 01 / Dreamspun Desires 54
Author: Elle Brownlee
Genre: Contemporary, Military
Length: Novel (216 pages)
Publisher: Dreamspinner Press (20th March 2018)
Heat Level: Low
Heart Rating: 💖💖💖💖 4 Hearts
Blurb: Rescues are wild in the Alaskan terrain. So is romance in this coast guard rescue novel.
Sun-kissed California guardsman Dan Farnsworth might be at home in the water, but he's out of his element at remote, rugged, and freezing Staggered Cove Station. Acclimating proves hard enough, but he's also digging into how the station's previous rescue swimmer was lost at sea. Was it an operation gone bad or something more sinister? Add to that the instant tension between him and his partner, no-nonsense, Alaskan Karl Radin, and Dan has his hands full.
As his investigation heats up, so does the attraction between Dan and Karl, even if they don't completely trust each other. But as suspicious events escalate to sabotage, Dan starts to fear that he and Karl won't get the chance to become more than reluctant coworkers.
ISBN: 978-1-64080-495-1
Product Link: Dreamspinner | Amazon US | Amazon UK
Reviewer: Prime
Review: I looked forward to this book, I've previously heard the audio and enjoyed that well enough. I was actually a little surprised that I enjoyed reading the ebook more than listening to the audio, it's usually the other way around. There was romance, mystery, danger and hot men in uniform who are honest to God heroes. I've previously enjoyed Elle Brownlee's books in the past, although I've never actively looked up each and every release by the author, she is definitely on my list of enjoyable authors.
Dan Farnsworth is a fairly fresh recruit in the US Coast Guard. After being top of his class for so many different things during training, especially his swimming, he requests for a transfer to a remote post in Alaska. One reason is for the challenge but the most important reason is because he needs to investigate the presumed death of his missing, much older half-brother, Axe.
At Staggering Cove Station, Alaska, Dan meets Karl Radin. He had been the leading the rescue where Axe went missing. Dan, much like Karl, find it tough to believe that Axe could be so easily swallowed up by the ocean with his experience and strength as a swimmer, but anything is possible. When he meets Dan, Karl knows that there something that isn't quite right about the man, who seems to be snooping around. Karl just can't work out why and has to find out the secrets the intriguing man is hiding. It certainly doesn't help that there is a mutual attraction as the characters slowly fall in love.
The main mystery of this book is what happened to Axe, with a good dose of Karl trying to figure out Dan for the first few chapters. The romance is basically a secondary storyline and for the most part that works really well, in my opinion.
This is an enjoyable book for the most part. But there were a few things that didn't really gel with me. The first thing is the sex scene in the book. The fact that there are only a couple sex scenes towards the end doesn't bother me, I'm all for the sweet and getting to know you type romance with cuddling and stolen kisses. It was that the one sex scene is everything I hate of sex in romance novels – it's sex in an inappropriate place at a completely stupid point in time. The other thing that didn't gel with me was that some elements of the plot simply didn't grab me – I know the relationship between the brothers had gone by the way side but I wasn't properly convinced.
Yet, the strengths of this book include a believable setting in Alaska and life in the US Coast Guard (no idea how accurate it is but it doesn't seem completely outlandish). In fact, I really enjoyed that element. The other thing that I thought was possibly the best element of the book is that the characters are given a lot of time to get to know each other which picking through the mystery element of the story line. It made the romance more believable and relatable, even if it was a happy for now ending. I'm really looking forward to more books in this series. I kinda have hopes as to which secondary characters could have their turn next.