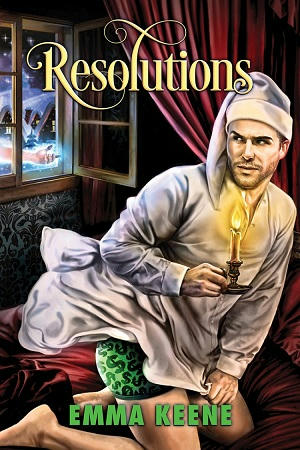 Title: Resolutions
Series: 2016 Advent Calendar- Bah Humbug
Author: Emma Keene
Genre: Contemporary, Holiday
Length: Short Story (37 Pages)
Publisher: Dreamspinner Press (December 19, 2016)
Heat Level: Low 
Heart Rating: ♥♥♥♥ 4 Hearts
Blurb: As an advertising executive, it's Logan's job to sell people holiday cheer, and he's good at what he does. But deep down, Logan hates everything about Christmas, so he worries that his crush on the hot baker who loves the holidays is a recipe for disaster.
Last year, Logan saw Ryan at a holiday party Ryan was catering, and the attraction was instant. In a drunken moment, Logan made it his New Year's Resolution to ask the pastry chef out. But another year has slipped away, time is running out, and Logan's assistant demands he collect on his resolution. Can Logan find the confidence that usually comes so easily to him? And if he does, will Ryan have any interest in spending the holidays with a man who doesn't share his enthusiasm for the season?
ISBN: 978-1-63533-181-3
Product Link: https://www.dreamspinnerpress.com/books/resolutions-by-emma-keene-7975-b
Reviewer: Lisa
Review: As a foster kid, Logan hadn't had much of a holiday spirit.   Then as an advertising executive, he had to sell the holidays for his clients.  To the point he had started to hate Christmas.  Then he ran into Ryan, and things just might change.  However if you want to see just how much, you must read this book.
New Year's resolutions must be a kick to survive, but for these two men, well let's just say it is going to be a surprise.  I got a kick out of reading this and was glad that they got their happily ever after.  This is a pretty good Calendar to get interested in.  What is better than two sexy men in love.
1st prize $100 DSP credits!
2nd prize $50 DSP credits!
3rd prize $25 DSP credits!
4th prize $25 DSP credits!
Emma Keene's Question!
In my story Resolutions, Logan is in a taxi cab and hears the song "What Are You Doing New Year's Eve?" 
Who wrote this song and when? 
Good luck! And don't forget to check out Resolutions to see if Ryan can help Logan see the true spirit of the season! 
(Just leave a comment with the answer on this post)
Catch up with the previous questions: MMGBR Bah Humbug Giveaway!
(Winners will be picked by a dart on 1st January 2017)