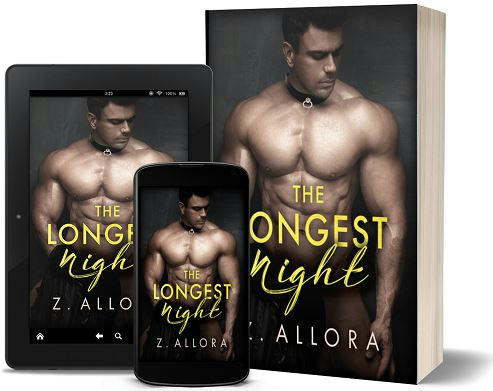 Hi guys! We have Z. Allora popping in today with the cover for her upcoming release The Longest Night, we have a great excerpt so check out the gorgeous cover and enjoy the excerpt! ❤️ ~Pixie~
The Longest Night
by
Z. Allora
The holiday season is lonely for construction worker Benjamin Morgan, a big muscular guy who just wants to submit, obey, and serve. But the men he's attracted to usually don't have a dominant bone in their bodies. He's done seeking his BDSM dreams with someone who isn't interested in putting him in his rightful place—on his knees at their feet.
When a friend sets up a meeting with Foster Ridgeway at the BDSM club, Entwined, Benjamin has his doubts. Of course he is attracted to bookish Foster, who works for the same construction company, but how will someone so small and delicate-looking master Benjamin? But when Foster–the tiny temple of dominance wielding a crop—heads toward Benjamin, he might get what he's always wanted, just in time for Solstice.
Release date: 20th December 2019
Pre-order:
.•.•.**❣️ Dreamspinner ❣️

**.•.•.