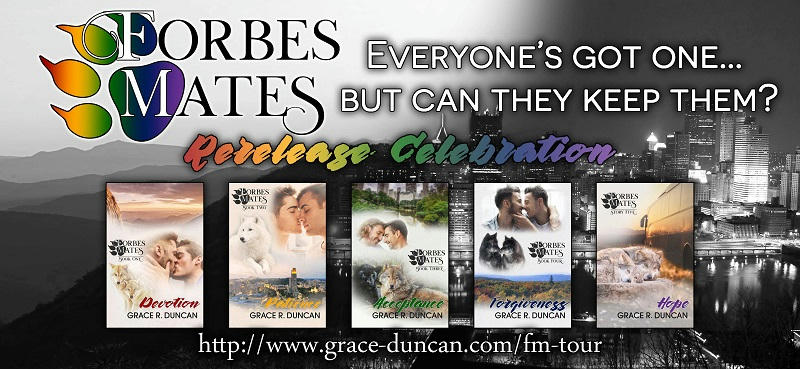 Hi guys, we have Grace R. Duncan stopping by today with the tour for her new re-release Acceptance, we have a great excerpt and a fantastic $25 Amazon GC giveaway, so check out the post and enter the giveaway! ❤️ ~Pixie~
Acceptance
by
Grace R. Duncan
Finding his mate is the least of Quincy's worries–keeping Miles alive is the real priority…and will take every ounce of creativity Quincy has.
Dr. Miles Grant acknowledges that his destined mate could be either gender even though his bisexuality cost him his family and his pack. Luckily he found the Forbes Pack, who happily accept him just as he is. What he never counted on was finding his mate in Pittsburgh or for his mate to be another species entirely—a cat!
Quincy Archer isn't just any jaguar shifter. He is the heir to the leadership of his pride. Destined mates are nothing but legend to the nearly extinct and generally solitary jaguars, and Quincy certainly never expected to find one for himself, much less a male… or a wolf.
However, finding each other and coming to terms with their species is the least of their worries. Quincy is expected to select a proper female mate, father a cub, and take his place as heir to the pride. Except Quincy refuses, having no interest in women or leadership and knowing he isn't right for it. But his father will stop at nothing—not even attempting to kill Miles—to get his way. Quincy and Miles must overcome many obstacles to stay together as the destined mates they're meant to be.