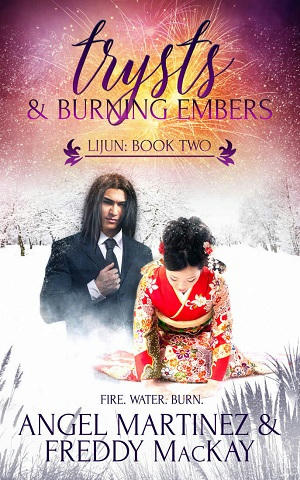 Title: Trysts and Burning Embers
Series: Lijun 02
Author: Freddy MacKay & Angel Martinez
Genre: Bisexual, Contemporary, Fantasy, Multicultural, Paranormal
Length: Novel (423pgs)
Publisher: Pride Publishing (November 20, 2018)
Heat Level: Moderate
Heart Rating: 💖💖💖💖 4 Hearts
Blurb: Fire. Water. Burn.
In the two months since the All Hallows' Eve party, Tally has courted Haru, buying expensive gifts, taking the two of them to upscale restaurants and trying to find a balance in earning Haru's fragile trust while being new parents to the Cohen joeys. Tally sees hope in the new domesticity the family has settled into, despite having some bumps along the way.
Gifts and treats have satisfied Haru's otter, but the human half remembers the brutal lessons of giving their trust away. How can two lijun who barely know each other anticipate what will happen when times get tough? There are circumstances Tally doesn't understand yet, and Haru struggles to find their feet with an Urusar who doesn't know the rules.
A revelation not only throws the tentative relationship between them askew, but also starts Tally and Haru down a path the two of them can't escape, one so heart-wrenching Haru's not sure their heart will survive.
Traditionalist concerns that have always nipped at the Bastille clan's heels come roaring to the forefront with demands and ultimatums. Tally needs to fall in line or face further threats to his otter, his family and his clan. Haru needs to find the strength to believe in the good despite the bad. In an environment where it's vital to know ally from foe, Tally and Haru need to stand united or watch the community Tally's family has built fall under the thumb of heartless, greedy autocrats.
Reader advisory: This book contains references to past trauma and PTSD, the death of a child and kidnapping.
ISBN: 978-1-78651-697-8
Product Link: Pride Publishing | Amazon US | Amazon UK
Reviewer: Shorty
Review: There was a lot going on in this continuation of the series. Haru and Tally are trying to settle in their new life but others conspire against them playing on the couples weaknesses and not knowing about certain things.
There is a deeper delve into the Lijun politics that was complex with a lot of rivalries thrown into the mix. A lot of characters are interwoven as certain individuals make plans behind others backs that are not on the up and up. I found the whole story intriguing.
Tally and Haru I felt needed to talk to each other and learn more about the other before cracks are found and the ones up to no good split them apart for good. I was thankful for the warning at the end of the blurb because that incident was sudden and utterly gut-wrenching to read.
Great read and addition to the series.