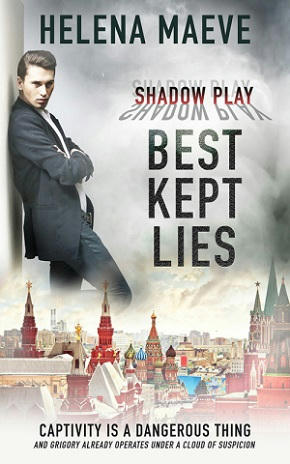 Title: Best Kept Lies
Series: Shadow Play 01
Author: Helena Mauve
Genre: Contemporary, Thriller, Suspense
Length: Novella (109 pages)
Publisher: Pride Publishing (August 25, 2015)
Heat Level: Moderate
Heart Rating: ♥♥♥ 3 Hearts
Blurb: What becomes of the Russian spy who lands himself in the crosshairs of a rogue British agent?
Grigory Antipov's work within the intelligence community is exemplary, but attracting too much attention is against his interests as a spy—a lesson painfully learned the night he is abducted off the streets of Rome. Captivity is a dangerous thing and Grigory already operates under a cloud of suspicion, given his predilection for male company. Luckily, his stint in British custody is short-lived, a mere flex of muscle from Agent Karim Awad.
Karim's objective is obvious. Lure Grigory into Section's clutches and turn him against his own people—expose him to the wrath of Moscow if he refuses. His mission brief may not specify the methods to be used, but Grigory soon discovers that Karim is a man of many talents. With powerful interests at play and the threat of deadly force in the air, Grigory faces an impossible choice—surrender to his fate or sacrifice the only man whose touch makes him feel alive after so many years.
ISBN: 978-1-78430-735-6
Reviewer: Shorty
Product Link:  https://www.pride-publishing.com/book/best-kept-lies
Review: This is book one of the Shadow Play Series. This book has a lot going on it. I expected this as I started reading and discovered spy and espionage in it the further I read. I have to assume since this is the first book the reason why some of the book was confusing was due to many different things going on, the introduction of many characters to base the rest of the series on, plus the fact that it seemed like there was no real beginning to the story.
This book is well written, fast paced and action packed. Although I liked the story I felt constantly confused as it seemed there were too many characters introduced into too short a book. 
Grigory, a Russian spy is caught by the enemy, Karim is a British Agent sent to try and get him to come to their side. There was a lot of sex in this book. I have mixed feelings about the overall story as it would have been so much better if things were explained better and not quite so much thrown into the book at once.