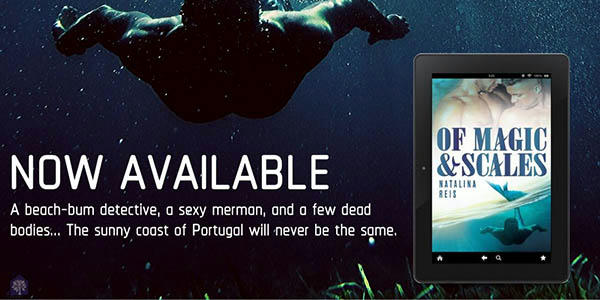 Hi guys, we have Natalina Reis stopping by today with the tour for her new release Of Magic and Scales, we have a brilliant guest post from Natalina, a great excerpt and a fantastic $10 Amazon GC or a backlist title giveaway so check out the post and enter the giveaway! ❤️ ~Pixie~ P.S. Keep an eye out for Shorty's review coming soon!
Of Magic and Scales
by
Natalina Reis
With a serial killer on the loose, the baffling mystery of Aiden's past, and their tenuous budding romance, Aiden and Fouchard tread through a world of magic and myth on padded shoes, terrified to stir up something neither can control or defeat.
Aiden Mercer's life now centers around lounging on the sunny beaches of his adopted country with a beer in one hand and a coffee in the other while admiring the local male population. After a rough life as a respected detective in DC, playing it cool shouldn't be too hard, right? With the magical community on his case and dead bodies piling up around town, the responsibility of finding their killer seems fated to fall on him and deny him of his easy living.
Then there is Naël.
Cantankerous merman Naël Fouchard's life is focused on bringing up and protecting his little sister. When DNA found at the scene of the murders mark him as the prime suspect, Naël seeks out the help of Aiden, whose reputation as a detective grossly belies his lazy lifestyle and apparent lack of ambition.
The chemistry between the strong, stoic Naël and the easygoing Aiden is undeniable, no matter how many walls Aiden builds.
If this unlikely pair can't come to terms with their feelings for each other long enough to catch the killer, their emotional turmoil might yet allow the murderer to kill them instead.